On
July 31, 2012
By
admin
News Feature, Karina Guadalupe
Joselin Reyes, 20, arrived at the park ready to begin a two-hour volunteer shift of face painting, signaling the start of the summer-long "Funky Fridays" program at Elm Playlot, also known as Pogo Park, in the middle of the Iron Triangle.
A talented artist, Joselin says her interest in art and […]
Continue Reading

→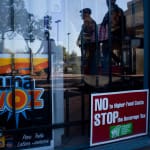 On
July 26, 2012
By
admin
Compiled by Monica Quesada
QUESTION: If the Soda Tax is approved by Richmond voters in November, do you think people will stop buying soda? And if passed, how do you think the tax would affect your business?
Sunny Lee, 53, owner of Tarabini's Deli
"It's going to make the drinks too expensive and people are […]
Continue Reading

→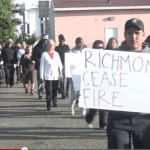 On
July 25, 2012
By
admin
Video, Street Soldiers Radio (106KMEL)
North Richmond Night Walk July 13, 2012
Richmond Ceasefire/Lifelines to Healing is a movement to stop the killings without sending more people to jail.
Across the community- faith leaders, residents,neighborhood organizations and law enforcement- are uniting to build a culture of peace and healing in our community.
Continue Reading

→
On
July 22, 2012
By
admin
Press Release, Youth Enrichment Strategies
Summertime provides the opportunity to get outdoors and be active. However, Richmond's city streets don't always conjure up the image of physical activity the same way a tree-filled park or shoreline does. This summer, a diverse group of Iron Triangle residents has been bucking the trend by coming up with […]
Continue Reading

→
On
July 16, 2012
By
admin
News Feature, Taisa Grant
The Coronado YMCA was at the center of this city's ongoing community-building efforts when it hosted a resource fair on June 30th to bring tangible and basic resources to community members.
Edward Hamilton, a Richmond resident who lives on the corner of Ohio Street, two blocks away from the YMCA, heard […]
Continue Reading

→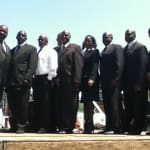 On
July 16, 2012
By
admin
News Report, Todd Spencer
Men and Women of Purpose (MWP), a community non-profit dedicated to reducing recidivism among former prisoners living in Richmond, hosted an open house at its new location on 23rd Street last May. The purpose of the open house was to "inform (people coming back from prison) that there are services […]
Continue Reading

→
RICHMOND PULSE
is a community news and media outlet, committed to amplifying the voices of the city's under-served residents. Our reporting is led by young people, with the intent of serving the entire community. Through our work, we seek to create dialogue, and find solutions to, the health issues that plague the Richmond, California community.
---