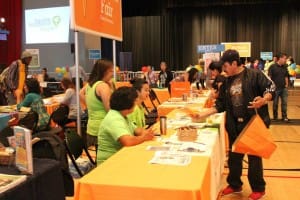 News Report, Ann Bassette | Richmond Pulse
Rosa Garay is a mother of 8-year-old twins and like tens of thousands of Contra Costa County residents she's uninsured and worried about her health.
"I've been struggling with losing weight and need to check my thyroid," Garay said. "I'm a single mother of two and I have to be in good health but if I'm not OK, who's going to be with them?"
Garay, 35, said she first applied for healthcare through Covered California at the beginning of year but was told she didn't qualify. (Her kids are covered by Medi-Cal.)
"I applied for Covered California, they sent me a letter saying I didn't qualify for them as well because I'm low income so they automatically sent my application to Medi-Cal," she said, "but I've been waiting for this answer since February, and I haven't received anything."
Garay was one of nearly a thousand people who attended a health care fair last month in Richmond to learn more about healthcare options through the state and get questions answered in person.
The event, titled "WE Connect Health Care Enrollment & Resource Fair," was held on Saturday, June 27 at the Richmond Memorial Auditorium. It offered Contra Costa residents a chance to come and sign up for Medi-Cal and Covered California, participate in free health screenings and learn better practices to maintain a healthy lifestyle. According to a press release put out by We Connect following the fair, there are 86,000 people in Contra Costa who are still uninsured.
WE Connect is a statewide project of The California Endowment. The Richmond event was hosted in partnership with Healthy Richmond, Contra Costa Health Services, LifeLong Medical Care, Community Clinic Consortium and Brighter Beginnings.
In addition to healthcare education, attendees could also learn about housing, immigrant resources, legal aid and more.
Booths dotted the inside of the auditorium, offering fun and free goodies to increase health awareness. The U.S. Department of Agriculture handed out "Best Bones Forever" card decks, emblazoned with graphics and fun facts about calcium intake, as well as suggestions on how to incorporate fitness and healthy food choices into everyday life. LifeLong Medical Care gave away jump ropes, water bottles and reusable ice packs to spread awareness about their services. And, WE Connect volunteers were busy replenishing wooden baskets filled with potatoes, onions, spaghetti noodles and rice as guests stocked up on the free food.
Meanwhile, in the Kids Fit Zone, young ones boxed, bowled and played tennis. Some chose to take advantage of the coloring stations and had their face painted by a fairy princess from the children's entertainment group Happily Ever Laughter.
"WeConnect has connected all of us," said Rochelle Rawls Shaw, Administrative Assistant with Healthy Richmond.
Garay said she received more information about her health care status at the event. "The person who helped me today told me my application was good, but they asked me for certain things," she said, adding that she didn't know before the event what other information she should send in. "We did it again, so we'll see if they need anything else. I'm excited. I hope it's good news," she added.
Edith Alonso also attended the event, along with her mother and teenage son. She is insured but said she wanted to learn more about healthcare service options.
"I'm covered through Kaiser Permanente but you need to know other options – you could lose your job," she said. "When you don't have insurance you're between a rock and a hard place. We have to be informed about every thing that happens with health care, immigration and housing."
Tracee, who wouldn't give her last name, is a student from Trinidad who has lived in Richmond for the last five years. She is covered through Medi-Cal, and wanted to take advantage of the free vision screening. While there she also had her glucose and blood pressure checked. For her, an event like this is more than educational — it's a way to show support for the service itself.
"Free healthcare is important," she said, "and when people don't attend these events, they think we don't care about our health. But we do."