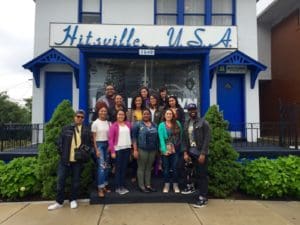 By Keisa Reynolds
The California Endowment gave me and 11 other youth journalists the opportunity to attend the 18th annual Allied Media Conference (AMC) in Detroit in June. The conference brought together over 1,000 media makers with backgrounds in technology, data visualization, journalism, photography, dance, activism, and much more.
The opening ceremony featured a keynote address from Assata's Daughters, a Chicago-based group named after political prisoner Assata Shakur, which provides training for young black women. They highlighted the struggles facing Chicagoans and campaigns led by young black and brown organizers in the city, and uplifted the names of black people slain by law enforcement. Their performance was a reminder that the victories won across the nation come from hard work and dedication, much of which is by queer black women.
Kicking off the conference with arts and culture by Detroit natives allowed participants to fully grasp why we do the work we do. We come from different backgrounds, hold different identities and yet we are all facing struggle and trying to resist in one way or another.
Media controls the dominant narrative about our identities and downplays our struggles, so we push back by creating media and art that reflects our identities. We see and experience the world differently, and that should be accurately represented, especially when mainstream media determines how people view marginalized groups and social movements.
My goal as a writer and storyteller is to amplify the voices that aren't being listened to. That is why I felt compelled to join Richmond Pulse last year. Narratives that come out of Richmond are important. We have a history people should learn and a future people should invest in. The same goes for all communities that are predominantly made up of people of color, working class, and include marginalized groups whose stories get left out or misconstrued by mainstream media.
In the wake of Orlando and following the anniversary of the Charleston massacre, we need our voices to be heard loud and clear. We are facing systemic violence that fuels hatred in the form of racism, xenophobia, sexism, homophobia, transphobia—the list goes on because we seem to continually manage to find new ways to dehumanize each other. I want us to hear stories of resistance and to honor those who fight for us. I want us to feel challenged and inspired to strive for progress that works for all of us, not some of us.
Creating our own media allows us to shift the narrative and offer diverse perspectives. The Allied Media Conference provided the space to present ideas and strategies, reflect on what has been done, and inspire a new generation of media makers, artists, and activists to keep going. There is a lot to be done, and people are tackling it from different angles: from #BlackTransLivesMatter to #SayHerName to #Not1More to body acceptance to healthy relationships to decolonizing diets to valuing youth voices and leadership. There is a place for all of us to join in the struggle.
The weekend, like the work Richmond Pulse produces, was transformative and crucial to moving forward. Check out the hashtag #AMC2016 on social media to see some of the highlights from participants.