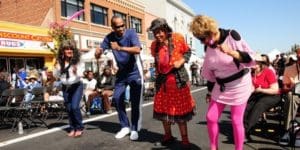 Spirit & Soul Festival
Saturday, Sept. 17
The 8th annual Spirit & Soul Festival will return to downtown Richmond with live music, food booths, a youth zone and an outdoor bazaar with artisan and craft vendors. Proceeds from beverage and silent auction sales will benefit Richmond Main Street Initiative's mission to support the revitalization of historic downtown Richmond.
Musical headliners for the event include BeaufunK with Michael Jeffries, Tia Carroll, PUSH and Soul Progressions.
VIP tickets are $20 in advance and $25 the day of the event. The VIP area includes reserved seating with 2 drink tickets, 5 complimentary drawing tickets
and a commemorative event program.
The Spirit & Soul Festival takes place from 1:00 to 5:00 p.m. on Saturday, Sept. 17 on Macdonald Avenue at Harbour Way and 13th Street. For more information, call 510-236-4049 or visit http://richmondmainstreet.org/event/70985.
Coastal Cleanup Day
Saturday, Sept. 17
The Watershed Project is inviting volunteers to join a Coastal Cleanup Day.
Organizers will provide cleanup supplies. Volunteers should wear closed-toe shoes, a hat and sunscreen. Volunteers are also required to sign a waiver form and children should be accompanied by an adult. A free lunch will be provided following the cleanup.
Coastal Cleanup Day is from 9:00 a.m. to noon on Saturday, Sept. 17 along the Richmond shoreline at Shimada Friendship Park, at Marina Bay Parkway near Peninsula Drive. For more information or to register for the event, email coastalcleanup@thewatershedproject.org or visit https://www.eventbrite.com/e/coastal-cleanup-day-2016-at-shimada-friendship-park-tickets-26285216791.
Picnic in the Point
Saturday, Sept. 24
Take the family out for a day of fun at the 7th annual Picnic in the Point, featuring food, live entertainment and a kids' play area.
Picnic in the Point takes place from noon to 5:00 p.m. Saturday, Sept. 24 at Judge G. Carroll Park, West Cutting and South Garrard Boulevard in Point Richmond. Admission is free and food, drink and activity tickets can be purchased at the event.
Richmond Promise Award
Deadline: Friday, Sept. 30
Students who received a Richmond Promise scholarship have until Sept. 30 to complete all of the documents necessary to process their award.
Documents can be sent to richmondpromise@scholarshipamerica.org or mailed to:
Richmond Promise Scholarship Program,
Scholarship Management Services
One Scholarship Way, Saint Peter, MN 56082
For more information, call 510-620-6531