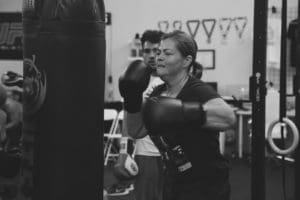 News Feature, Keisa Reynolds | Photos by Anna Challet
As most people are sitting down for dinner on Thursday evenings, a small group of local women are preparing to slip on boxing gloves. Every week at 7:00 pm, they arrive one by one and in pairs for a new boxing class at OMNI Movement, an MMA and Athletic Training Center located at 1200 Harbour Way South.
The women are students of brothers Jonny and Edgar Perez, two Richmond residents with an extensive background in boxing.
OMNI Movement founder Steven Han recruited Jonny, who brought along his younger brother, to teach boxing classes. The two started the women's boxing class this summer.
Edgar noticed that Richmond, Oakland, and neighboring cities could be dangerous for women to walk around alone.
"We wanted to do the women's empowerment [class] because it's 2016, we want women to feel safe to walk out without a guy around," he said. "I have my sister [and] mom here, so they can learn, too."
He followed the footsteps of his brother Jonny, an esteemed boxer and trainer. When he was released from juvenile detention, Edgar wanted to change his life. He landed a job at a gym, where he was also able to get a membership and work toward his goal.
It is a family affair for some of the students as well. Natalie Steeley, 20, joined the class with her boyfriend's mother. Her boyfriend, his brother and father are in the men's class and inspired them to join the women's class.
"I love it. I started in June and try to come the three days that it's available. It's worth it every time," said Steeley. She noticed that she has gained more muscle boxing than during her time at a regular gym.
There is a Jiu Jitsu class at the same time, adding to the energy and atmosphere of the space. The location itself appears as an open garage with mats and fitness equipment and a staff of instructors who seem less intimidating than your average trainer.
Hip-hop plays in the background. Jiu Jitsu students are tumbling each other over and young children are playing as they wait for their parents to finish class. There are minimal words of encouragement but plenty of smiles as students sweat and persevere through conditioning and learning new techniques.
The students vary in age, ethnicity, body shape and fitness ability. They push themselves through audible groans, grunts, and the occasional "What did I get myself into?" face. Regardless of fitness level, they all strive for success.
Edgar believes the community response has been positive and residents are noticing the brothers' work. The two are expanding to add more women's classes to accommodate other schedules, especially for early risers.
Women's boxing classes are currently offered three times a week on Tuesday and Thursday evenings and Saturday mornings. Prospective students pay month-to-month; the cost of $100 allows students to join an unlimited number of classes during the month.
Don't worry about missing out; new students can join anytime. Check out OMNI Movement's website for more information.