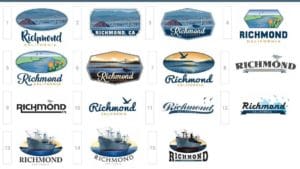 Varios Autores
Nota del Editor: En 2015, el Alcalde Tom Butt inició un estudio de mercadeo y mercadotecnia a gran escala para la Ciudad de Richmond.
Según el alcalde Butt, el objetivo del estudio era "asegurarse de que la forma en que nos representamos como una ciudad es un reflejo de nuestra comunidad y que establezcamos una imagen y una mejor reputación con nuestros residentes, vecinos, empresas y visitantes".
Después de recaudar más de $100.000 en donaciones, la Oficina del Alcalde contrató a North Star Destination Strategies de Nashville, para dirigir el esfuerzo de cambio de imagen.
El año pasado, la oficina del alcalde, North Star y un grupo focal de personas que viven aquí desarrollaron un nuevo eslogan para representar a la ciudad: Richmond, California. Frente a la bahía Frente a casa. Al frente. (Bay Front. Home Front. Out Front)
El lema actual de la ciudad es La Ciudad de Orgullo y Propósito (The City of Pride and Purpose).
Después de ser dirigido a centrarse en la imagen de Richmond como una ciudad frente al mar, este mes Northstar presentó una colección de nuevos logotipos para la ciudad de Richmond. El Alcalde Butt ha pedido comentarios del público sobre los logotipos.
Los periodistas juveniles de Richmond Pulse dieron su crítica de los logotipos y el eslogan propuesto así como sus propias sugerencias para cambiar el nombre de Richmond.
"Este nuevo lema nos dejará invisibles a las familias de la clase trabajadora"
Crecimos con el eslogan, "Richmond es la ciudad de orgullo y propósito". Trabajamos duro en la escuela para encontrar nuestro propósito en la vida y nos enorgullecemos de lo que hacemos. Debajo de la violencia en Richmond, hay gente trabajadora que lucha diariamente para proveer para sus familias.
Richmond también es el hogar de Rosie la remachadora y mostramos nuestro orgullo de eso. Teníamos el Partido de Pantera Negra aquí y mostramos nuestro propósito a través de ellos luchando por la igualdad de derechos. Richmond está lleno de soñadores y trabajadores. Por eso me siento orgulloso de decir que vengo de Richmond, la ciudad de orgullo y propósito.
Cambiar la imagen de Richmond no nos cambiaría como una comunidad, pero [sí] aumentaría la población de personas que son ricas. Esto nos dejará, a nosotros de familias de clase trabajadora o familias en la pobreza, invisibles.
-Maryalexis Gutierrez, 16
'No necesitamos un cambio de imagen'
Sinceramente creo que no necesitamos cambiar nuestro lema. La ciudad debe permanecer "La ciudad de orgullo y propósito" para que nuestros jóvenes tengan algo a que llegar. Cuando era niña, no entendía bien el lema… pero crecí a amarlo porque después de graduarme de UC Berkeley, encontré esa declaración muy cierta. Estoy muy orgullosa de ser de Richmond y encuentro que nuestra comunidad y todas las personas dentro de la comunidad tienen tanto potencial. Me encanta mi ciudad y no preferiría estar en ningún otro lugar.
-Mitzi Pérez, 22
"El nuevo eslogan es para ajenos"
Ehhh, personalmente creo que nuestro eslogan actual es mejor. "La ciudad de orgullo y propósito"… tiene una vibra muy alentador en mi opinión, y bueno, como una ciudad, Richmond está creciendo constantemente. Recuerdo cuando se clasificó #6 en las ciudades más peligrosas de los Estados Unidos. Ahora, ni siquiera cae cerca. Como resultado, las personas alrededor de la zona están empezando a sentirse mejor acerca de ser criados aquí, realmente estamos empezando a desarrollar orgullo en nuestra ciudad, estamos empezando a encontrar un propósito en la vida y no recurrir a la violencia. Yo, por ejemplo, pienso que el eslogan de la ciudad es para la gente que vive en la ciudad. El nuevo solo suena como si fuera para ajenos.
–Ronvel Sharper, 17
'Una Etiqueta de AstroTurf'
Entiendo que Richmond tiene un estigma, así como una imagen pública puesta en nosotros. Una nueva imagen es una idea asombrosa. El cambio es bueno, pero no estoy de acuerdo con la forma en que la gente va a cambiar la imagen de Richmond. Siento que "frente a la bahía, frente a casa, al frente" no describe mi comunidad. [El logotipo] se parece a un tipo de etiqueta de AstroTurf que no tiene ningún mensaje poderoso o significado puro detrás de él. Los residentes de Richmond tienen mucho más fuego y astucia. Soy para siempre un residente de una ciudad donde el orgullo y el propósito se prioriza porque es la verdad… y no porque se vende.
-Anure McGee, 19 años
'Una Vista Asimilada de Point Richmond'
De todos los logos, me gusta el 11 y 12, pero no representa completamente a Richmond. He vivido en Richmond toda mi vida y tenemos más que ofrecer que bellos paisajes. Mi ciudad representa más que un barco, pájaros, agua y un puente. Representamos unidad, diversidad, creatividad y comunidad. Estamos a la altura de su frase, "La ciudad de orgullo y propósito".
Sinceramente siento que los logotipos están asimilados y son opiniones del alcalde, no la gente de Richmond. El alcalde Tom Butt vive en Point Richmond, [que es] en mayoría una área blanca y rica. Butt es capaz de ver el puente de San Rafael desde su casa. Pero la gente de Richmond, como yo, no tiene las mismas opiniones y experiencias como él. Butt ve agua y todo verde. Yo veo concreto y todo gris.
Butt debería haberse puesto en contacto con RYSE Center, una organización sin fines de lucro ubicada en el corazón de Richmond, para ayudar a crear un logo en lugar de contactar primero a NorthStar Destination Strategies, ya que hay muchos artistas brillantes y creativos que van allí casi todos los días. Es hora de que se escuche la juventud orgullosa de color y la gente de Richmond real porque todos tenemos un propósito.
-Marisol Lara, 17
"Una Oportunidad para que Entre el Aburguesamiento'
El concepto de "cambio de imagen" me da una sensación incómoda inmediatamente. Entiendo el pensamiento ideal de elevar a Richmond y brillar luz en nuestra ciudad, pero siento que esta es una oportunidad para que entre el aburguesamiento aquí como sucedió en Oakland y San Francisco. Personalmente, adoro nuestra imagen original y creo que debemos seguir con ella. "La Ciudad de Orgullo y Propósito" representa quiénes somos como comunidad y el crecimiento que hemos logrado con el tiempo. Nuestro orgullo es Richmond y nuestro propósito es mantener la belleza original de la gente y la historia viva.
-Isabella Zizi, 22 •