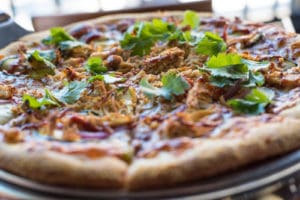 By Isabella Zizi | Photos By David Meza
Whenever the phrase "Have it your way" pops up, you think of Burger King, right? What if I told you there was something better than that, and it included more options than those processed hamburger patties and frozen fries? There is a new craze in Downtown Richmond right across the street from the Richmond BART parking garage called Your Way Pizza that opened its doors in April.
Bryan Rivas, 23, is one of the owners of Your Way Pizza, along with his brothers, uncle and father. Rivas and his family moved to Richmond over six years ago from Novato.
"This is the first Your Way Pizza and we wanted to bring diversity in the food selections," said Rivas. "If you don't like what we have on our menu, than you can create something that you would like."
A friend of mine recently checked into Your Way on Facebook and recommended checking out the new restaurant. From the moment I walked in the double doors, I was blown away by how spacious they had everything set up. The vibe of the room was modern, yet family oriented, and full of flat-screen TVs with soccer, basketball and baseball games. I was automatically greeted with kind customer service as I made my way to check out their menu.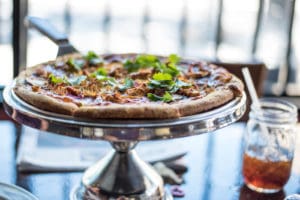 I kept my first order simple, ordering a personal pizza with pepperoni and spinach, since the special was any two toppings. It came with a delicious fresh tossed Caesar salad and a drink in a glass mason jar.
I watched as they spun the freshly made dough in their hands to form the pizza. All of the ingredients were fresh. As I was making my way to sit down, the cooks placed my pizza in the pizza oven. Finally, a waiter brought me the freshly baked pizza. The crust wasn't too thin or too thick and it was buttered on the edges with green spices and herbs. The spinach had the perfect crisp.
"The food and our customer service are the two things we are working on for our community to feel welcomed," said Rivas. "We focus on the food and service quality, not quantity."
Rivas says the most popular pizza on the menu so far is the combo pizza with pepperoni, salami, sausage, mushrooms, red onions and green bell pepper. The burgers are also popular. The Richmond City Burger is a 6-oz house-made ground beef patty, with sauteed mushrooms and onions with swiss cheese and mayo. The Your Way Burger is a classic burger with lettuce, tomato, cheddar cheese and mayo. The new menu items that are gaining popularity are the pupusas, a traditional Salvadoran dish that comes with a side of pickled and slightly spiced cabbage and red sauce.
If you have a sweet tooth, there is the Nutella Love Pizza that Rivas' dad created. It's topped with nutella, strawberries, bananas, cinnamon and condensed milk, which gives it a different type of sweetness.
You'd better get there early to get their buffalo wings. They are a crowd favorite and have been selling out every day since they opened.
For Rivas' family, investing in Your Way Pizza isn't their only focus on creating change for Richmond. They have future community projects in the making.
"Our vision is to help the homeless," said Rivas. "We want to get them off the streets into community rehabilitation centers or create our own so that way we can help them find jobs and get back on their feet."
But first, he said, building the business will be a priority since they just opened.
Rivas is excited that they already had their first reservation for a baby shower at the restaurant and are in the process of setting up a full catering menu for big parties.
Your Way Pizza is planning on having their grand opening day later this month.
IF YOU GO: Your Way Pizza is located at 1428 Macdonald Avenue in Richmond. They are open every day from 11:00 a.m to 10:00 p.m. You can check out the menu online at urwaypizza.com