On
July 10, 2014
By
admin
Story and Photos by Jennifer Herrera
Starting at Cutting Boulevard and Marina Way South, in Richmond the Juneteenth Parade, held last month, wound through the city with car honks, ice cream vendors' bell chimes and laughter ringing out along the way. Sistas-Wit-Style, a Caribbean performing folk dance Company, danced in the parade, decked out […]
Continue Reading

→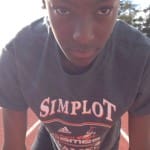 by Sukey Lewis
Kaylah Robinson jumps up and down rolling her head from side to side. Her deep brown eyes focus on the horizon—past the yards of track and two hurdles in front of her. Kaylah's arms hang taut at her sides, fingers splayed apart. Every muscle in her long legs seems to vibrate.
[…]
Continue Reading

→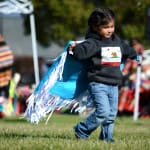 On
June 25, 2014
By
admin
Photo Essay, David Meza
A cloudy, windy day at Nicholl Park served as the backdrop for the 5th Annual Richmond Powwow which brought together Richmond's Native community and tribes from all over the country, as well as plenty of community members who wanted to share in and learn about Native culture.
"It's beautiful," event organizer […]
Continue Reading

→
On
June 24, 2014
By
admin
Photo Essay, Jennifer Baires
Bending slightly at the knees, Keyahlah Bean lifts a basketball over head and leans back before releasing the ball into an arc that ends with a trip around the rim of the basket, before falling through the net with a swish. "Yes!" the ecstatic eight-year-old yells, jumping up, hands raised above […]
Continue Reading

→
On
June 20, 2014
By
admin
By Tania Pulido
The Chevron refinery explosion that sent black clouds over Richmond in 2012 also touched off a local, and regional movement, calling for transparency and community safety considerations from the oil giant. Two years later, Chevron has launched a "Modernization Project" proposing new development at its Richmond refinery.
It's a big project, and […]
Continue Reading

→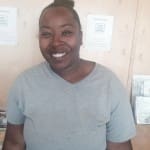 On
June 20, 2014
By
admin
EDITOR'S NOTE: There are over 58,000 children and teens in California's foster care system. These young people are removed from their families, and cared for by the state, because of abuse and neglect at home.
Julia Gayfield, 21, is a multi-racial, former foster youth, living in Richmond. She was removed from her parents and placed into […]
Continue Reading

→
RICHMOND PULSE
is a community news and media outlet, committed to amplifying the voices of the city's under-served residents. Our reporting is led by young people, with the intent of serving the entire community. Through our work, we seek to create dialogue, and find solutions to, the health issues that plague the Richmond, California community.
---