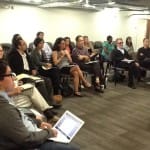 News Report, Sean Shavers
Since January, a group of Richmond-based youth and family service organizations known collectively as the Invest in Youth Coalition has been meeting regularly to devise strategies to better serve and encourage youth in the city. Led by the nonprofit RYSE Center, the coalition is leading the effort to create a dedicated [...]
Continue Reading

→
News Report + Photos, Marco Villalobos
Beneath a mural depicting salvation outside St. Mark's Church, Ruben Pedroza stood trying to figure out his family's health insurance. Inside the church hall, a meeting was underway to educate residents as to what health coverage they might qualify for due to the Affordable Care Act.
Although nearly 3.5 [...]
Continue Reading

→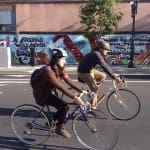 By Nancy DeVille
Scores of cyclists took to Richmond streets Wednesday in a silent ride to draw attention to bike safety issues on the local roads.
About 50 cyclists participated in the Ride of Silence, a global event to remind motorists to safely share the road with cyclists. The event, sponsored locally by Richmond [...]
Continue Reading

→
News Report + Photos, Sukey Lewis
Pregnancy and parenthood can be both scary, and exciting; bringing a new life into the world comes with a host of new responsibilities and uncertainties. With that in mind, community groups and healthcare organizations in Richmond invited new and expecting parents to celebrate their newfound excitement—and address some of [...]
Continue Reading

→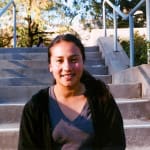 by Edgardo Cervano-Soto
Teresa Jimenez, 22, found a surprising way to deal with the stress of high school.
"Honestly, I wasn't doing so [well]," Teresa explains. "I was cutting a lot of school. There was a lot of pressure to be a certain way and I didn't feel I could socially relate to that. I [...]
Continue Reading

→
Photo Essay, David Meza
Bike to Work Day is an annual spring event held in cities across the United States and Canada that promotes biking as a healthier and more environmentally friendly commuter option. This year in the Bay Area, cyclists observed the day on May 8, and roughly 20,000 bicyclists participated in Contra Costa [...]
Continue Reading

→
RICHMOND PULSE
is a community news and media outlet, committed to amplifying the voices of the city's under-served residents. Our reporting is led by young people, with the intent of serving the entire community. Through our work, we seek to create dialogue, and find solutions to, the health issues that plague the Richmond, California community.
---
Download the Richmond Pulse Newspaper (English and Spanish PDF)

Related Richmond, Ca News