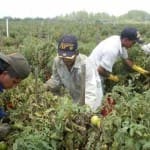 On
April 14, 2013
By
admin
News Report • Viji Sundaram
SAN FRANCISCO – Alrededor de un 75 por ciento de los trabajadores agrícolas contratados en los Estados Unidos carecen de seguro de salud, la proporción más alta de cualquier categoría ocupacional principal.
Más del 90 por ciento de ellos son nacidos en el extranjero (la mayor parte de México), jóvenes, [...]
Continue Reading

→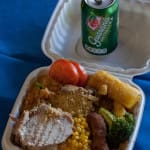 On
November 1, 2012
By
admin
Food Review + Photos, Monica Quesada
Tucked in between Wendy's fast food restaurant and San Pablo Avenue lies a hidden treasure of South American fine cuisine.
Tempero Goiano is a family-run Brazilian coffee house and restaurant that serves traditional Brazilian food every day of the week, bringing a taste of home to compatriots and [...]
Continue Reading

→
On
October 4, 2012
By
admin
News Report, Malcolm Marshall
RICHMOND, Calif. – Nai Saechao, a first time voter, says she hasn't made up her mind about Richmond's so-called soda tax, which is set to appear on this November's ballot. While she admits obesity is a problem, like other residents here she's not convinced taxing soda is the solution.
[...]
Continue Reading

→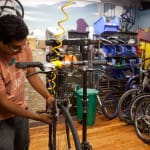 On
September 4, 2012
By
admin
News Feature, Monica Quesada
James Johnson, 20, is a bike mechanic. Born and raised in Richmond, Johnson has for years fixed bikes out of his own garage, all the while dreaming of opening up a bike shop where he could work with the proper tools, "without having to use hammers and stuff."
Johnson's dream became [...]
Continue Reading

→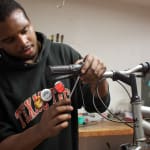 On
August 31, 2012
By
admin
Reportaje, Monica Quesada
James Johnson de 20 años es un mecánico de bicicletas. Nacido y criado en Richmond, Johnson ha arreglado bicis en su propia casa por años, mientras soñaba con abrir una taller de bicis donde pudiera trabajar con las herramientas adecuadas, "sin tener que usar martillos y cosas".
El sueño de Johnson se [...]
Continue Reading

→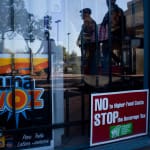 On
July 26, 2012
By
admin
Compiled by Monica Quesada
QUESTION: If the Soda Tax is approved by Richmond voters in November, do you think people will stop buying soda? And if passed, how do you think the tax would affect your business?
Sunny Lee, 53, owner of Tarabini's Deli
"It's going to make the drinks too expensive and people are [...]
Continue Reading

→
RICHMOND PULSE
is a community news and media outlet, committed to amplifying the voices of the city's under-served residents. Our reporting is led by young people, with the intent of serving the entire community. Through our work, we seek to create dialogue, and find solutions to, the health issues that plague the Richmond, California community.
---
Download the Richmond Pulse Newspaper (English and Spanish PDF)

Related Richmond, Ca News