On
October 4, 2012
By
admin
News Report, Malcolm Marshall
RICHMOND, Calif. – Nai Saechao, a first time voter, says she hasn't made up her mind about Richmond's so-called soda tax, which is set to appear on this November's ballot. While she admits obesity is a problem, like other residents here she's not convinced taxing soda is the solution.
[...]
Continue Reading

→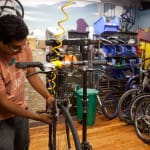 On
September 4, 2012
By
admin
News Feature, Monica Quesada
James Johnson, 20, is a bike mechanic. Born and raised in Richmond, Johnson has for years fixed bikes out of his own garage, all the while dreaming of opening up a bike shop where he could work with the proper tools, "without having to use hammers and stuff."
Johnson's dream became [...]
Continue Reading

→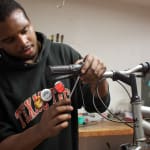 On
August 31, 2012
By
admin
Reportaje, Monica Quesada
James Johnson de 20 años es un mecánico de bicicletas. Nacido y criado en Richmond, Johnson ha arreglado bicis en su propia casa por años, mientras soñaba con abrir una taller de bicis donde pudiera trabajar con las herramientas adecuadas, "sin tener que usar martillos y cosas".
El sueño de Johnson se [...]
Continue Reading

→
On
July 31, 2012
By
admin
News Feature, Karina Guadalupe
Joselin Reyes, 20, arrived at the park ready to begin a two-hour volunteer shift of face painting, signaling the start of the summer-long "Funky Fridays" program at Elm Playlot, also known as Pogo Park, in the middle of the Iron Triangle.
A talented artist, Joselin says her interest in art and [...]
Continue Reading

→
On
June 28, 2012
By
admin
News Report, Malcolm Marshall
Editor's note: Richmond is now ground zero for the debate over how to reduce soda consumption, with a one-cent per-ounce tax increase to appear on the ballot in November. Residents are divided. Some contend the tax will contribute to lower rates of obesity, others that it is simply a means to raising [...]
Continue Reading

→
News From City Hall
The Richmond City Council adopted a new General Plan 2030 to guide the City's sustainable growth and development. The General Plan provides a comprehensive framework for developing a healthy city and healthy neighborhoods. While General Plans are required by the State of California to contain seven elements, the City of [...]
Continue Reading

→
RICHMOND PULSE
is a community news and media outlet, committed to amplifying the voices of the city's under-served residents. Our reporting is led by young people, with the intent of serving the entire community. Through our work, we seek to create dialogue, and find solutions to, the health issues that plague the Richmond, California community.
---