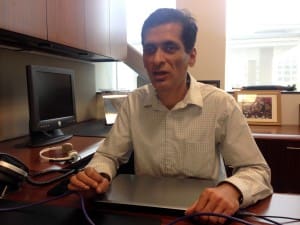 On
March 25, 2015
By
admin
Entrevista por Vernon Whitmore
Nota del Editor: El nuevo miembro del concejo de la ciudad de Richmond es Vinay Pimple (pronunciado Pim-PLAY), un abogado de 47 años de edad que ha estado en el puesto por menos de un mes. Pimple fue elegido por unanimidad por el concejo de la ciudad de un grupo de […]
Continue Reading

→
On
February 18, 2015
By
admin
Reportaje, George White | New America Media,
Los Ángeles, CA – A Lang Zhao le parecía legítimo el negocio que ella esperaba enviaría su paquete valioso a China. Después de todo, el trabajador de la tienda de envíos en Monterey Park, un suburbio de Los Ángeles le dio un código de seguimiento después que ella […]
Continue Reading

→
On
October 30, 2014
By
admin
Por  Edgardo Cervano-Soto

Brandon Clark, 25, ama estar al aire libre y conocer gente, lo que hace ideal su trabajo de encargado del Jardín Bosque Comestible en el Richmond Greenway.
"Este es el lugar perfecto para tener [un jardín comunitario] debido a todo el tráfico que entra y sale de este lugar", dice […]
Continue Reading

→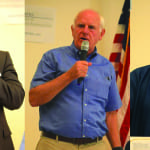 On
October 30, 2014
By
admin
Reportaje, Malcolm Marshall
Nat Bates, Tom Butt o Uche Uwahemu. Esas son las opciones que los votantes de Richmond se enfrentarán el 4 de noviembre cuando votarán por un nuevo liderazgo en la ciudad.
Después de ocho años el mandato de la alcaldesa Gayle McLaughlin llega a su final y búsca un puesto en […]
Continue Reading

→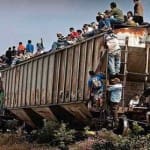 On
August 13, 2014
By
admin
Comentario, Luis Cubas
Richmond, California – Desde el momento en que me desperté, me di cuenta de que había algo extraño de la mañana. El sol no había salido, los pájaros no estaban cantando, y en vez del camión escolar mi papá me llevaría a la escuela.
Pronto me di cuenta por qué […]
Continue Reading

→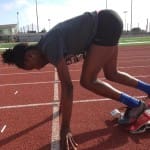 On
July 18, 2014
By
admin
Por Sukey Lewis
Kaylah Robinson salta rodando su cabeza de lado a lado. Sus profundos ojos cafés se centran en el horizonte más allá de las yardas de la pista y dos vallas en frente de ella. Los brazos de Kaylah cuelgan firmemente a sus costados, con los dedos extendidos. Todos los músculos […]
Continue Reading

→
RICHMOND PULSE
is a community news and media outlet, committed to amplifying the voices of the city's under-served residents. Our reporting is led by young people, with the intent of serving the entire community. Through our work, we seek to create dialogue, and find solutions to, the health issues that plague the Richmond, California community.
---