On
June 11, 2014
By
admin
News Report, Edgardo Cervano-Soto | New America Media
Goreatha Johnson, points towards Breuner Marsh across the train tracks in Parchester Village, a neighborhood of roughly 400 homes in North Richmond. It's past 4 p.m. on a weekday and Johnson is knocking on her neighbors' doors and passing out flyers to an event at the Parchester [...]
Continue Reading

→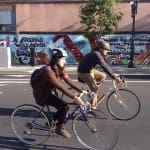 By Nancy DeVille
Scores of cyclists took to Richmond streets Wednesday in a silent ride to draw attention to bike safety issues on the local roads.
About 50 cyclists participated in the Ride of Silence, a global event to remind motorists to safely share the road with cyclists. The event, sponsored locally by Richmond [...]
Continue Reading

→
Photo Essay, David Meza
Bike to Work Day is an annual spring event held in cities across the United States and Canada that promotes biking as a healthier and more environmentally friendly commuter option. This year in the Bay Area, cyclists observed the day on May 8, and roughly 20,000 bicyclists participated in Contra Costa [...]
Continue Reading

→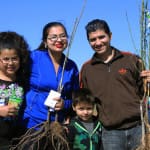 On
April 17, 2014
By
admin
News Report, Edgardo Cervano-Soto
Near the gazebo on the Richmond Greenway at Harbour Way, small trees bagged in plastic were spread out on a bed of wood chips. Families and Richmond residents huddled together, examining the trees by type: cherry, nectarine, peach. The apple trees were long gone – they'd been snapped up by the [...]
Continue Reading

→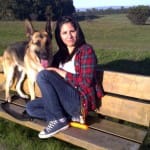 On
March 19, 2014
By
admin
Photo Essay • Zaira Sierra
One place in Richmond that I appreciate is Point Pinole Regional Shoreline. It has been a great place for me to relax, be inspired, and stay healthy. I started visiting the park when I moved back to Richmond in 2009. At first it was just a place where I could [...]
Continue Reading

→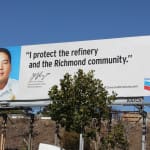 On
March 4, 2014
By
admin
Editor's Note: Late last year, Chevron began unveiling a series of billboard advertisements in Richmond.  Broadly interpreted, the ads convey a theme of city pride and feature images of workers as well as city landmarks like the Rosie the Riveter museum and local parks.  Initial reactions from residents have been mixed, with some people saying [...]
Continue Reading

→
RICHMOND PULSE
is a community news and media outlet, committed to amplifying the voices of the city's under-served residents. Our reporting is led by young people, with the intent of serving the entire community. Through our work, we seek to create dialogue, and find solutions to, the health issues that plague the Richmond, California community.
---
Download the Richmond Pulse Newspaper (English and Spanish PDF)

Related Richmond, Ca News