On
March 26, 2015
By
admin
By Nancy DeVille
It's the decision that many hoped would never come: Doctors Medical Center is closing April 21.
The board of West Contra Costa Healthcare District, which governs DMC, made the decision Thursday after they were advised the hospital is running out of money and has exhausted opportunities to borrow additional funds.
[…]
Continue Reading

→
On
March 25, 2015
By
admin
By Nancy DeVille | Photo by David Meza
As the threat of Doctors Medical Center's shutdown draws closer, Maria Sahagun says she still hasn't given up hope.
An emergency room nurse at DMC, Sahagun and her colleagues have spent months urging the West Contra Costa Healthcare District to come up with a solution to save […]
Continue Reading

→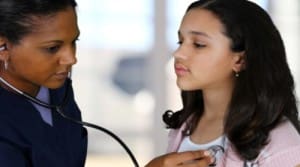 On
March 18, 2015
By
admin
News Report, Anna Challet | New America Media
The safety net for uninsured Californians is full of holes – and those holes are much bigger for the state's undocumented people.
That's one of the main findings of a new study by the statewide health care advocacy coalition Health Access. The organization's executive […]
Continue Reading

→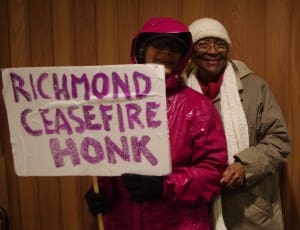 On
February 18, 2015
By
admin
Commentary, Leslie Basurto
It was 7 p.m. on a Friday night and I was attending my first Ceasefire night walk — a weekly trek where members of the community walk together through streets where gun violence has occurred in the hopes of putting an end to it. In recent years Ceasefire has received a lot […]
Continue Reading

→
On
February 12, 2015
By
admin
News Report, Malcolm Marshall
During the first week of February, newly elected Mayor Tom Butt announced that residents of the dilapidated Hacienda public housing complex will receive federally funded Section 8 vouchers to move into new housing.
At a press conference at the 150-unit Hacienda complex at 1300 Roosevelt Ave, Butt—along with Richmond Housing […]
Continue Reading

→
On
December 26, 2014
By
admin
By Nancy DeVille
When Matthew Schwartz moved to Richmond earlier this year, he noticed the city offered plenty of miles to bike, but no shop where he could take his bike parts and build a bicycle.
Buying a new bike didn't quite fit into his budget, so he was forced to rely on public transportation.
[…]
Continue Reading

→
RICHMOND PULSE
is a community news and media outlet, committed to amplifying the voices of the city's under-served residents. Our reporting is led by young people, with the intent of serving the entire community. Through our work, we seek to create dialogue, and find solutions to, the health issues that plague the Richmond, California community.
---
Download the Richmond Pulse Newspaper (English and Spanish PDF)

Related Richmond, Ca News