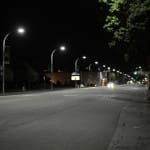 On
October 27, 2014
By
admin
News Report, Nancy Deville
Richmond's residential streets will soon look a whole lot brighter as the city's plan to convert its streetlights to LED technology is nearing completion.
Joining a growing trend of cities switching to LED to save money and conserve energy, Richmond expects to save about $500,000 a year in maintenance and [...]
Continue Reading

→
On
October 26, 2014
By
admin
By Tania Pulido
Biking and walking on Rumrill Blvd. is a risk many residents in Richmond and San Pablo take daily.
On October 9th, San Pablo and Richmond, in collaboration with community and county organizations, hosted the first Community Design Workshop for the Rumrill Blvd. and 13th St. corridor redesign. Rumrill, which turns into [...]
Continue Reading

→
On
October 23, 2014
By
admin
by Nancy DeVille | Photo • Brett Murphy
On Saturday, October 18, hundreds gathered in Point Richmond's Judge George Carroll Park to celebrate the return of Picnic in the Point with food, music and fun. Adults chatted and listened to live music by local groups as kids enjoyed a variety of activities including face painting, [...]
Continue Reading

→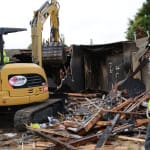 On
September 19, 2014
By
admin
Photo Essay, David Meza
David Batiste says he loves the job he describes as "a little dangerous" and "never the same routine."
Baptiste is an equipment operator with Richmond's Code Enforcement Abatement crew.
On this day, he is helping demolish a burned down house at 24th and Maricopa Ave. He said this home has [...]
Continue Reading

→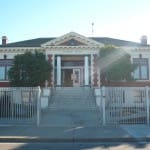 On
July 23, 2014
By
admin
By Nancy Deville
If you're looking to learn more about Richmond's storied past, an often overlooked historic building in the heart of the Iron Triangle may be a good place to start.
The Richmond Museum of History, adjacent to Nevin Park, boasts a collection that includes hundreds of pictures of the Kaiser Shipyard during [...]
Continue Reading

→
On
June 11, 2014
By
admin
News Report, Edgardo Cervano-Soto | New America Media
Goreatha Johnson, points towards Breuner Marsh across the train tracks in Parchester Village, a neighborhood of roughly 400 homes in North Richmond. It's past 4 p.m. on a weekday and Johnson is knocking on her neighbors' doors and passing out flyers to an event at the Parchester [...]
Continue Reading

→
RICHMOND PULSE
is a community news and media outlet, committed to amplifying the voices of the city's under-served residents. Our reporting is led by young people, with the intent of serving the entire community. Through our work, we seek to create dialogue, and find solutions to, the health issues that plague the Richmond, California community.
---
Download the Richmond Pulse Newspaper (English and Spanish PDF)

Related Richmond, Ca News