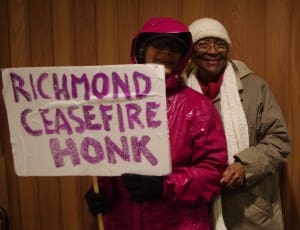 On
February 18, 2015
By
admin
Commentary, Leslie Basurto
It was 7 p.m. on a Friday night and I was attending my first Ceasefire night walk — a weekly trek where members of the community walk together through streets where gun violence has occurred in the hopes of putting an end to it. In recent years Ceasefire has received a lot […]
Continue Reading

→
On
February 12, 2015
By
admin
News Report, Malcolm Marshall
During the first week of February, newly elected Mayor Tom Butt announced that residents of the dilapidated Hacienda public housing complex will receive federally funded Section 8 vouchers to move into new housing.
At a press conference at the 150-unit Hacienda complex at 1300 Roosevelt Ave, Butt—along with Richmond Housing […]
Continue Reading

→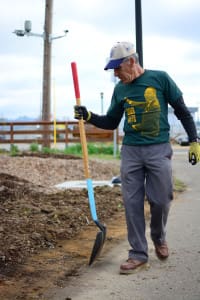 On
February 6, 2015
By
admin
Photo Essay, David Meza
Nearly twenty organizations working under the umbrella group "Friends of the Richmond Greenway," and hundreds of participants came together on January 19 for the 8th annual Martin Luther King Jr. National Day of Service on the Richmond Greenway—a special tradition in Richmond.
The day of service started with big smiles and […]
Continue Reading

→
On
January 20, 2015
By
admin
Photo Essay, Luis Cubas
Richmond is a city plagued with blight. While some areas are revitalized, too many lots are left empty throughout neighborhoods—standing out like gaps in a crooked smile.
While out on a walk down California Avenue, in the North and East neighborhood near Richmond High School, I passed three large lots in […]
Continue Reading

→
On
January 8, 2015
By
admin
By April Suwalksy
Writer's Note: I met Anthony Allen about seven years ago while working with the Richmond Community Foundation. I was new to Richmond, and Anthony welcomed me and helped me get settled. We worked together on several projects for the Nystrom United Revitalization Effort (NURVE), and with youth who were organizing for […]
Continue Reading

→
On
December 24, 2014
By
admin
By Ann Bassette
A new facility in North Richmond will offer women coming home from incarceration a stable living environment, a chance to begin rebuilding their life and for some the opportunity to reunite with their children.
The Naomi House, located on Fred Jackson Way in North Richmond, is a two unit duplex which will […]
Continue Reading

→
RICHMOND PULSE
is a community news and media outlet, committed to amplifying the voices of the city's under-served residents. Our reporting is led by young people, with the intent of serving the entire community. Through our work, we seek to create dialogue, and find solutions to, the health issues that plague the Richmond, California community.
---