On
April 28, 2012
By
admin
News Report, Kia Croom
Last month, under increasing financial strain, the non-profit Opportunity West closed its doors. Housed in the Nevin Community Center, located in Richmond's Iron Triangle, the closure left staff and clients struggling to cope with the loss of services many say are needed now more than ever.
With the economy continuing to [...]
Continue Reading

→
On
April 10, 2012
By
admin
Photo Essay, Nick Moone
High wispy clouds floating underneath a clear blue sky created a pristine backdrop for the Solano Playlot Spring Celebration last Saturday, April 7, 2012. Ebullient children took to the aging swing sets and playground equipment as Richmond residents came together to enjoy the beautiful weather while raising funds for new [...]
Continue Reading

→
On
April 5, 2012
By
admin
News Feature, Karina Guadalupe
In an effort to remodel Crescent Park's Multicultural Family Resource Center, 49ers tight end Vernon Davis was in town to introduce the launch of The Positive Impact Project – a partnership between The Vernon and Vontae Davis Family Foundation, Modern Class Design (the interior design company Davis co-founded), and nonprofit EAH [...]
Continue Reading

→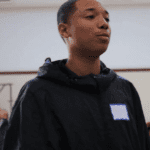 On
March 19, 2012
By
admin
News Feature,  Taisa Grant
Late last month, the City of Richmond caught a glimpse of its own future when teachers, activists, youth mentors, police officers, the mayor and others came together for a town hall style meeting called "Reclaiming Richmond."
Young people from the group RAW Talent hosted the dialogue, which focused on [...]
Continue Reading

→
On
February 27, 2012
By
admin
News Report, Robert Rogers | Richmond Confidential
George Mitchell stood in front of the mic, glanced at his notes, and let fly.
It's not always easy for Richmond's young people like Mitchell to express their feelings and their fears, especially to their peers. But Mitchell was bold, thanks in part to the supportive [...]
Continue Reading

→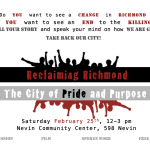 On
February 25, 2012
By
admin
Video, Sean Shavers, Malcolm Marshall
In the first of a series of stories, Richmond Pulse reporter Sean Shavers explores the history and impact of turf violence in Richmond, CA.
Featuring Joe McCoy, Khalid Elahi, Donta Clark, D'Vondre Woodards, Andres Soto and more.
Continue Reading

→
RICHMOND PULSE
is a community news and media outlet, committed to amplifying the voices of the city's under-served residents. Our reporting is led by young people, with the intent of serving the entire community. Through our work, we seek to create dialogue, and find solutions to, the health issues that plague the Richmond, California community.
---
Download the Richmond Pulse Newspaper (English and Spanish PDF)

Related Richmond, Ca News