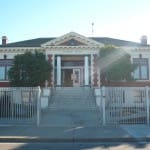 On
July 23, 2014
By
admin
By Nancy Deville
If you're looking to learn more about Richmond's storied past, an often overlooked historic building in the heart of the Iron Triangle may be a good place to start.
The Richmond Museum of History, adjacent to Nevin Park, boasts a collection that includes hundreds of pictures of the Kaiser Shipyard during […]
Continue Reading

→
On
June 11, 2014
By
admin
News Report, Edgardo Cervano-Soto | New America Media
Goreatha Johnson, points towards Breuner Marsh across the train tracks in Parchester Village, a neighborhood of roughly 400 homes in North Richmond. It's past 4 p.m. on a weekday and Johnson is knocking on her neighbors' doors and passing out flyers to an event at the Parchester […]
Continue Reading

→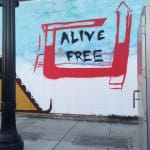 On
April 1, 2014
By
admin
RP Editors
Downtown Richmond is about to get a lot more colorful.  Local artist, Richard Muro Salazar, has broken ground on a huge mural project that will cover the walls of a currently abandoned building on the corner of McDonald Ave and Harbour Way. More than a beautification effort, the Alive & Free Richmond mural […]
Continue Reading

→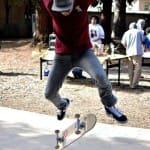 On
March 28, 2014
By
admin
Story • Chanelle Ignant | Photos • David Meza
The skate park at Richmond's Nicholl Park became a physics classroom on a Wednesday in March, when an event called "The Science of Skateboard Physics" introduced local teens and young adults to the physics principles guiding the way they ride.
Hosted by the Teen Services Branch […]
Continue Reading

→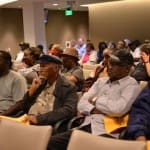 On
March 13, 2014
By
admin
Interviews • Edgardo Cervano-Soto | Photos • David Meza
Editor's Note: The Richmond City Council convened a special meeting on March 12 to review the results of an independent investigation of  highly publicized accusations of neglect by the Richmond Housing Authority at the city's public housing complexes. At the meeting, lead inspector Michael Petragallo of […]
Continue Reading

→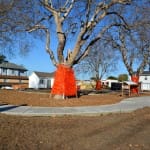 On
January 7, 2014
By
admin
Photo Essay • David Meza
Last month, Pogo Park, a nonprofit community effort to improve parks in the Iron Triangle neighborhood, hosted a tour of its project sites in Richmond for park department board members, their families and friends. It was the first in a series of tours that will take place in early 2014 […]
Continue Reading

→
RICHMOND PULSE
is a community news and media outlet, committed to amplifying the voices of the city's under-served residents. Our reporting is led by young people, with the intent of serving the entire community. Through our work, we seek to create dialogue, and find solutions to, the health issues that plague the Richmond, California community.
---