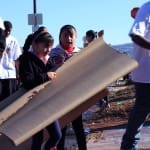 On
January 21, 2013
By
admin
News Feature, Edgardo Cervano-Soto
Teams of volunteers in white MLK t-shirts pushed wheelbarrows of compost and struck the ground with shovels for Urban Tilth's 6th Annual MLK Day of National Service at the Richmond Greenway. Stretching from 6th Avenue to Harbour Way, the Richmond Greenway was host to multiple green projects and activities. By 9am, [...]
Continue Reading

→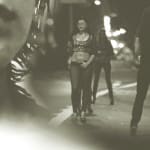 On
November 28, 2012
By
admin
By Asani Shakur
EDITOR'S NOTE:.  A 25-year-old who grew up on the streets of Richmond decided to write this piece because of what he sees happening in his community every day. 
Barbaric. Evil. Modern-day slavery. Those are some of the words that President Barack Obama used to describe sex trafficking during a speech he delivered [...]
Continue Reading

→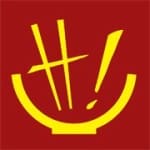 On
November 28, 2012
By
admin
Food Review, Molly Raynor
I love Richmond with all my heart. I love its resilience, its creativity, its RAW talent and radical roots. I do not, however, love the lack of healthy food options that residents of this city face on a daily basis.
The lack of healthy options is something I've witnessed firsthand during [...]
Continue Reading

→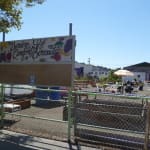 On
August 31, 2012
By
admin
News Feature, William H. Fraker
In the neighborhood known as the Iron Triangle, comfort and serenity can be found at the corner of 6th and MacDonald, where a once-barren lot is now host to chickens, rabbits, beehives, and dozens of blossoming garden beds. In and amongst this thriving hub of life, a burgeoning community has [...]
Continue Reading

→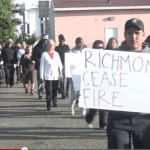 On
July 25, 2012
By
admin
Video, Street Soldiers Radio (106KMEL)
North Richmond Night Walk July 13, 2012
Richmond Ceasefire/Lifelines to Healing is a movement to stop the killings without sending more people to jail.
Across the community- faith leaders, residents,neighborhood organizations and law enforcement- are uniting to build a culture of peace and healing in our community.
Continue Reading

→
News From City Hall
The Richmond City Council adopted a new General Plan 2030 to guide the City's sustainable growth and development. The General Plan provides a comprehensive framework for developing a healthy city and healthy neighborhoods. While General Plans are required by the State of California to contain seven elements, the City of [...]
Continue Reading

→
RICHMOND PULSE
is a community news and media outlet, committed to amplifying the voices of the city's under-served residents. Our reporting is led by young people, with the intent of serving the entire community. Through our work, we seek to create dialogue, and find solutions to, the health issues that plague the Richmond, California community.
---