On
August 14, 2014
By
admin
News Report + Photos, Sukey Lewis
"You better go Richmond on him!"
Coach John Island spoke forcefully into his fighter's ear as they huddled in the red corner of the boxing ring. Jonny Perez was in the middle of his third and final fight at the 2014 Ringside World Championship in Kansas City, [...]
Continue Reading

→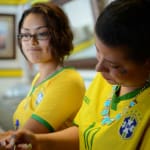 On
July 15, 2014
By
admin
Photo Essay, David Meza
Last week, Tempero Goiano Brazilian Restaurant in Richmond was full of people decked out in yellow and green—their hopes high for the Brazilian soccer team in its game against Germany. It would end up being a historic match.
Tempero Goiano was one of many local businesses that joined in the [...]
Continue Reading

→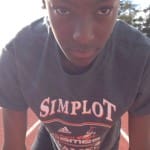 by Sukey Lewis
Kaylah Robinson jumps up and down rolling her head from side to side. Her deep brown eyes focus on the horizon—past the yards of track and two hurdles in front of her. Kaylah's arms hang taut at her sides, fingers splayed apart. Every muscle in her long legs seems to [...]
Continue Reading

→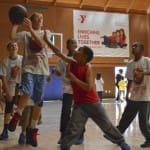 On
June 24, 2014
By
admin
Photo Essay, Jennifer Baires
Bending slightly at the knees, Keyahlah Bean lifts a basketball over head and leans back before releasing the ball into an arc that ends with a trip around the rim of the basket, before falling through the net with a swish. "Yes!" the ecstatic eight-year-old yells, jumping up, hands raised above [...]
Continue Reading

→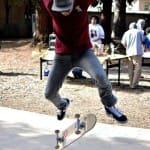 On
March 28, 2014
By
admin
Story • Chanelle Ignant | Photos • David Meza
The skate park at Richmond's Nicholl Park became a physics classroom on a Wednesday in March, when an event called "The Science of Skateboard Physics" introduced local teens and young adults to the physics principles guiding the way they ride.
Hosted by the Teen Services Branch [...]
Continue Reading

→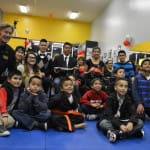 On
February 1, 2014
By
admin
Photo Essay • David Meza
In 1982, Eddie Solis opened Solis Martial Arts in San Pablo, which has over the years provided hundreds of children and families living in the Richmond and San Pablo communities with martial arts training.
Now, Solis's son James, who is the current executive director, has converted the martial arts school [...]
Continue Reading

→
RICHMOND PULSE
is a community news and media outlet, committed to amplifying the voices of the city's under-served residents. Our reporting is led by young people, with the intent of serving the entire community. Through our work, we seek to create dialogue, and find solutions to, the health issues that plague the Richmond, California community.
---
Download the Richmond Pulse Newspaper (English and Spanish PDF)

Related Richmond, Ca News