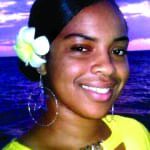 On
September 4, 2012
By
admin
Advice, Alicia Marie
When it comes to high school, first impressions really do last a lifetime. So to make sure that you're counted in among the 75.4 % who graduate from high school in Richmond, here are some tips to help you through your journey.
Tips for the Successful High School Student:
Be On Time

Continue Reading

→
On
September 4, 2012
By
admin
Written and compiled by "Malik"
SAN QUENTIN, Calif. — Since 2006, the men of the Richmond Project – a group of inmates from Richmond who are now incarcerated at San Quentin State Prison – have been striving from behind these walls to be a part of the solution to the problems plaguing their city; problems [...]
Continue Reading

→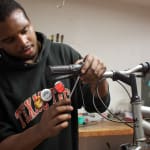 On
August 31, 2012
By
admin
Reportaje, Monica Quesada
James Johnson de 20 años es un mecánico de bicicletas. Nacido y criado en Richmond, Johnson ha arreglado bicis en su propia casa por años, mientras soñaba con abrir una taller de bicis donde pudiera trabajar con las herramientas adecuadas, "sin tener que usar martillos y cosas".
El sueño de Johnson se [...]
Continue Reading

→
On
August 17, 2012
By
admin
En primera persona, Varios
La noche del lunes, 6 de agosto, a los residentes de Richmond, California, se les aconsejó buscar refugio debido a una serie de explosiones que resultaron en un gran incendio en la refinería de petróleo de Chevron, la refinería más grande del norte de California. El fuego envió columnas de humo [...]
Continue Reading

→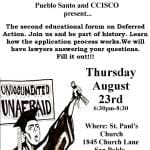 On
August 16, 2012
By
admin
News Feature, Iraida Santillan
Alejandra was only nine years old when she left Jalisco, Mexico with her mother and younger sister to join their father in the United States. Alejandra's father was already living in Richmond, CA along with three of her uncles.
She crossed the border with a fake birth certificate and once she [...]
Continue Reading

→
On
August 14, 2012
By
admin
Feature, Adrienne Chainey
With summer under way, many people find being cooped up inside to be a downer. But wait! Whether you like to do things outdoors, or just don't want to be in the house, there are actually lots of things for you to do, right here in Richmond:
The Richmond Plunge is located [...]
Continue Reading

→
RICHMOND PULSE
is a community news and media outlet, committed to amplifying the voices of the city's under-served residents. Our reporting is led by young people, with the intent of serving the entire community. Through our work, we seek to create dialogue, and find solutions to, the health issues that plague the Richmond, California community.
---