News Report + Photos, Sukey Lewis
Pregnancy and parenthood can be both scary, and exciting; bringing a new life into the world comes with a host of new responsibilities and uncertainties. With that in mind, community groups and healthcare organizations in Richmond invited new and expecting parents to celebrate their newfound excitement—and address some of [...]
Continue Reading

→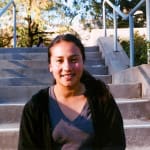 by Edgardo Cervano-Soto
Teresa Jimenez, 22, found a surprising way to deal with the stress of high school.
"Honestly, I wasn't doing so [well]," Teresa explains. "I was cutting a lot of school. There was a lot of pressure to be a certain way and I didn't feel I could socially relate to that. I [...]
Continue Reading

→
News Report, Chanelle Ignant
Editor's Note: Their numbers on campus shrinking, black students at Richmond High feel ignored — but new parent and student groups seek to change that.
It's a Thursday evening at Richmond High School, and the hallways of this normally bustling campus have fallen quiet. Behind closed doors in the [...]
Continue Reading

→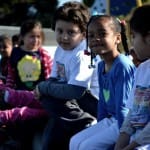 Photo Essay, David Meza
Verde Elementary School in North Richmond hosted an anti-bullying rally on April 16th. The "Anti Bully Machine" event was organized by second grade teacher Lola Sims, with the goal of encouraging and teaching children how to treat each other with decency and respect at all times, and increase safety on campus [...]
Continue Reading

→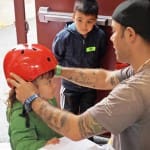 On
April 28, 2014
By
admin
By  Zaira Sierra
YES Nature to Neighborhoods, a local nonprofit that creates opportunities for Richmond residents to connect with nature, held its second annual Walk to Nature event on March 29. The walk was meant to bring community members out to enjoy public spaces like Miller Knox, a local park that is easily accessible to residents [...]
Continue Reading

→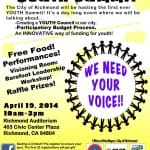 On
April 23, 2014
By
admin
News from the Mayor's Office | Written by Nicole Valentino
On Saturday, April 19, while many adults and families from the Richmond community were gathering at Point Molate Beach for the grand re-opening, young people of the city gathered for the 2014 Richmond Youth Summit. Mayor Gayle McLaughlin hosted the summit, at the Richmond Memorial Auditorium, to [...]
Continue Reading

→
RICHMOND PULSE
is a community news and media outlet, committed to amplifying the voices of the city's under-served residents. Our reporting is led by young people, with the intent of serving the entire community. Through our work, we seek to create dialogue, and find solutions to, the health issues that plague the Richmond, California community.
---