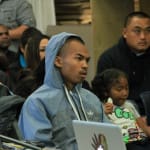 On
November 14, 2013
By
admin
Photo Essay, Edgardo Cervano-Soto
Gwai Boonkeut wore a white t-shirt, emblazoned with an image of his deceased daughter, Chan Boonkeut, holding a rose. Her murder, he told a group of community members, was the undoing of his immigrant family, the failure of their American Dream.
If there is anything positive to be taken from Chan's [...]
Continue Reading

→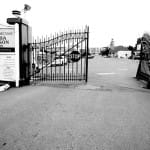 On
November 13, 2013
By
admin
by Pendarvis Harshaw
SAN QUENTIN — As I walk down the hill, beyond the blind curve, "the yard" reveals itself. I walk past groups of men congregated around tables. There are more inmates over on the running track, and about another dozen on the basketball courts. Men play catch on a baseball field in the [...]
Continue Reading

→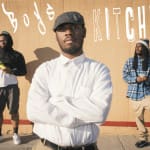 On
November 13, 2013
By
admin
A Spoken Word Theater Piece by Richmond Youth,
March 7th & 8th at De Anza High School Theater
"Po'Boys Kitchen" is a spoken word theater piece written, directed, and produced by Richmond youth. The central character of this show is the corner store itself, a Black-owned, family business in the heart of Richmond [...]
Continue Reading

→
On
November 10, 2013
By
admin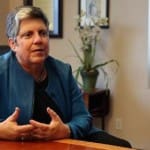 On
November 9, 2013
By
admin
Interview by Peter Schurmann, Video by Jacob Simas | New America Media
Ed. Note: In September former secretary of Homeland Security Janet Napolitano took over as president of the University of California, the first-ever woman to hold that position. She now heads a $24 billion system of 10 campuses, five medical centers [...]
Continue Reading

→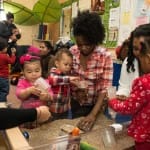 On
November 7, 2013
By
admin
News Report,  Chanelle Ignant
Every Thursday at the West County First 5 center in Richmond, a group of ten to twelve moms gathers to discuss the issues that matter most to them. The group, Kahawia Uzazi, which in Swahili language means "brown parenting," is a space where African-American mothers can share their experiences. Many come [...]
Continue Reading

→
RICHMOND PULSE
is a community news and media outlet, committed to amplifying the voices of the city's under-served residents. Our reporting is led by young people, with the intent of serving the entire community. Through our work, we seek to create dialogue, and find solutions to, the health issues that plague the Richmond, California community.
---
Download the Richmond Pulse Newspaper (English and Spanish PDF)

Related Richmond, Ca News