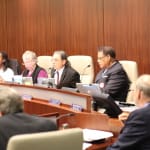 News Report, Spencer Whitney | Richmond Confidential
City council leaders In Richmond voted 5-2 on Tuesday night to put a special soda tax proposal on the November 6 ballot. The soda tax would add a one cent per ounce surcharge to soda and other sugary fruit drinks that contain less than ten percent juice.

Continue Reading

→
Reportaje, Monica Quesada
Harlem Masters, un Afro-Americano que se mudó a Richmond en el 2005, trabaja en la muy transitada intersección de la calle 23 y la avenida Clinton, asistiendo a peatones a cruzar la calle. "A esta calle la llaman Pequeño Mexico," dijo Master, al mismo tiempo que ayudaba a un par de [...]
Continue Reading

→
News From City Hall
The Richmond City Council adopted a new General Plan 2030 to guide the City's sustainable growth and development. The General Plan provides a comprehensive framework for developing a healthy city and healthy neighborhoods. While General Plans are required by the State of California to contain seven elements, the City of [...]
Continue Reading

→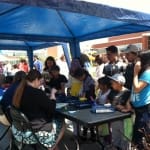 News Report, April Suwalsky
More than 1500 Richmond community members and dozens of local partner organizations came together on Sunday, April 29, in Richmond, California, for the third annual Richmond Tales Fest: An Afternoon of Family Literacy and Healthy Living. The event was held at the Richmond Civic Center—activities were stationed at the outdoor plaza, [...]
Continue Reading

→
On
April 28, 2012
By
admin
News Report, Kia Croom
Last month, under increasing financial strain, the non-profit Opportunity West closed its doors. Housed in the Nevin Community Center, located in Richmond's Iron Triangle, the closure left staff and clients struggling to cope with the loss of services many say are needed now more than ever.
With the economy continuing to [...]
Continue Reading

→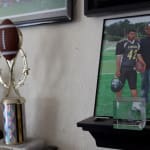 On
April 24, 2012
By
admin
News Report, Monica Quesada
Terry Bell has the perfect explanation for what happened to his son. "He was at the right place at the wrong time," Bell said. "It was just timing. He walked out and here they come."
Gene Deshawn Grisby, Bell's eldest son, was shot and killed on Monday, January 10, 2011, outside [...]
Continue Reading

→
RICHMOND PULSE
is a community news and media outlet, committed to amplifying the voices of the city's under-served residents. Our reporting is led by young people, with the intent of serving the entire community. Through our work, we seek to create dialogue, and find solutions to, the health issues that plague the Richmond, California community.
---