On
April 6, 2014
By
admin
por Asani Shakur
Queridos Reyes y Reinas Jóvenes,
Ustedes no me conocen personalmente, pero me conocen a través de un personaje de película del barrio o mejor aún, a través de los ojos de su rapero favorito. De lo que hablan, yo he vivido.
Actualmente estoy escribiendo desde una celda de la prisión federal – […]
Continue Reading

→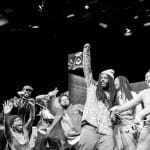 On
April 3, 2014
By
admin
by Molly Raynor
I remember the day that the idea for the play Po'Boys Kitchen was born. From behind my laptop I watched, smiling, as the RAW Talent (Richmond Artists with Talent) staff and students bounced ideas off each other for our next production. After reading through all the evaluations of our previous play, Te's Harmony, […]
Continue Reading

→
On
April 1, 2014
By
admin
by Asani Shakur
Editor's Note: Asani Shakur, from Richmond, spent four years in prison. He wrote this letter to the youth while incarcerated.
Dear young kings and queens,
You do not know me personally, but you know me by way of a hood movie character or better yet, through the eyes of your favorite rapper.  […]
Continue Reading

→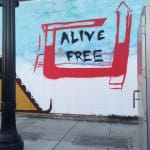 On
April 1, 2014
By
admin
RP Editors
Downtown Richmond is about to get a lot more colorful.  Local artist, Richard Muro Salazar, has broken ground on a huge mural project that will cover the walls of a currently abandoned building on the corner of McDonald Ave and Harbour Way. More than a beautification effort, the Alive & Free Richmond mural […]
Continue Reading

→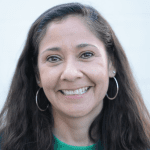 On
March 31, 2014
By
admin
Interview by David Meza
Editor's note: Roxanne Carrillo Garza is the Hub Manager for Healthy Richmond, a 10-year initiative of The California Endowment that seeks to improve the health outcomes of Richmond residents. She spoke to Richmond Pulse reporter David Meza, at a recent health care enrollment event.
David Meza: Can you summarize what Healthy […]
Continue Reading

→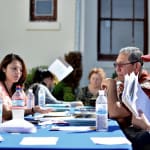 On
March 30, 2014
By
admin
By Katherine Rife
When mass let out at St. Cornelius Parish on a sunny Sunday earlier this month, groups of parishioners headed straight for the adjacent church building with a mission – to get health coverage. With the March 31 deadline for enrolling in Covered California (the state's new health insurance exchange) approaching, organizations have […]
Continue Reading

→
RICHMOND PULSE
is a community news and media outlet, committed to amplifying the voices of the city's under-served residents. Our reporting is led by young people, with the intent of serving the entire community. Through our work, we seek to create dialogue, and find solutions to, the health issues that plague the Richmond, California community.
---