On
August 14, 2012
By
admin
Feature, Adrienne Chainey
With summer under way, many people find being cooped up inside to be a downer. But wait! Whether you like to do things outdoors, or just don't want to be in the house, there are actually lots of things for you to do, right here in Richmond:
The Richmond Plunge is located [...]
Continue Reading

→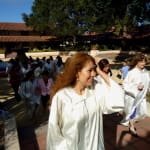 On
August 14, 2012
By
admin
News Feature, Edgardo Cervano-Soto
Wearing white caps and gowns, 25 women — ranging from young to middle-aged — pose for photographs in front of a water fountain at San Pablo City Hall. They call their group a sisterhood, born out of a need to speak to others but ultimately enabling them to reach themselves. For [...]
Continue Reading

→
On
August 10, 2012
By
admin
Comentario, Sean Shavers
Más de 50 personas se reunieron en el centro de detención de inmigración del Condado de West Contra Costa en Richmond el 18 de julio para expresar nuestra solidaridad con los inmigrantes indocumentados que están cautivos ahí. Esta vigilia mensual fue organizada por la Coalición Interreligiosa para los Derechos de los Inmigrantes [...]
Continue Reading

→
On
August 7, 2012
By
admin
Press Release, City Hall
Residents in Richmond and the surrounding area were reminded last night of the ongoing risk of living in close proximity to a major oil refinery. Tens of thousands of people were advised to "shelter-in-place" as a level 3 health warning due to fire and explosions in the crude unit at Chevron's [...]
Continue Reading

→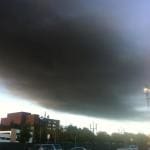 On
August 7, 2012
By
admin
First Person, Various, Posted: Aug 10, 2012
On the night of Monday, August 6, residents of Richmond, California were advised to seek shelter indoors due to a series of explosions resulting in a large fire at the Chevron oil refinery, the largest refinery in Northern California. The fire sent billows of black smoke skyward, which rose high enough [...]
Continue Reading

→
On
August 1, 2012
By
admin
News Feature, Adrienne Chainey
Clinical depression is a very common and very serious occurrence, yet it often goes misunderstood by young people — as well as the adults who care about them.
There are many types of depression, including Major Depression, Chronic Depression (or Dysthymia), Bipolar disorder, Manic Depression and many others; all of which [...]
Continue Reading

→
RICHMOND PULSE
is a community news and media outlet, committed to amplifying the voices of the city's under-served residents. Our reporting is led by young people, with the intent of serving the entire community. Through our work, we seek to create dialogue, and find solutions to, the health issues that plague the Richmond, California community.
---
Download the Richmond Pulse Newspaper (English and Spanish PDF)

Related Richmond, Ca News