On
January 21, 2015
By
admin
EDITOR'S NOTE: Incoming Chair of the Richmond Chamber of Commerce, Vernon Whitmore, sat down with newly elected councilmember Jael Myrick to discuss the council's vacant seat, the prospects for district elections in Richmond and the future for Richmond Promise—Myrick's pet project to help every Richmond youth go to college.
Vernon Whitmore: You won your […]
Continue Reading

→
On
January 20, 2015
By
admin
Photo Essay, Luis Cubas
Richmond is a city plagued with blight. While some areas are revitalized, too many lots are left empty throughout neighborhoods—standing out like gaps in a crooked smile.
While out on a walk down California Avenue, in the North and East neighborhood near Richmond High School, I passed three large lots in […]
Continue Reading

→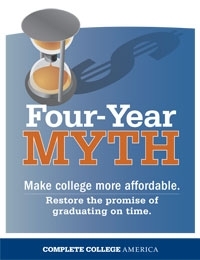 On
January 19, 2015
By
admin
by Joanna Pulido
The teacher smiled and held a hat as a line of about a dozen students looked at each other nervously. Inside the hat were small pieces of paper with each student's name. Luck would determine who would be part of the class, and who would have to continue the search.
Those of […]
Continue Reading

→
On
January 17, 2015
By
admin
News Report,  Malcolm Marshall | Photos by David Meza
It was all smiles in a packed house at the Richmond City Council chambers Tuesday, where newly elected Mayor Tom Butt and a handful of council members were sworn in. Notable among the faces was California Lieutenant Governor Gavin Newsom, who gave the oath to […]
Continue Reading

→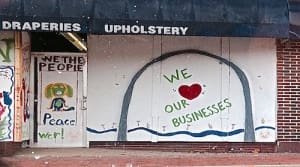 On
January 13, 2015
By
admin
New America Media, Commentary, Andres Tapia, Posted: Jan 13, 2015
FERGUSON, Mo. – The protesting crowds have thinned. The 24-7 news army has packed up its equipment and moved on to the next hot spot. But Ferguson is still simmering.
It's breathtaking enough walking through the business district along Florissant Ave. […]
Continue Reading

→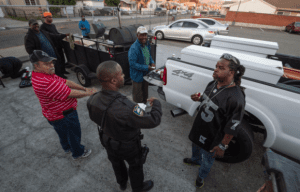 On
January 9, 2015
By
admin
News Report, Brett Murphy
Ed. Note: In the past decade, the police department in Richmond, Calif. has undergone a dramatic transformation. Spearheaded by an openly-gay and white chief in charge of policing this largely African American and Latino city, the changes are now bearing fruit, with crime down and trust between officers and the residents […]
Continue Reading

→
RICHMOND PULSE
is a community news and media outlet, committed to amplifying the voices of the city's under-served residents. Our reporting is led by young people, with the intent of serving the entire community. Through our work, we seek to create dialogue, and find solutions to, the health issues that plague the Richmond, California community.
---