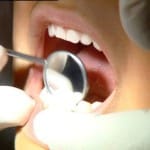 On
January 23, 2013
By
admin
News Report, Anna Challet | New America Media
Over half of California's children will soon have access to dental care because of the Affordable Care Act. The problem, according to a recent report, is that not enough dentists are willing to treat them.
"In Alturas, none of the dentists take Medi-Cal," says resident Christa Perry, [...]
Continue Reading

→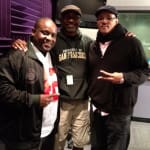 On
January 22, 2013
By
admin
EDITOR'S NOTE: The following is a transcript of a conversation that took place on Street Soldiers Radio between Dr. Joseph Marshall, co-founder and Executive Director of Omega Boys Club of San Francisco and Reverend Michael McBride of The Way Christian Center in West Berkeley. Reverend McBride is also Director of the Lifelines to Healing Campaign, [...]
Continue Reading

→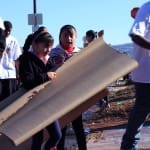 On
January 21, 2013
By
admin
News Feature, Edgardo Cervano-Soto
Teams of volunteers in white MLK t-shirts pushed wheelbarrows of compost and struck the ground with shovels for Urban Tilth's 6th Annual MLK Day of National Service at the Richmond Greenway. Stretching from 6th Avenue to Harbour Way, the Richmond Greenway was host to multiple green projects and activities. By 9am, [...]
Continue Reading

→
On
January 14, 2013
By
admin
Question & Answer, Malcolm Marshall
Ed. Note: Writer, activist, lecturer and filmmaker Byron Hurt takes on tough subjects for the right reasons. His previous film "Beyond Beats and Rhymes," explored the world of Hip-hop and music videos, and its affect on ideas of masculinity among youth and the black community. In his latest documentary, "Soul [...]
Continue Reading

→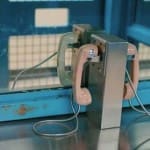 On
January 10, 2013
By
admin
FCC Says Cost of Prison Phone Calls Too High
Black America Web, News Report, Candace Bagwell
Experiencing life while a loved one is imprisoned can strain your emotions and relationships, but it shouldn't strain your pocketbook.
The Federal Communications Commission (FCC) found that the cost of phone calls from incarcerated friends and family members [...]
Continue Reading

→
Park It column by Ned MacKay, East Bay Regional Park District
It looks like this is a great time to go fishing in East Bay Regional Park District lakes, and here's why: the park district has just planted more rainbow trout than ever before.
In December the district added a total of 23,000 pounds of [...]
Continue Reading

→
RICHMOND PULSE
is a community news and media outlet, committed to amplifying the voices of the city's under-served residents. Our reporting is led by young people, with the intent of serving the entire community. Through our work, we seek to create dialogue, and find solutions to, the health issues that plague the Richmond, California community.
---