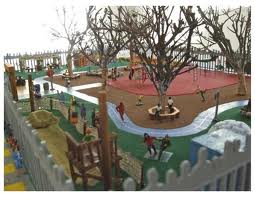 09 Mar

Not Just "Child's Play": Designing Parks With Kids in Mind

Report: Karina Guadalupe / Video: Min Lee

SAN FRANCISCO, Calif. — The important role of play in the development of children is commonly underestimated; generally viewed as insignificant or frivolous at best. As a result, neighborhood parks are often designed without children in mind, thus failing to reach their full potential as healthy spaces for community activity.

Toody Maher, founder and director of Pogo Park, is determined to change all that.

The mission of Pogo Park – a nonprofit organization based in Richmond, California – is to transform lives by transforming public spaces. Their first project will be to transform Elm Playlot, a small park on 8th and Elm Street in central Richmond, described on the Pogo Park website as "a small (½ acre), little-used, city park that lies in the middle of Richmond's Iron Triangle neighborhood – a once-proud, inner-city neighborhood that now suffers from deep poverty, violent crime, widespread blight, and a pervasive sense of hopelessness."

Maher recently organized a tour of four parks in San Francisco for a small group of Richmond residents, activists and organizational leaders involved in the Pogo Park project. The purpose of the tour was to broaden minds, by showing the group some examples of what an effective community park should or shouldn't look like. The attendees for the tour included Debbie Polito (Office Manager of Pogo Park), Ed Miller (Executive Director of Alliance for Children), Teresa Parker (Ed Miller's wife), McKinley Ross (Community Activist), Doris Mason (Richmond resident), Susan Goltsman (founding principal of Moore, Iacofano, Goltsman (MIG), Inc.), members of the Elm Playlot Political Action Committee (EPAC), Tonie Lee, Carmen Lee, Daniela Guadalupe and myself.

The parks we saw on the tour were: Draves Park, York Street Mini Park, Golden Gate Park, and Tule Elk Park.  Susan Goltsman, an expert in designing environments for children, youth and families has worked worldwide on similar projects, creating unique environments that respond to the needs of specific communities. The urban planning firm she co-founded, MIG, focuses on planning, designing and sustaining environments that support human development. Throughout the tour, Susan helped guide and explain the importance of an efficient park design.

It was interesting to see how any park, regardless of size, can have a great impact on a community. York Street Park in the Mission District of San Francisco, although it was the smallest park we saw on the tour, caught everyone's eye. The parents and children in the park looked like they were enjoying themselves very much. The beautiful murals and the simplicity of its structure was highly appreciated.

After visiting Golden Gate Park, we thought we had seen it all – until we got to Tule Elk Park.

Tule Elk Park, one of 38 child development centers operated by San Francisco Unified School District (SFUSD), was a reminder of why the parks in Richmond desperately need to be improved. Kids there were able to play freely.  An elementary school teacher we met there said that efficient playgrounds are very important to her students because "it gives them a chance to play in their own way" and the children apply what they learn in school through play.

By the end of the day, our tour had become much more than just a tour. It had given us all an opportunity to bond and become more familiar with each other. After all, we were all there for the same purpose; to learn better methods of improving the spaces for children in our community.  Having an opportunity to watch children being active in the parks, and seeing everything they are capable of doing, given the right environment, was remarkable. I can say for sure that we all left San Francisco feeling motivated and ready to make the same things happen in Richmond, starting with Elm Playlot.