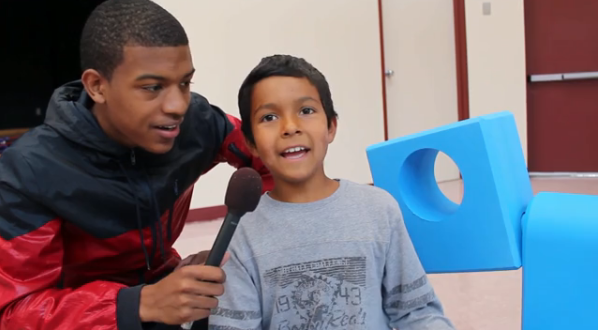 17 Aug

Imagination Playground Comes to Richmond

Story, Iraida Santillan///Video, William Haynes

According to Alicia Nightengale, Community Development Project Manager, Imagination Playground is a play space designed by architect David Rockwell to encourage children to "free play".

There are only 150 Imagination Playgrounds throughout the country, and thanks to Rockwell and his firm, Rockwell Group, and their Partnership with KaBOOM!, these playgrounds are being brought across the country.

Richmond is the latest city to receive the playground. Its currently located at the Nevin Community Center in Central Richmond and will be rotating monthly to the city's eight community centers.

Imagination Playground reminds me of legos, only that these pieces are ten times bigger. The parts vary in sizes and shapes. By having a variety of shapes it influences the children to use their imagination and be creative. They can create their own little utopia with this playground.

Was this playground brought to the Nevin Center because of the awful killing of a young man only a few weeks before? Ranjana Maharaj, who also works for the Community Development Project, says the Center was already planning on introducing Imagination Playground the same week that the young man got killed in front of the community center. Thankfully children here will be the first in the city to have a chance to play!

Imagination Playground is available to children ages 3 to 12 twelve years old. Jade Powell, 7 years of age said, "Imagination Playground is fun to play with I got to make a tower and a rocking chair. The other twenty kids who were there were also enjoying themselves by making cars pass ways, structures, and even playing baseball.

Imagination Playground is a different type of playground, it's a playground where a kid can use his/her imagination to construct and figure out ways to solve problems. Not only are they having fun, but they are learning life experiences such as problem solving and if one day they want to become an architect they already have a head start in designing.

Imagination Playground isn't one of those playground that stands in one place. It comes in pieces, from the size of a baseball to the size of a regualr pillow. Having so much variety allows children to be architects/designers. They are able to use their imagination to build cars, houses, chairs, roads, and much more. Imagination Playground was designed for this particular reason, to get kids to think outside the box and put their imagination to work.