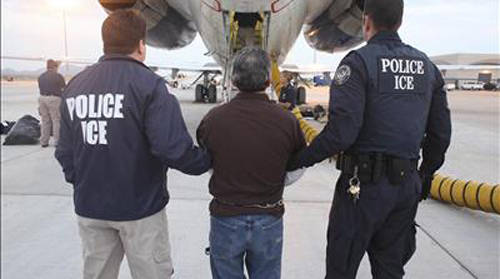 29 Sep

Struggling With the Aftermath of Deportation

EDITOR'S NOTE: A mother struggles to support her three children after her husband is arrested and deported for having no papers.

Juan Ramirez, 38, and Angelica Garcia, 34, migrated from Mexico to the United States in search of a better way of life 18 years ago. And like many undocumented people, they had been doing their best to live "below the radar" ever since— that is, until Ramirez was abruptly detained and deported earlier this year, pushing his already struggling family into an even deeper financial crisis.

Ramirez was the primary income earner for the household, making a living as a day laborer. He regularly sought pick-up jobs at Home Depot, while his partner, Garcia, supplemented his earnings babysitting the children of other immigrant families. The food stamps her three U.S.-born children – Julio, 16, Francisca, 8, and Umberto, 2 — were entitled to, also helped.

Ramirez and Garcia did everything they could to provide a stable home for their children in the studio apartment they rented in San Pablo, Calif. They saw their kids off to school every morning and ate dinner together as a family every evening.

Despite their undocumented status, it was an ordinary life — until a series of unforeseen events turned everything upside down.

It started, according to Garcia, when their landlord one day without warning raised the monthly rent on their apartment from $600 to $1,400 dollars and demanded full payment. When the family was unable to come up with the money, they were evicted. Devastated, they turned to family and close friends for temporary shelter. Ramirez aggressively sought more pick-up work and even offered to barter his labor in exchange for temporary housing for his family. The extra effort, however, wasn't enough. The family was eventually forced to move into an emergency homeless shelter.

The five-member family's home was now reduced to a 10 by 10 square foot dormitory. Ramirez and Garcia vowed to stay in the shelter only until they could save enough money to secure another apartment.

24 Hours That Changed Everything
Leaving the shelter early one morning last April, Ramirez made his way down to the local Home Depot, just like on any other day. The weather was nice, a good omen for day laborers seeking an honest day's work. Because March had been a particularly rainy month (which resulted in inconsistent work), Ramirez was happy when he received an offer to do some long-distance work. He left the family's mini-van parked nearby, and hopped into the truck of the worksite foreman who had decided to hire him for the day.

Around noon, Ramirez called Garcia and told her to pick the kids up from school, as he couldn't because he was still at work.

It would be the last time Ramirez and Garcia would talk that day. Little did they know that Ramirez would work well into the evening hours, and be unable to return to the shelter before its mandatory curfew hour of 9 p.m.
When Ramirez finally did get back to the shelter one hour after curfew, he was unable to gain entry. So he slept in his vehicle until daybreak. Meanwhile, a concerned Garcia endured a sleepless night, frantically calling local hospitals as she sought information about Ramirez's wellbeing.

Around 5 a.m. Ramirez woke up in his vehicle, ready to get back to work. On his way to the previous day's jobsite, he stopped at the local 7-Eleven in Richmond for a cup of coffee. As he gazed outside the store windows, he saw a Richmond Police patrol car and an immigration vehicle in the 7-11 parking lot.

According to Garcia (who would later speak to Ramirez by phone), the 7-Eleven cashier — suspecting Ramirez to be an undocumented immigrant and fearing the officers would possibly detain him — warned Ramirez to remain in the store until the vehicles left. Ramirez heeded the cashier's warning and waited until the cars left the lot before he exited the store and climbed into his car. But within seconds, flashing lights from what Ramirez originally thought was a Richmond police car appeared in his rearview mirror. Unfortunately for Ramirez, however, it was an Immigration and Customs Enforcement (ICE) vehicle.

According to Ramirez, who spoke to Richmond Pulse by phone from Mexico earlier this week, the ICE officers followed him for awhile before pulling him over.

"They asked for ID and registration," he recalled. "I told them, 'I have no ID.'
They said, 'Is this your car?' I said, 'Yes, it's my car.'
They said, 'You have no ID, so how do we know? You're going in.'"

Ramirez also told Richmond Pulse that there was a group of men in the ICE vehicle when he was arrested, implying that ICE had picked up multiple workers early that morning — despite the fact that Richmond became a "sanctuary city" for immigrants in late 2009. Under the sanctuary policy, city employees including police officers in Richmond are instructed to not share the immigration status of residents with federal authorities.

"There were others who had been picked up," said Ramirez. "It wasn't just me."

With a heavy heart, Garcia recalled her husband's last words to her that day, during a phone call he made after being detained.

"'I want you to take care of the kids,'" Garcia said Ramirez told her, sobbing into the phone.
By that time, according to Garcia, "He was being transported to [immigration authorities] in San Francisco."

Richmond Pulse contacted Immigration and Customs Enforcement (ICE) to verify details concerning Ramirez' alleged deportation and was told that such information is only made available to the immediate respondents and their attorneys.

The Aftermath
Today, Garcia lives as a single mother struggling to provide financial and emotional support to her three children. Her sole source of public aid is food stamps for her children. She is reluctant to apply for other critical services, such as medical care to treat an undisclosed disability, and counseling services to help her children cope with the absence of their father in their lives. She fears seeking other public aid lest she get deported as well.

Navigating services in a primarily English-speaking community is also challenging, said Garcia, who is monolingual. With Ramirez now gone, she relies on her son and daughter (who are both bilingual) to be her eyes, ears and voice.

Garcia and her children are hoping to be reunited with Ramirez and being a complete family again, living in a home of their own. But for now, they will have to make do with a 10-by-10 shelter.

The names of the subjects in this story have been changed at their request.