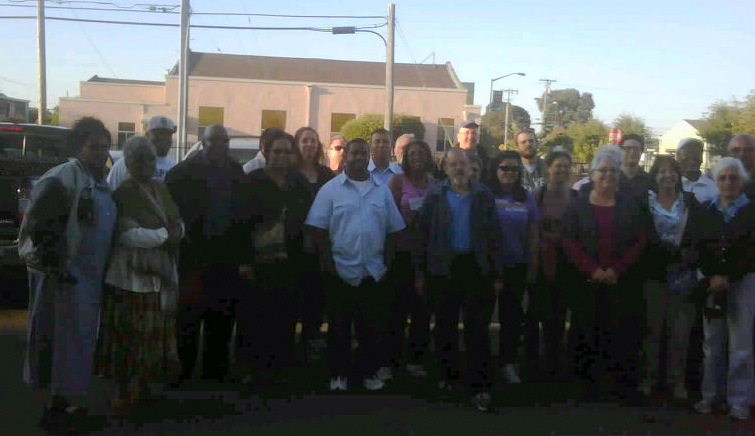 05 Oct

Walking the Streets to Bring the Peace

News Feature, Kim MacDonald

On a warm, Fall evening in the Bay Area's North Richmond scores of residents came out to the Missionary Baptist Church for the first of what organizers hope will be a series of "night walks," calling attention to street violence and proposing a ceasefire in the city of Richmond. The event, organized by Cisco and Operation Richmond, the night walks are being planned for every neighborhood in the city that has been impacted by gun violence. North Richmond was chosen as the neighborhood to kick off the walks, because it has been a hot spot for numerous shootings and homicides in recent years.

During the walk, people handed out flyers for the ceasefire, letting folks in the North Richmond community know that far too many people have died before their time, and far too many are wasting their lives in prison. The ceasefire movement is focused on stopping the killings, without sending more people to jail. The flyers are all carrying the message, "We love you and we want you to be alive and free".

Coming out on the streets to engage those who may be most at risk of violence, I found unity in the community. One gentleman I spoke to said he was trying to make a difference.

Kevin Williams, 44, knows violence all too well. He grew up his whole life in South Richmond, but that didn't detour him from coming to North Richmond to do the night walk. Williams said he's trying to make a difference and return Richmond to "One Richmond." He said he thinks it will take time, but will eventually happen when people from each side come together and share ideas. Williams said that it's okay to have pride in where you're from, but the violence that is attached makes it hard to raise your families here. He's looking to do just that.

Williams understands the pride, but he also knows about those he's lost before. "You cannot say they died for nothing — you diminish their existence".

Kevin has seen many die on the streets of Richmond, and said he is walking for those who didn't make it. He believes that every side has a common denominator: Love for your family, and being able to see them live their lives here in Richmond.

Those who walked were from all walks of life. Megan Roberts felt like she couldn't do anything to stop the violence until she heard about the ceasefire movement. She walks and talks because she feels like she's empowered and wants to do something to stop the violence.

"They are killing our babies and [I'll do] whatever I can do to say, 'this is no longer accepted in my community,'" she said.

As the night walk came to an end, everyone stopped to talk about what worked and what didn't. As these night walks continue I know that more community members will get involved, because the energy and feeling was that of empowerment. These are people who want everyone to know that gun violence will not be tolerated in Richmond, and the community wants to deliver the message loud and clear!

The next Richmond Ceasfire/Lifelines To Healing Training will take place on Thursday, October 13 at 7:00pm at Church of the Deliverance, 107 Macdonald Avenue in Richmond.