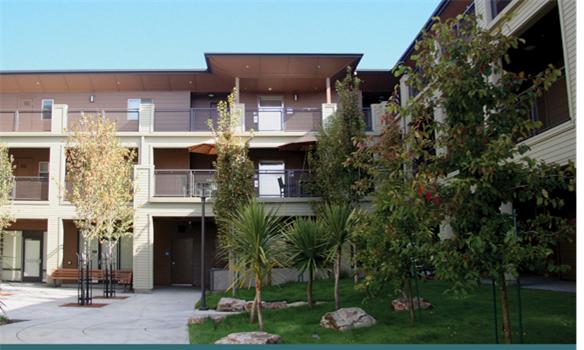 02 Nov

Vacant Lot Now a Home for Richmond's Poor

News Report, Kia Croom

It used to be a vacant lot on the corner of 4th Street and MacDonald Avenue in Richmond's Iron Triangle neighborhood; a place for people to illegally dump their unwanted refuse; a public safety hazard at worst and an eyesore at best. Now, it's a housing development that 26 low-income individuals and families call home. The Lillie Mae Jones apartment complex, named in honor of the long-time Richmond resident and neighborhood activist from the Iron Triangle, offers affordable but high quality apartments to some of Richmond's most vulnerable residents.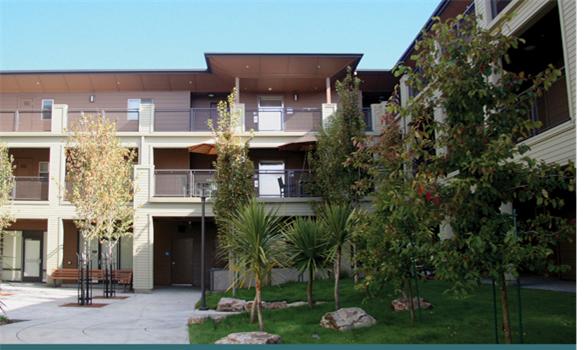 A new beginning for mom and toddler
After being homeless for more than a year, Robin Greene, 20, and her 18-month old son Malachi now call Lillie Mae Plaza home. And on an unseasonably warm October day in Richmond, Greene and her son are catching some sunshine as they sit on a staircase leading to the beautifully landscaped Lillie Mae Jones Plaza courtyard, which is more reminiscent of a resort than most of the homes in this part of Richmond. Malachi is struggling to break away from his mother's lap, but Greene holds him tight. The child is all smiles as he attempts to maneuver out of his mother's arms, so he can go play in the courtyard. Just a toddler, Malachi is oblivious to his mother's almost two-year plight to find and affordably priced place to live for the two of them.
"I was homeless throughout my pregnancy with him, and his whole life," Greene said, as she somberly recalls the previous year's events. "We were moving from place to place about every three months, in between Richmond and east [Contra Costa] county."
Greene attributes their homeless stint to a lack of money and some instability with her personal mental health. But now with a new place to call home, Greene is upbeat. She says it feels like a new day for her and Malachi.
"I love it!" she says, beaming.
Greene says she learned of the Lillie Mae Jones Plaza from her case manager at the Pittsburg Adult Mental Health Program, who helped her apply. According to Greene, the application was fairly easy, although the process of getting placed in a home was lengthy. In the end, Greene says the waiting period was a small price to pay for the comfort she and her son now enjoy at their new home.
"He (Malachi) loves his room. The only thing he's got in it are his toys, but he knows it's his own," says Greene.
From transient to tranquil
Jerry Johnson, 50, is at peace. After having spent the last nine months sleeping on couches and floors in the homes of family and friends, he now holds a key to his own one-bedroom apartment at Lillie Mae Jones Plaza. Although the apartment is yet to be furnished, he couldn't be happier.
"It's just lovely to be here inside these walls," says Johnson nodding his head. "My life is better. Before I got here, I didn't have a place to be."
He says the combination of a limited income and lack of affordable housing in the community caused him to become homeless.
Johnson smiles and waves to a couple of his neighbors as they pass by. "I like my neighbors. Everybody [keeps] to themselves, but it's really nice. It's… a tranquil type of place."
Of the 26 housing units at Lillie Mae Jones Plaza, half are reserved for households where at least one member of the family is disabled. Rubicon Programs (a community-based nonprofit organization) offers on-site support services, which include but are not limited to job development, substance abuse counseling and mental health services. There is also a full-time resident manager living on site.
A beautifully landscaped courtyard, outdoor exercise equipment, on-site laundry facilities, a computer lab and a state-of-the art community room with a kitchen are just some of the "green" amenities included on the grounds.
The Community Housing Development Corporation (CHDC), who developed Lillie Mae Jones Plaza, partnered with the East Bay Asian Local Development Corporation (EBALC) to co-develop and property manage the project.
The housing complex, built and managed by the Community Housing Development Corporation in partnership the East Bay Asian Local Development Corporation, was nine years in the making. Prior to being built, the vacant lot where it is located had become a public safety hazard due to illegal dumping. In 2002, CHDC acquired the vacant lot, as part of its efforts to eliminate blight within North Richmond. And in 2006, CHDC received pre-development funds from the City of Richmond to start the pre-development phase— identifying other potential funding sources and engaging community members around the prospect of creating an affordable housing development.
Initially, community members opposed the apartment project and advocated for a homeownership development instead. However, after learning of CHDC plans to create homeownership opportunities at another nearby site, community members became supportive.
"The community gains quality, affordable, permanent housing in the Iron Triangle, where there [had not been] any new family developments," said Joanna Griffith, who managed the Lillie Mae project for CHDC. "There is also the opportunity to eliminate blight. These are (the) two major… benefits to the community."
CHDC is a Richmond-based nonprofit organization committed to creating affordable housing and homeownership opportunities for low-to-moderate income people. According to their website, CHDC programs and services benefit 5,000 people annually, through the development of more than 225 homeownership units and more than 650 rental units.