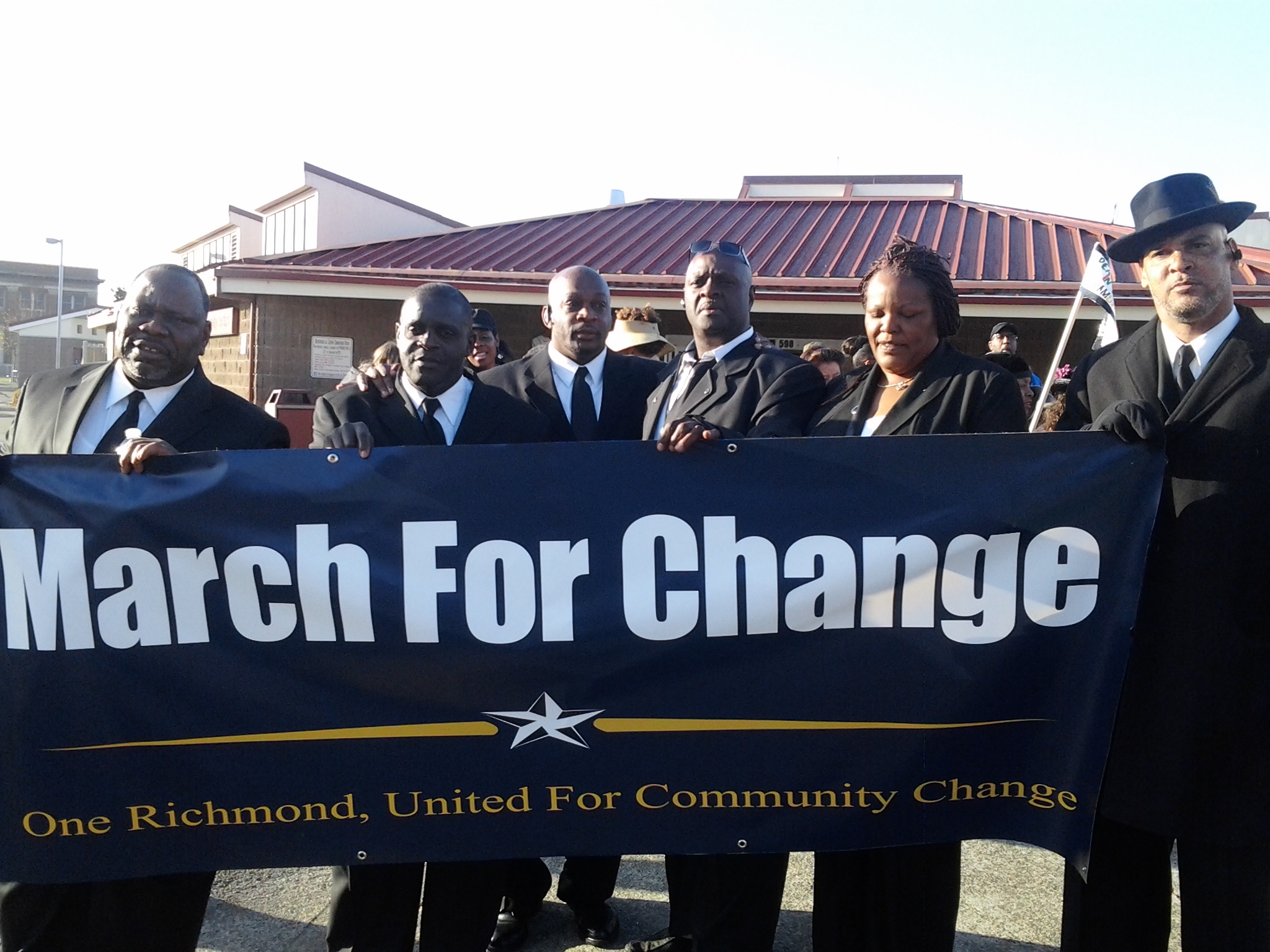 16 Jan

Neighborhoods Unite in Richmond for MLK Weekend

News Report, by Kia Croom

More than 150 public officials, faith leaders and residents of the Iron Triangle, Shields-Reid and Parchester Village neighborhoods marched last Saturday under the banner "Marching for Change," to honor the life and legacy of Dr. Martin Luther King Jr.

Walkers of all ages lined up for the march at the Nevin Community Center in Richmond, while others caravanned in vehicles. The group then marched from the Nevin Center onto Fred Jackson Way in North Richmond where they met up with residents of Parchester Village. From there the group marched on to the Shields-Reid Community Center.

As the people marched, they sang well-known songs, such as "We Shall Overcome," and "Victory is Mine." Their voices reverberated throughout the neighborhoods, awakening sleeping households as they went. Onlookers watched the marchers from their windows, open doors and front yards. Many tipped their hats and saluted the marchers as they passed. Others joined the processional, uncertain of its final destination but supportive of the cause nonetheless.

"This is my city. This is where it all started," said Marcel, a long-time resident of North Richmond, smiling. "This is real positive" he said.

At the corner of Fred Jackson Parkway and Chelsea Avenue in North Richmond, the marchers stopped and remembered Fred Jackson, an esteemed community activist who passed away earlier this year, with a moment of silence. Afterwards, Supervisor John Gioia and Richmond Mayor Gayle McLaughlin gave remarks.

To the organizers of the march, the day's events were a testament to the growing solidarity between Richmond's neighborhoods.

Three of the primary organizers, Otheree Christian, Marena Brown and Goretha Johnson, reside in neighborhoods — Central Richmond, North Richmond and Parchester Village, respectively—that are known to have the highest rates of crime in the city. They say they are committed to unifying these and other communities throughout Richmond. In additional to spearheading this march, the organizers are active members of their respective neighborhood councils and watch groups.

"We are trying to create a movement, so that we can be one city," said Brown. "We have to erase the divisions [that exist] across [neighborhood] lines," she said.

According to Brown, Marching for Change is the second anti-violence event that she and Christian have organized in an effort to decry violence in Richmond. In August 2011, the two organized Stop the Violence—a march dedicated to combating gang rivalries between young people in North and Central Richmond. Brown said this year they decided to engage other Richmond neighborhoods plagued by crime, and organized their event to coincide with the Martin Luther King holiday.