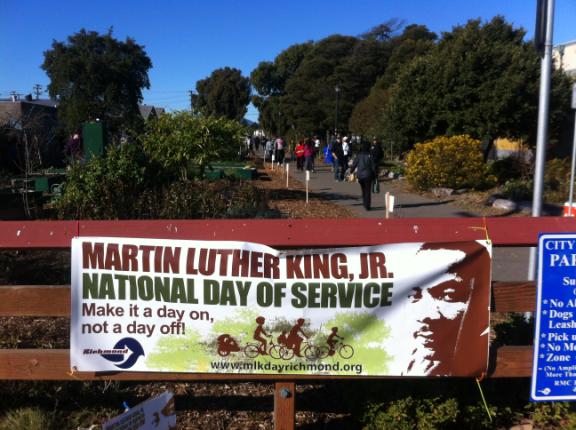 16 Jan

Best Ever MLK Day of Service in Richmond

Photo Essay, Richmond Councilmemeber Tom Butt

In perhaps the best organized ever Martin Luther King, Jr. Day of Service in Richmond, a crowd of hundreds turned out to clean, plant, weed and mulch a dozen different projects stretching along the Richmond Greenway from 5th Street to 16th Street and at 22nd and Carlson.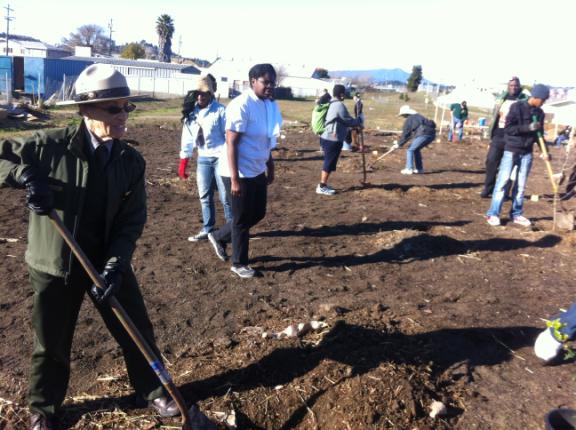 I followed a group of Forest Service volunteers to 16th Street where I helped several dozen young people who were already at work getting ready to plant 60 fruit trees in an "edible forest." The only exception was a Black Oak (Quercus kelloggii) planted by Park Ranger Betty Soskin a symbol of sustainability. It is expected to live 250 years and could grow over 100 feet high.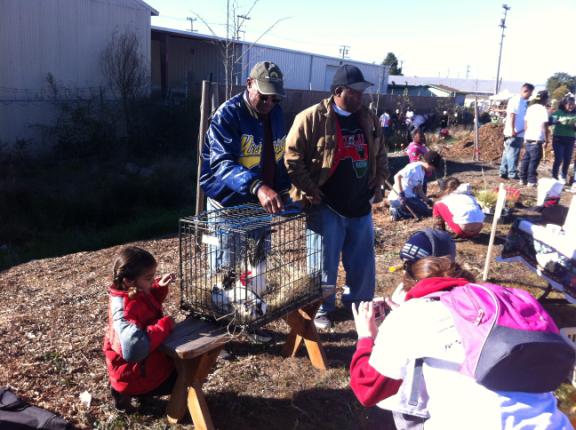 The fruit trees went in quickly, so I walked back down to 6th Street where at least ten projects were going on. Shyaam M. Shabaka, EcoVillage Farm Founder and Executive Director, had just arrived with a chicken and rabbit to entertain kids who were painting compostable pots for give-away vegetable seedlings.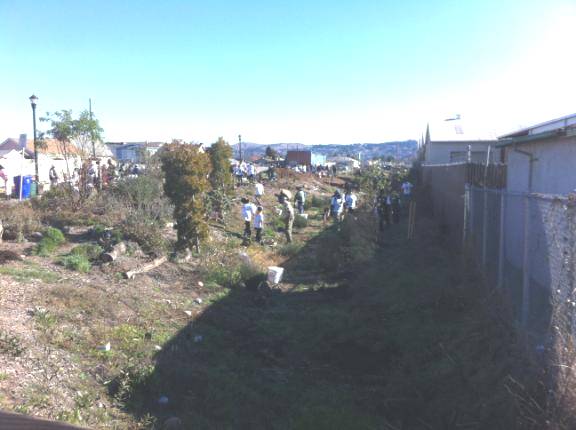 The Greenway Bioswale project was getting a good weeding and addition of more riparian trees, shrubs and grasses.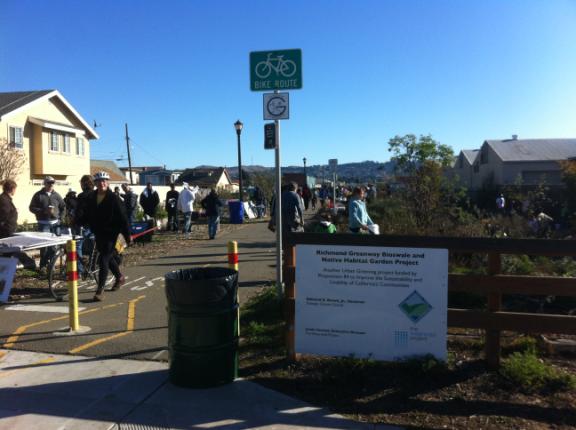 I joined a group of Kaiser volunteers loading and distributing wood chip mulch in the area next to Lincoln School filled with raised vegetable planter beds.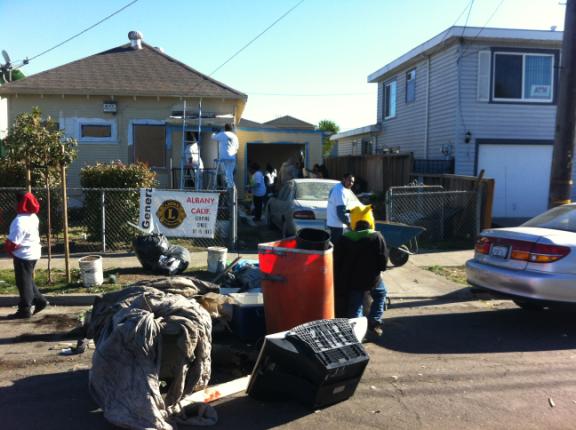 I wanted to see what the Lions Club group was doing at 6th and Enterprise, just north of Peres School. I was blown away by the scope of the project sponsored by an entire Lions Club region. It involved cleaning and rehabilitating an entire block. There was heavy equipment, a health screening van, dump trucks and hundreds of volunteers. They were doing carpentry work, cleaning yards, painting, building a community garden, clearing brush, pouring concrete and cleaning a creek.
Other projects were going on at Point Pinole and surrounding cities, but I didn't have time to visit them all. The volunteers who planed these events did a marvelous job, and those who pitched in to help made it the most successful MLK Day ever in Richmond.