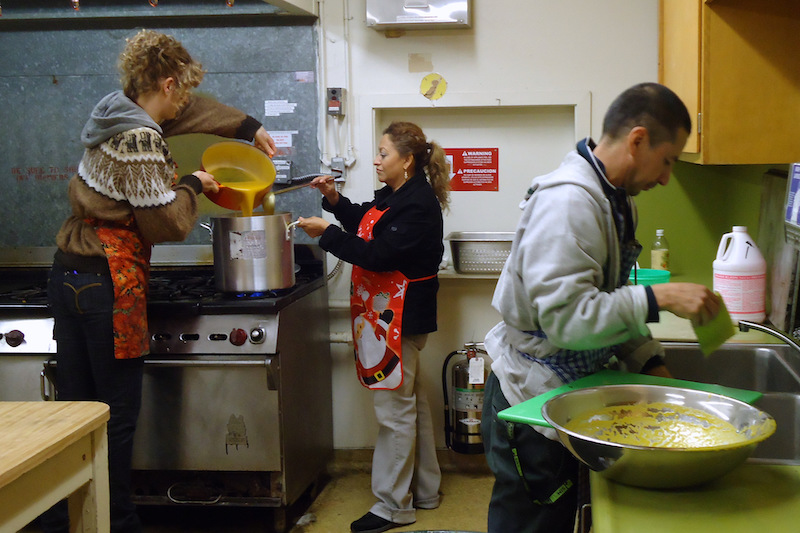 23 Jan

Liberty Ship Café Cooks Up Savory Co-op Model

News Feature, Edgardo Cervano-Soto

Editor's Note: Liberty Ship Café not only serves tasty Latin-fusion lunches at the Farmer's Market in Richmond, Calif., it's cooking up a cooperative business dream.

It is 8 o'clock on a Thursday night, and inside a commercial kitchen at Veterans Hall members of the Liberty Ship Café, a new workers' cooperative in Richmond, complete their last tasks after five hours of cooking.

The mouth-watering fare they will serve the next day at Richmond's Farmer's Market includes dishes with organic ingredients fused with the tang of Latin America.

Near a counter, Beatriz Ortiz pours luscious butternut squash into a large bowl. The bright orange puree plumps and folds onto itself as Ortiz softly pounds on a blender with her palm.

Across the kitchen, lit by white incandescent light, Julio Chavez scrubs the tools of the night: knives, spatulas, pots, pans, extra-large spoons. Stored and refrigerated are the prizes of the evening: marinated tempeh (soy cake) and pollo (chicken) for savory sandwiches; dough for the empanadas (hand-held pies), their fillings sweet with pineapple; goat cheese and fruit; and herbed chicken–all to be sold at Richmond's Civic Center Farmer's Market the next day.

Before leaving for home, Ortiz and Chavez discuss plans for Friday morning with Jose, a new member, and cooperative facilitator Lexi Hudson of the California Center for Cooperative Development in Davis.

The team of four decides to meet at 6:30 a.m. at Veterans Hall to fill the empanadas, and prepare the pollo and tempeh sandwiches. "And coffee!" chimes in Ortiz. It will be most important to keep the chefs awake during the early morning.

The Mayor's Active Role

Liberty Ship Café, named for the historic Liberty Ships built in Richmond for World War II, has been long in the making. In 2010, Richmond's Literacy for Every Adult Project (LEAP) presented a public workshop titled: "How to Start Your Own Workers' Cooperative." Ortiz and Chavez attended and later participated in succeeding meetings.

They were among a handful of participants who actually started their own cooperatives, organizations owned and operated by members, who share in the profits or benefits.

Richmond Mayor Gayle McLaughlin took an active role in spurring interest in worker cooperatives. After visiting Mondragon, Spain, and learning from Mondragon Corp, a cooperative hub employing close to 84,000 people, McLaughlin hired Terry Baird of Arizmendi Bakery in 2011. Baird is currently consulting the city of Richmond on how it can utilize the Spanish model of worker cooperatives to decrease the city's unemployment and reenergize its economy.

Liberty Ship Café, in particular, was incubated by the California Center for Cooperative Development. Like Richmond Spokes, a nonprofit bicycle shop that is also a workers' cooperative, the cafe aims to be self-sufficient and operate a gourmet mobile food truck within the next six months.

"The ultimate goal is to have a restaurant" with workers owning part of their business, said Hudson of the co-op development center.

The process of preparing a co-op has been long, risky and demanding. Since 2010, café members have participated in a range of meetings, from the development of a business model, to receiving tips from La Cocina in San Francisco, and creating a lunch menu that appeals to the average customer. However, the pressure to draw a stable income led almost all of the original 15 interested individuals to drop out of Liberty Ship Café. Beatriz Ortiz and Julio Chavez are the only two original members left.

Chavez said it's difficult to start a co-op from "the ground-up." "Estamos empezando de abajo," he said. "We're starting from the bottom."

A former journalist from Guatemala, Chavez has been a construction worker in Richmond, but now he declines offers of construction jobs because he prefers to work towards "something of one's own."

Ortiz echoes that desire, though she sympathizes with those who left the group. "Everybody has different necessities and it dictates their decisions. We had single mothers in our group, who needed the stable jobs, so they had to leave. Being part of a cooperative is a sacrifice," Ortiz said.

Customers Line Up

The orders are in and Chavez is preparing a sweet-marinated chicken sandwich beneath the café's golden canopy, which protects the market's vendors from the afternoon rain.

Liberty Ship Café's presence at the Farmers Market has attracted new customers, who line up, purchasing pineapple empanadas, red-leaf lettuce salads, and the tofu-like tempeh sandwiches. One customer said she decided to visit the market to try the organic and Latin-American fusion food prepared by the cafe.

Arlo Anderson, a nearby kettle popcorn vendor, traded a large popcorn order for a chicken sandwich. "It was great," Anderson declared, adding, "it had a good sweet sauce."

Ortiz hopes Liberty Ship Café can serve as an example for working families in Richmond of what nutritious and great tasting food can be. "Too many of our kids eat fast food. We need to learn how to eat well and healthy again."

Chavez believes Liberty Ship Café can help inform families not conscious of healthy alternatives. "The tempeh," he said, "is something I had known of and never tried."

All the foods cooked at Liberty Ship Café, Chavez said, mix flavors from the favorite foods of co-op members with organic ingredients from local businesses in Richmond. "Today's bread is from the Panaderia Guatemala on 23rd Street," he said.

The café's four co-op members switch turns preparing foods and taking orders, sharing and collaborating as the each undergo a steep learning curve. "Nothing is concrete," said Hudson, when it comes to running a co-op.

"We have a saying: Step up, step back," she explained. "For things to be equitable people need to have their voices heard to the extent they want them to be, so there is a lot of talking and getting to know each other."

Liberty Ship Café's evolution is transforming its members into savvy business owners. "Being here, learning how to cook and run a business is like a good school, Se aprende cada dia," Chavez said. "You learn everyday."

The Liberty Ship Café is open on Fridays at the Civic Center Farmers Marker at 25th Street and Barrett Avenue, rain or shine. Richmond Pulse, a youth-led journalism project of New America Media, is supported by grants from The California Endowment and the Richmond Community Foundation.