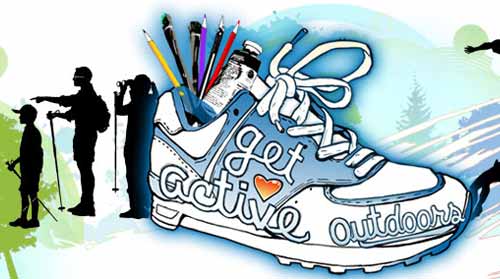 20 Apr

East Bay Parks Campaign Targets Local Youth

 News Report, Peter Schurmann

California, and the Bay Area in particular, is blessed with some truly magnificent natural treasures. Still, while many of these outdoor wonders are often no more than a stone's throw from many urban centers, a high number of largely inner-city youth never experience them.

To address that, the East Bay Regional Parks District (EBRPD) has launched a "Get Active Campaign" that aims to tap into the creative potential of young people in the East Bay to heighten awareness and appreciation of their regional parks.

"It's a major initiative to get to urban youth," says Shelly Lewis, community relations manager with the park district. "Many don't have that connection to nature," she adds, recalling a trip she took with several youth who had never before ventured into one of the area's 65 parks.

"They were afraid," she says, "of lions and tigers… They were afraid of the wild."

Indeed, with more than 1200 miles of hiking trails spread across some 112,000 acres in Alameda and Contra Costa counties, just east of San Francisco, the district is truly wild, representing the largest park district in the nation. But despite its size, many young people say it remains inaccessible.

Xavier Polk, 18, lives in Richmond and works at the Ryse Center, which seeks to provide local youth with a safe space in which to hang out and develop their creative capabilities. "A lot of people I know don't go to parks," says Polk, who adds one reason has to do with violence and issues of gang territoriality. "It's hard getting across the city," he explains.

Dan Riley with the Ryse Center agrees. He notes that with the high rate of poverty and crime that exists in cities like Richmond and parts of Oakland, many younger residents may not see parks "as having as much value as their own survival."

Those are fairly stark terms, and while the Get Active Campaign may not address all of the ills plaguing the Bay Area's inner cities, it can help to instill a healthy appreciation for nature and the benefits it has to offer.

With three categories ranging from poster art to rap/spoken word and video/skit, the campaign invites young people to submit their work detailing their own experiences with the East Bay's regional parks and extolling its many offerings.

"Think about the last time you went to an East Bay park. What did you do? What did you see? How did you feel? What would you want to tell a friend about getting active outdoors," reads the campaign's Web site.

Over $2000 in cash and prizes are on offer, with $500 going to the first place winner. Winners will be announced in mid-June 2012, with all winning entries promoted on the East Bay Regional Park District's Web sites as well as featured in its Healthy Parks Healthy People Festival.

Entrants must be residents of Contra Costa or Alameda counties between the ages of 12 – 18. The deadline to submit entries is May 25, 2012.

"Media connects young people to a community of peers," says Riley, who conducts classes on video production and other multimedia projects at the center. "It naturally leads to the creation of a support network."

With respect to regional parks, he says the campaign's more targeted outreach is a good way to get young people "thinking about the issue."

For Tania Pulido, that doesn't seem to be a problem. "My parents didn't buy us video games," she says. "We went to the park every weekend."

Pt. Pinole and Alvarado Park were two family favorites, recalls Pulido, a native of nearby San Pablo.

The 22-year-old, who teaches gardening to students at Lincoln Elementary, credits her appreciation for the outdoors to her parents, and says its that kind of exposure that can foster a healthier respect for nature among her peers.

"I took a friend to Alvarado Park once," she says. "It was her first time there, even though it was so close to her house."

Pulido says her friend's parents worked two jobs and simply didn't have the time for recreational fun. After a day in the park, she thanked Pulido. "It was really relaxing… she really enjoyed it."

With the ongoing recession, parks have in fact seen a spike in visitors seeking alternative and affordable sources of entertainment. Still, Pulido says she's seen local schools cutting back on field trips and other outings to the parks, which she fears could undermine children's appreciation for the park system.

Which is where Get Active comes in.

"Welcome to the East Bay, where we roam and play. We don't stay at home and look at TV all day." That's the start to a rap video on the contest's Web site featuring three young people as they look up from their computer screens to discover the bikes, lakes, and barbecue pits that form just part of the recreational activities to be found at any one of the district's parks.

With all they have to offer, the creative potential is truly limitless.