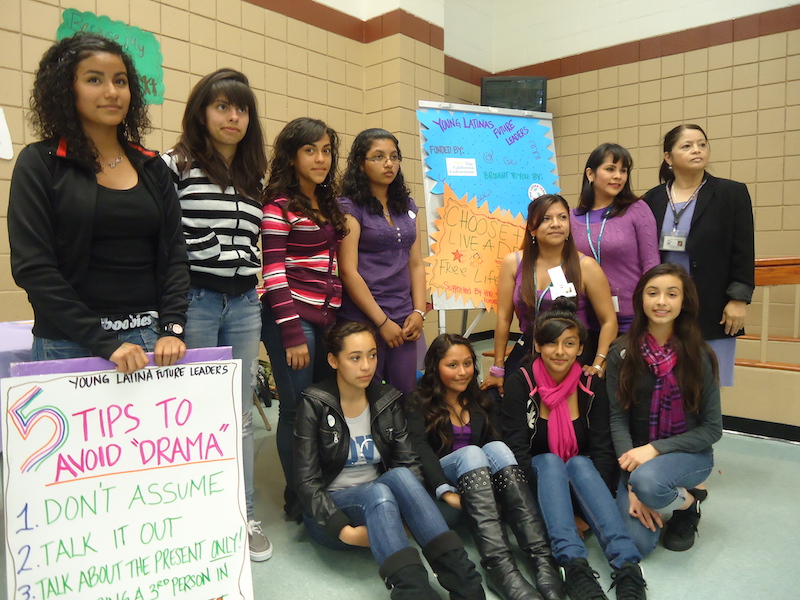 04 Jun

Richmond's Latina Center Developing Next Generation of Leaders

News Report, Edgardo Cervano-Soto

Tired of all the fights, drama, violence, bullying and hate, members of the Young Latina Future Leaders program at the Latina Center hosted the first "Forgive and Forget" dance party to encourage other young people to live a drama free life. 8th graders Alondra Reyes and Vanessa Jimenez came up with the creative idea of having a dance with this theme, and they invited speakers to talk to the students about making healthy choices.

About 80 students showed up for he dance party, which was held in late May at LaVonya DeJean Middle School.

"When you begin to start drama, you get conflicts and consequences," says Reyes. "Drama develops into bullying."

The dance is only one of the many projects of the Latina Center. Founded in 2001 by Miriam Wong, the Latina Center began its work in Richmond by empowering immigrant Latina women, many of who were victims of domestic violence.

The community advocacy projects of the Young Latina Future Leaders (YLFL) program cover a wide range, says Yenny Velazquez, YLFL's program coordinator. Current projects address drug prevention, dating violence and citizenship/immigration. Velazquez says the efforts form part of a larger movement to build a healthier Richmond. At the Latina Center, this means empowering women to be leaders in the community.  It is a process that can alter lives.

Over 1,200 women have graduated as leaders and have conducted over 457 community advocacy projects. YLFL focuses on developing leaders with an emphasis on teenage girls, like Reyes. YLFL currently has 45 members and the program is held at LaVonya DeJean and Helms Middle School. Members will continue their community advocacy projects over the summer.

Velazquez took a leap of faith when she attended a peer support group at the Latina Center four years ago. "I was going through post-partum depression and it was a really difficult time in my life," says Velazquez. " I started going to their support group and the director, Miriam Wong, said to me, you know what, you can do this," Velazquez remembers." Velazquez participated in the support group for a full year and then took part in the Women's Leadership program. She graduated from the program and remained at the Latina Center to develop the Young Latina Future Leaders program. In the program, Velazquez coordinates mentors for the student members and runs support groups. The group is now coming into its own.

In March, YLFL members addressed senators and assembly members in Sacramento in support of AB 1880, a teen dating violence prevention measure. On April 28, the Latina Center hosted its second health fair, where YLFL members spoke with parents about improving communication with their children.

Norma Diaz, an adult participant at the Latina Center, has witnessed the growth of YLFL and is proud of their involvement with the community. During the "Forgive and Forget Dance," Diaz was selling food to the students. "Perhaps I don't like to dance much, but this is important for them, so they learn how to cooperate. It's important for the youth to have friendships and learn to be united," says Diaz.

Although the school year has ended, the Young Latina Future Leader members will continue to meet during the summer and plan advocacy projects. Their graduation from the YLFL program is scheduled for July 22nd.

The Latina Center is located at 3919 Roosevelt Avenue. For general questions about the Latina Center's services or the Young Latina Future Leaders program, call (510) 233-8595.