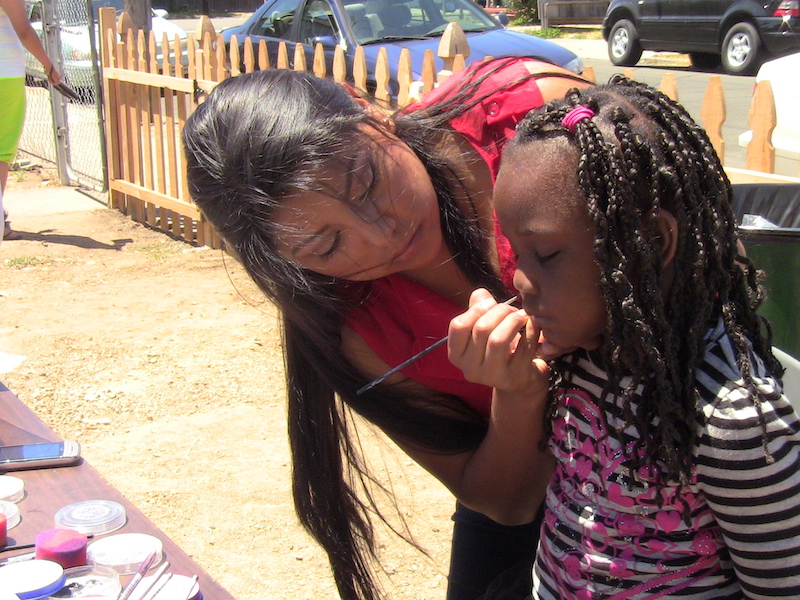 31 Jul

Face Painting Brings Joy to Kids, Extra Income to Family

News Feature, Karina Guadalupe

Joselin Reyes, 20, arrived at the park ready to begin a two-hour volunteer shift of face painting, signaling the start of the summer-long "Funky Fridays" program at Elm Playlot, also known as Pogo Park, in the middle of the Iron Triangle.

A talented artist, Joselin says her interest in art and make-up goes back to when she was young.
"I started with my make-up," she explains, describing how she would practice on her younger sister. "[Last year] my next door neighbor who sells shoes at the flea market saw my little sister and told me I should go to the flea market and do that."

It was a much-needed opportunity for Joselin to supplement her family's income, in a town where jobs for young people are especially hard to come by.

According to Cindy Sugrue, a consultant with the California Development Department, the current unemployment rate for 16-19 year-olds in Richmond is 49.8 percent. Director of the City of Richmond Summer Youth Employment, Jay Leonhardy, says the number could actually be higher, "especially in [Richmond's] most challenged neighborhoods."

Joselin's family, like many others in Richmond, was already going to the flea market every weekend to sell handmade bracelets and rosaries. On Saturdays they went to the Concord Flea Market, and on Sundays to the one in Antioch. Joselin was offered a small space at the family's stand, and it didn't take long before she was doing face painting for customers.

She started off doing simple make-up work, but has since moved on to cartoon characters and full-face designs. "I really like to freestyle and do my own designs. The boys love zombies and superheroes, and the girls like butterflies and anything that looks cute."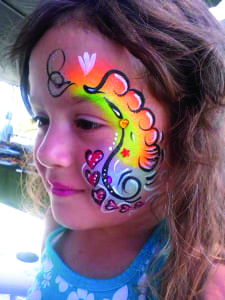 Her family was struggling financially before they decided to open their own small business at the flea market. "It was bad," recalls Joselin. "We would have to borrow money from others. The only one working at the time was my mom and there's five of us, plus dogs. With the face painting and selling bracelets at the flea market, money is not so tight anymore."
A true artist, Joselin is happy whenever she gets the opportunity to paint a face. Back at Pogo Park, what was supposed to be a two-hour shift extends to three, without a break, as she happily continues painting kids faces. But of course, it's even better when she gets paid.
"If we wanted to go out to eat (before we started selling at the flea market) we couldn't, because money was not enough. But now we can eat out; we can go buy things we couldn't buy back then," she says.
In addition to her family's stand at the flea markets in Concord and Antioch, Joselin has also been hired to paint faces at birthday parties and community events.
Anyone interested in her services can contact Joselin's Face Painting at (510) 672-8328.