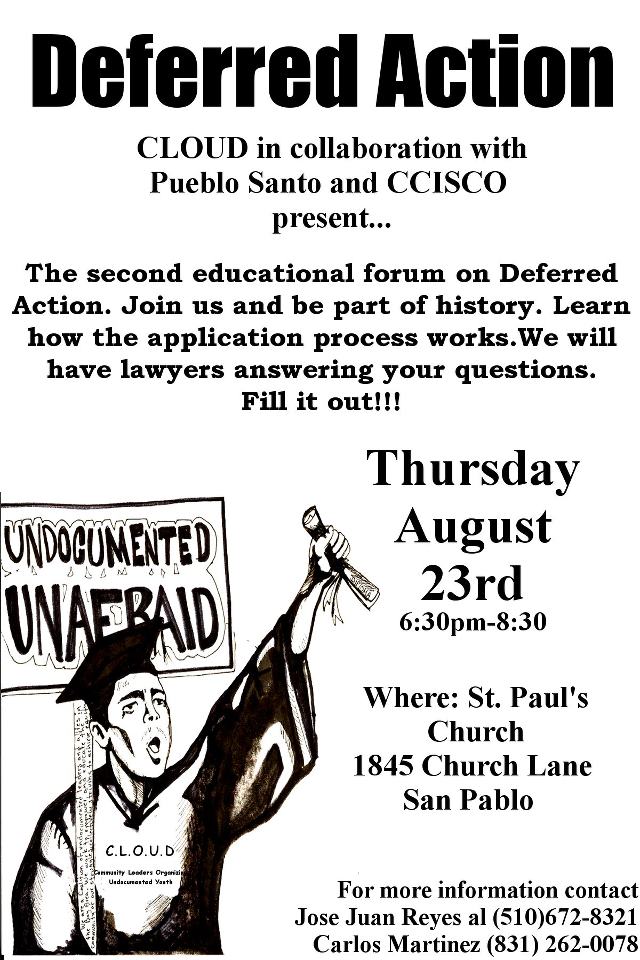 16 Aug

New Hope for Undocumented Students with Deferred Action

News Feature, Iraida Santillan

Alejandra was only nine years old when she left Jalisco, Mexico with her mother and younger sister to join their father in the United States. Alejandra's father was already living in Richmond, CA along with three of her uncles.

She crossed the border with a fake birth certificate and once she made it to the other side her father was waiting for her to take her, her mom, and her sister to their new home.

Now 23 years old and a Contra Costa College student she dreams of working with young children and running her own daycare. This dream is now becoming possible with the new Deferred Action for Childhood Arrivals program established by the Obama Administration.

This program will allow eligible youth to submit an application to the U.S. Citizenship and Immigration services to obtain a work permit and avoid being deported. The program started on August 15, 2012, and the application fee is $465.

"This opens doors for me and other undocumented students because it will allow us to work and reach our goals," says Alejandra. "However, I feel that even though I am taking a step forward with this new action I am also taking a step backwards if I don't qualify."

Carlos Martinez, one of the CLOUD leaders wants everyone to be clear that the deferred action is not amnesty. "And it is definitely not the Dream Act," he says, He wants everyone to be clear that is for those students who do not have a criminal background, and that anyone up to the age 31 can apply for the Deferred action. As long as they came to the U.S. before the age of 16, graduated high school, have a GED, or demonstrate that they are still in school.

Alejandra and other undocumented students can find out more about the Deferred Action at an information fair hosted by Community Leaders Organizing Undocumented Dreamers (CLOUD) on Thursday, August 23 at 6:30 p.m. at 1833 Church Lane San Pablo, CA. There will be lawyers providing information and answering questions as well as helping the youth fill out the application correctly.