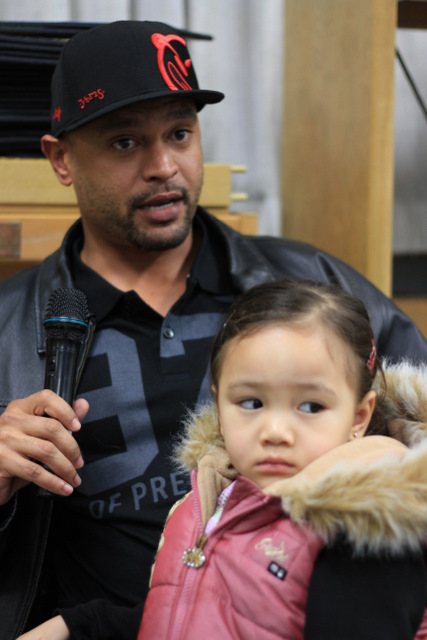 07 Dec

'Whose City is This?': Library Forum Sparks Intergenerational Dialogue on Violence

News Report, Edgardo Cervano-Soto

The expansive discussion on issues impacting Richmond youth that took place at last Saturday's forum hosted by teens at the Richmond Public Library made it clear that young people here are not apathetic about their community. On the contrary, they regard the city as theirs.

During the two-hour forum, over 20 people, including parents, youth and community organizers, shared their concerns over the state of youth in Richmond today. Turf boundaries and violence involving multiple generations of Richmond families dominated the discussion, and concerns over education and access to resources for youth were also prominent.

Angela Cox of the Richmond Public Library prompted the discussion by asking audience members, "Whose city is this?"

Cox, a Richmond librarian for 27 years and coordinator of the library's teen services, said she wants the library to be a space for youth to express themselves and "be a part of Richmond."

Cox introduced the forum's facilitator, Bill Say, a professional mediator who specializes in group and community healing. During his introduction, Say said he has longed to work with the Richmond community.

The opening discussion involved how to improve education in Richmond.

Sylvia Greenwood, principal of LaVonya DeJean Middle School, reported that her teachers, despite a tight budget, are closing the gap that exists between them and their students — learning how to communicate, at a time when technology is a major component of youth culture.

Ilse Rueda, a graduate of La Vonya De Jean Middle School and current San Francisco State University student, stressed the importance of multiculturalism in public school curriculum. A multicultural curriculum, she said, would give positive examples to students of color and encourage them to be successful – something district schools today aren't doing enough of.

"The current curriculum," said Rueda, "is not reflective of single parent households or low-income families."

The conversation got lively when the topic turned to generational violence, with some saying the previous generation had laid a foundation for the violence erupting today on Richmond streets. At that point, Say called for an honest, but controlled, dialogue between community members. There were also comments leveled about the lack of responsibility older community members are taking in burying age-old disputes.

Sam Vaughn, a Neighborhood Change Agent with the Office of Neighborhood Safety, said the origins of violence are not exactly important, because "the youngsters are not fighting about what the elders fought about."

Dante Clark, a local spoken word artist and instructor with the group RAW Talent, expressed that adults should be equally implicated in creating a "healing culture." He stressed that Richmond needs a forum where youth, adults and elders involved in generational violence can agree to a ceasefire.

The evening's discussion concluded by getting people out of their comfort zone, asking each participant to discuss youth issues with someone whom they might not normally talk to.

Clark closed out the night with a spoken word performance.

Given the amount of energy generated by the discussion, it's expected that there will be additional forums on community violence in Richmond in the near future.