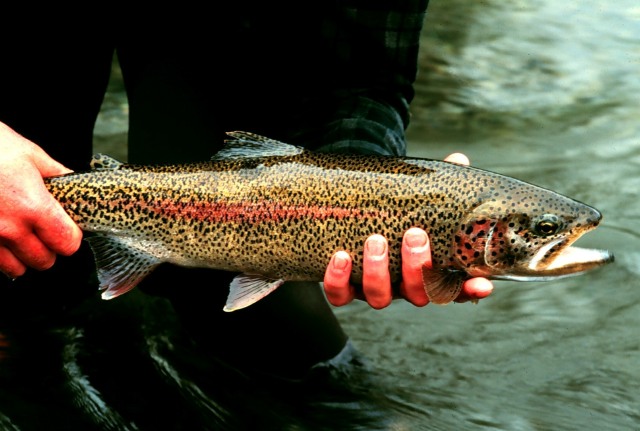 10 Jan

GO FISH

Park It column by Ned MacKay, East Bay Regional Park District

It looks like this is a great time to go fishing in East Bay Regional Park District lakes, and here's why: the park district has just planted more rainbow trout than ever before.

In December the district added a total of 23,000 pounds of rainbow to five of its lakes: Del Valle south of Livermore, Shadow Cliffs in Pleasanton, Quarry Lakes in Fremont, Lake Chabot in Castro Valley and Lake Temescal in Oakland.

Of this total, 17,000 pounds of fish were provided by the district and another 6,000 pounds by the State Department of Fish & Game. They must be swimming fin to fin out there.

In order to fish at district lakes, anglers age 16 or older must possess a state fishing license. These are generally available at sporting good stores. You must also purchase a $5 daily park district fishing access permit. These are sold at park kiosks and marinas.

Anglers age 15 and younger do not need a state license or park district permit. They can fish for free. And all ages can fish for free from piers on San Francisco Bay. It's a state law. Piers where you can fish for free on the bay include those at Pt. Pinole in Richmond, and Carquinez Shoreline between Crockett and Martinez. The usual limits still apply.

All proceeds from sale of fishing access permits are used to help pay for planting more fish.
Anglers should be aware of a temporary situation at Contra Loma Reservoir in Antioch. Contra Costa Water District has lowered the reservoir for vegetation management and gauge installation.

The reservoir is being lowered to 188 feet from its maximum elevation of nearly 205 feet. Tule and other vegetation will be controlled, and the gauge will be installed near the dam.

Completion of this work is expected by the end of January, and the reservoir level will be restored. Until the water level rises again, it won't be possible to plant game fish at Contra Loma. For further information contact Gina Oltman at Contra Costa Water District, 925-688-8010.

For full information on park district fishing regulations, fish plant schedules, and reports on where the fish are biting, check the district's Anglers' Edge newsletter online at www.ebparks.org. You can also call 888-327-2757.