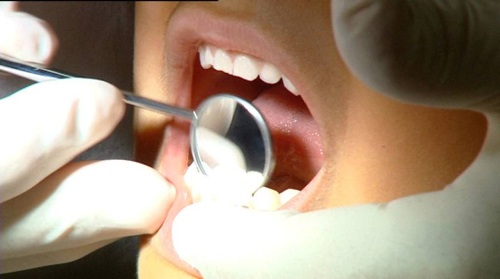 23 Jan

The Tooth Gap for California's Kids – It's Widening

News Report, Anna Challet | New America Media

Over half of California's children will soon have access to dental care because of the Affordable Care Act. The problem, according to a recent report, is that not enough dentists are willing to treat them.

"In Alturas, none of the dentists take Medi-Cal," says resident Christa Perry, whose 4-year-old son Alexander has a cavity. Alturas, tucked into the northeastern corner of California, is a city of close to three thousand. In late October of last year, Perry took Alexander to a dentist in Canby, twenty miles away.

"His tooth hurt so badly that he was crying, and they told me we needed to leave – because he was crying," she says. The office directed her to a dental practice in Susanville, a hundred miles away.

Perry, who runs a daycare in her home, had to miss work to drive her son to the appointment. She was also concerned about gas money. Alexander's appointment was for 2:00; at 4:00, he still hadn't been seen. Perry's younger child, an infant, was crying, and the dentist, who was working on another patient, seemed frustrated about listening to the baby. Sometime after 4:00, Perry and her children left.

She was eventually able to find a third dentist who took Medi-Cal, but that office had to cancel her appointment the day before due to an emergency. It would have been another long drive and by then it was winter; Perry was concerned about her older car being safe to drive on the snowy roads throughout Modoc County.

This year, Medi-Cal, the state's Medicaid program, will take on over one million additional children, bringing its total number of children to approximately 5 million – half of California's kids. This is primarily due to the elimination of the Healthy Families Program, the state's low-cost insurance program for children who were uninsured and did not qualify for Medi-Cal. Some additional children will also enter the program by 2014 through the implementation of the Affordable Care Act.

But according to The Children's Partnership (TCP), a child advocacy organization based in Santa Monica and Washington, DC, California doesn't have nearly enough dentists accepting Medi-Cal to cover these additional children.

TCP released a report this week on the crisis faced by many families whose children depend on Medi-Cal for their dental care. Jenny Kattlove, the author of the issue brief, is TCP's Director of Strategic Health Initiatives.

"The state has said that they feel there are enough dental providers, except for a few small counties … But, the program is not up to par. It can't currently meet the needs of its enrollees, let alone those of a million new children," Kattlove says.

In 2011, almost half of the children enrolled in Medi-Cal's dental program did not see a dentist. Approximately one-third of California's dentists accept Medi-Cal patients, but according to the most recent data available, only one-fourth of those dentists saw 80 percent of all Medi-Cal patients. This indicates that there are a limited number of dentists who are willing to see a significant number of children who are covered by Medi-Cal.

California has one of the lowest Medicaid reimbursement rates in the nation – the vast majority of dentists who do not accept Medi-Cal report the low reimbursement rates as their primary reason for not doing so. Making matters worse, Medi-Cal reimbursement rates are lower than Healthy Families reimbursement rates, raising the concern that not all dentists who accepted Healthy Families patients will complete the burdensome paperwork to accept Medi-Cal.

Kattlove says that while the State should be applauded for engaging with various children's advocates, Medi-Cal's dental program needs work.

Other parents Kattlove has worked with include one mother in Mendocino whose toddler fell and broke his tooth. She does not own a car, and the closest pediatric dentist who would accept Medi-Cal and could treat her son was over a hundred miles away with a long wait for an appointment.

Her son's teeth became infected and began to rot. Over the months waiting for an appointment, the infection spread and caused facial edema, resulting in two emergency room visits. Ultimately, four of his teeth had to be extracted and his permanent teeth will likely be adversely affected.

TCP's report outlines recommendations for the Department of Health Care Services (DHCS), which is the department administering Medi-Cal. In addition to recommending that the department take steps toward higher reimbursement rates, TCP has suggested workforce solutions, like employing other dental professionals who work under the supervision of dentists (comparable to nurse practitioners). The expansion of teledentistry, or using technology to provide dental care at a distance, is another possible solution for serving remote areas.

Anthony Cava, a spokesman for DHCS, says that the department plans to perform a "network adequacy assessment" prior to the transition of children from Healthy Families to Medi-Cal, and that children will not be transitioned until DHCS is sure that the program is adequate to serve the additional children.

"DHCS continues to work with advocates to improve its dental program and is expanding its dental provider network to ensure access to dental care services for all children enrolled in Medi-Cal," says Cava. The department did not respond more specifically to questions about the number of dentists accepting Medi-Cal.

Kattlove and The Children's Partnership remain concerned. "We believe that the Department of Heath Care Services has a mandate that all children enrolled in Medi-Cal get the dental care they need. The legislature should hold the department accountable," she says.

Kattlove believes that this could be a first step toward mandating adult dental coverage as well. "By having an overall action plan to ensure that all kids access their dental care, we can help put the issue of adults on the table … Adults need that care and end up in the emergency room because they can't afford preventative visits. We also know that when parents access dental care, their children are more likely to access dental care," she says.

Today, almost three months later, Christa Perry's son has still not been treated. Perry, who both underwent a hysterectomy and had an aneurysm this winter, is not sure when she'll be on her feet again.

"He keeps saying, 'Mommy, my cheek hurts,' and I don't know what to do," she says.