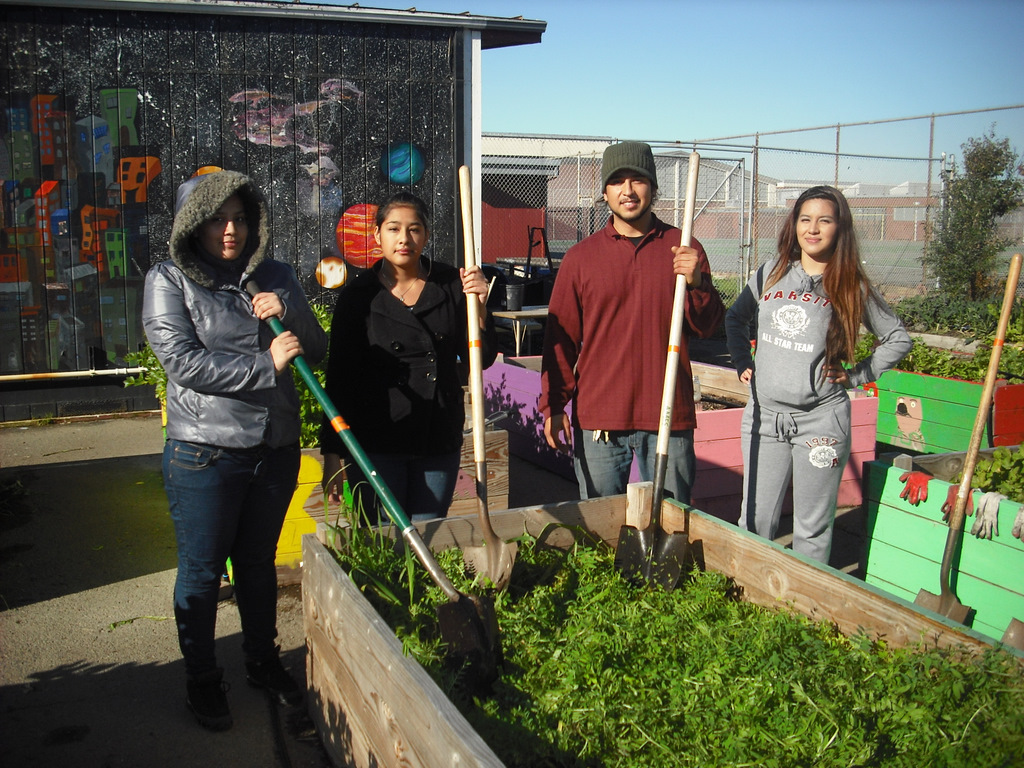 31 Jan

Seeing the Positive in Being a Teen Mom

News Feature, Tania Pulido

Richmond High is one of the few schools in the city that offers an Adolescent Parenting Program (APP) for teen mothers; and every year, a new wave of young moms attends the yearlong program. Back when I was in high school, a friend once told me she was on the waiting list for APP. I was a little surprised, even though seeing pregnant girls was the norm. In fact, looking back now, most of my friends had children when they were teenagers.

Growing up, my mother emphasized how she didn't want me to follow in those same footsteps, and the other adults around me also shunned teenage pregnancy. But after recently interviewing teen moms at Richmond High School, I have a different perspective.

One 17-year-old mother from Richmond, Elicia Martinez, told me she went from being an "at risk youth" to an aspiring college student after her child was born. "When I had my baby my life changed. He made me feel like a better person," said Martinez. The young mother spoke to me about being shot at the age of ten. She admitted to being a victim of violence as well as an initiator, at different times in her life. Like other young people in this city, Martinez said the many daily challenges were what forced her to become "an aggressive person."

Nayeli, 16, a mother in the 11th grade, agreed that when growing up in Richmond it's just easier to do the wrong thing sometimes. The biggest challenge Nayeli faced as a teen was not the street violence, but telling her conservative and strict parents that she was pregnant. "My mom kicked me out of the house and my dad didn't speak to me for months," said Nayeli. After living at the home of her boyfriend's family for 3 months, her forgiving parents took her back in.

Michelle Bandy works with YMCA's school-based mental health service arm, Y Teen. She also serves as a therapist for the APP class at Richmond High, where she's been for the last four years.
"There's always a new trend every year. Currently a lot of our girls are at risk of losing their homes, which can cause mental anguish and mental stress. Last year it was domestic violence — in 2012, I was in court a lot. A lot of our girls have been beat up so much they've normalized it. Last year, it was the highest rate domestic violence that I have seen."

Bandy works with the teen moms on activities for daily living, as well as the long-term picture—making sure that they graduate and hopefully go on to college while preventing pregnancy while they are in high school.
"For a lot of our girls, it's culturally accepted to be a teen mom. A lot of times their moms had them as a teen. There might not be a lot of talk in the home about safe sex," said Bandy.

For Tyana, being a 16 year-old pregnant teenager growing up in Richmond "was playful." She had a blast hanging out with the neighborhood kids, although it was sometimes hard. Tyana, like the other teen mothers in APP, is focusing on "trying to be a better me." Her plans are to graduate from high school and get a job. Tyana just got over the morning sickness phase of her pregnancy, and said she is now feeling more capable of accomplishing her goals.

Learning to accept being a teen mom, said many of the participants, was the hardest thing they'd ever had to do, and challenged them to become good role models. "I don't have to think about me, but my child," said Luisa, a 10th grader who has a two-month-old baby.

Luisa, caught in the stressful contemplation of having a kid, was thinking of aborting when she found out she was pregnant. After much consideration she decided to have the child due to guilt. Now, Luisa feels her life has much more meaning with her baby.

Nevertheless, said Luisa, once you have a baby, you're strapped for personal time due to the new responsibilities. So what is the young mother's advice to other teenagers? Wait for motherhood. "Don't get pregnant at a young age, because if you're out partying you wont be able to do that anymore with a baby."
Not only do young mothers have to worry about not being able to freely hang out with friends — school also becomes more of an obstacle.

Nayeli offered her own advice to young mothers. "Not to drop out of school," she said. "I know it's hard but think about your son or daughter and do it for them." The experience of going to school and being a young mother, said Nayeli, made her a more patient and responsible young lady.

Elicia, echoing Nayeli's advice, said other young girls should "do good in school because they are going to regret it later."

For these young mothers, regret is far from what they feel now, when they hold their precious children — even though they were all in shock when they found out about their pregnancy.

Elicia was taken aback by the news because she was taking birth control. Nayeli didn't sleep the night she found out. Tyana and Luisa were scared for the future. Regardless of the roller coaster of emotions, it made all them stronger and they are grateful for the life that changed their own for the better.

All the young mothers expressed appreciation for being a part APP, because it has given them a family of other teenagers who are going through the same thing — a network of support. The day I visited the group, they were participating in a weekly gardening class hosted by Adam Boisvert and Ashoka Finnely from Urban Tilth, a Richmond non-profit.

The partnership between YMCA and Urban Tilth began in 2012. The on-campus garden is the setting for the weekly gardening and healthy-eating class.

"The class and garden provide a really healing environment for the girls," said Bandy.
"When the young mothers first participated, they had a hard time eating vegetables from the garden, but they are getting better," added Boisvert.

As we were talking, the young mothers harvested celery from a garden bed and dipped them in peanut butter. Teacher Angela Davis said the girls are more peaceful when they are outdoors, enjoying nature. Luisa said the garden class "has thought me a lot about nutritious food, I didn't like vegetables, now I'm excited to eat them and I'm going to make my child eat them."

Young mothers can be successful with the help of other young mothers, their parents and other adult mentors. Part of the challenge is acknowledging all the barriers young mothers triumph over, both personally and academically. For some of these young mothers, it was their children that motivated them to be better people and strive for the best, so they can give their children everything they need.

It reminded me of a Tupac metaphor, the one about a flower growing through concrete. In the toughest situations a beautiful life can emerge, bringing with it a positive spin on life. As a new aunt, my own life has definitely changed drastically. I just don't think about myself anymore, but all the experiences I want to have with Luciano, my nephew.

The young mothers taught me a very valuable lesson, life is what you make it and having a kid at a young age can bring more good than bad. Ultimately it's up to the young lady to decide whether she wants to have a child or not; abort it or keep it — but as I learned from these wise young women, it's better to wait until you have accomplished your goals and had enough fun, before settling down.