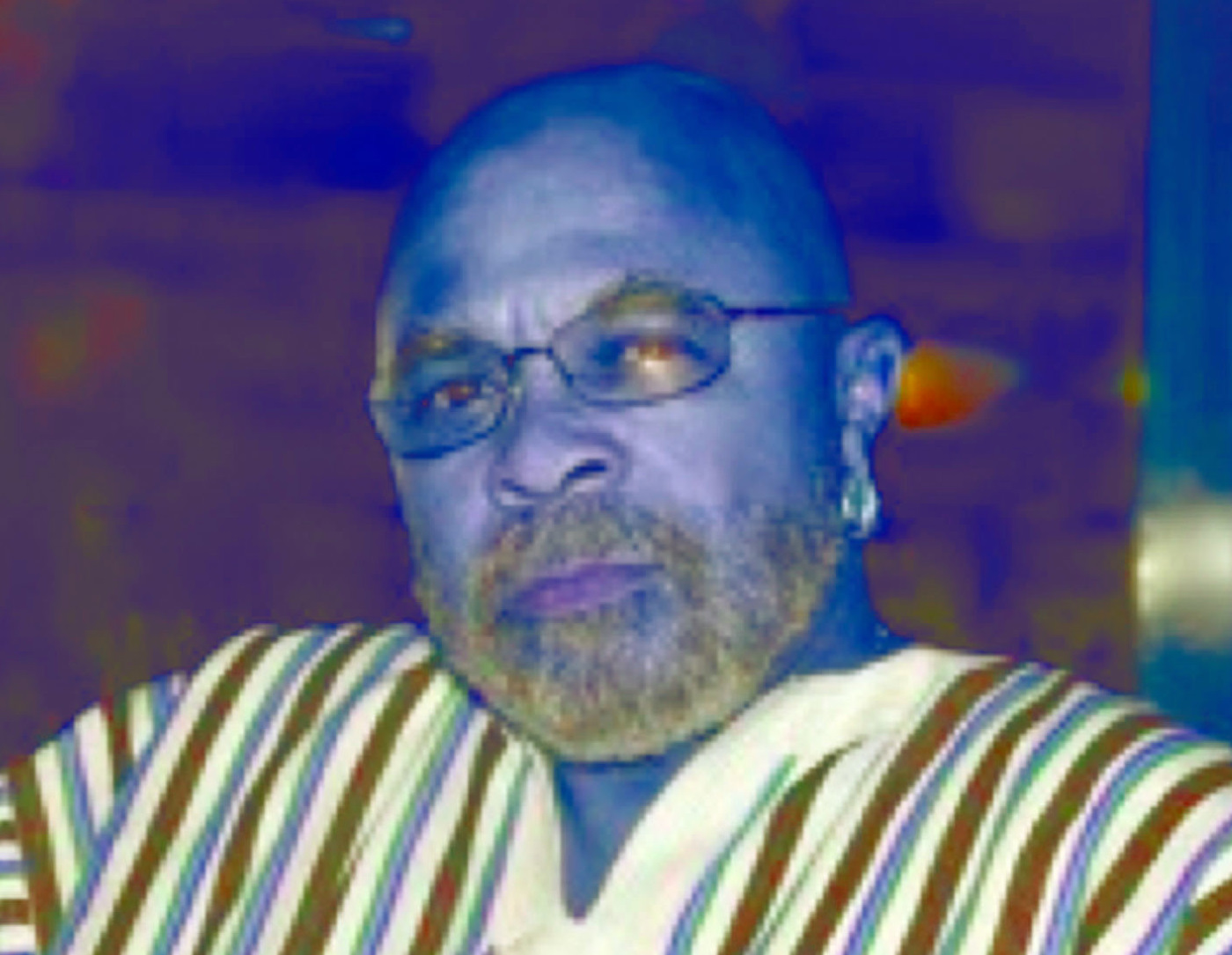 06 Feb

"Black History Happens Every Day": A Conversation with Dedan Kimathi Ji Jaga

By April Suwalsky

Born "somewhere between city and country" in Danville, Virginia, Dedan Kimathi Ji Jaga, 65, is a positive force in Richmond and a citizen of the world. Documentarian, media producer, cultural commentator, martial artist, family man, veteran, activist, teacher, and global excursionist — he is a formidable presence with a critical perspective, whose breadth and depth of experience is beyond category.

Mr. Ji Jaga grew up "close to the whip" of slave history, and contemporary with the struggle and bloodshed of the Civil Rights movement. He was privileged, though, to be raised in a community of intellectual, protective elders who were careful, yet defiant. Ji Jaga began studying martial arts at age 11, and has been inspired by diverse individuals — his mother, Malcolm X, Tupac Shakur, Lloyd Bucher, Herschel Walker, and others — to lead, seek social justice and visit destinations in other parts of the world.

Ji Jaga became a Marine and went to Vietnam, where he experienced the emotions and madness of getting his "first kill" (a fifteen year-old boy), only to lose his best friend and Marine comrade Leo, who was also killed. Ji Jaga would later have a revelation that the war was wrong. Injured multiple times while on duty, he returned to the U.S. where he resolved to help other veterans.

Mr. Ji Jaga has since traveled all over the world — joining diplomatic delegations and meeting with heads of state, such as Yasser Arafat in 1991. He credits God for imparting in him a "special fiber or particle" that has drawn him to interesting people.

I had the honor of interviewing Mr. Ji Jaga on the eve of his birthday. It proved a daunting and intriguing challenge to capture the story of the friend-hero who smiled across the table and urged me to engage "creative instincts" for this piece. In thinking about Ji Jaga, one is reminded of the words of Albert Camus, who wrote: "In the depth of winter I finally learned that within me there lay an invincible summer." These words epitomize Mr. Ji Jaga, himself a fierce and eloquent writer.

AS: Your name honors the lives and legacies of Dedan Kimathi Waciuri, a hero of Kenya's liberation struggle, and Los Angeles Black Panther Party leader Geronimo Ji-Jaga Pratt, who was wrongly imprisoned for 27 years. What were the circumstances that led to your name?

DKJJ: After founding the San Francisco Chapter of Vietnam Veterans of America (VVA) and serving as president, I was asked to do some work as a veterans advocate on Geronimo Pratt's East Bay Defense Committee. Our chapter unofficially adopted Geronimo's wife and two children and worked to assist them as best as our meager resources would allow.

I requested that there be a national VVA movement established to support and endorse the campaigns and petitions seeking freedom for Geronimo. He was a highly decorated combat veteran whose heroic deeds saved several of his comrades from certain death. My request was summarily rejected, as the general consensus was that Geronimo would never be released and would die in prison, guilty or not. I lost my desire to remain affiliated with VVA.

I was communicating on a regular basis with Geronimo, still we had never met. A stint in solitary confinement resulted in Geronimo having an apparitional encounter with the spirit of Dedan Kimathi, the flamboyant Mau Mau revolutionary field marshal who fought for Kenya's liberation from colonial rule during the 50's. In his next letter to me, 'G' shared that the experience had been some kind of other worldly revelation that portrayed my present day existence as an incarnated replication of the warrior majesty that was Dedan Kimathi.

Ji Jaga roughly translated means "The Jaga"– a notoriously fierce and vibrant African people that emerged from the Central and West African regions is another cultural tribal identity that was embraced. So when Geronimo offered to me for consideration the name Dedan Kimathi Ji Jaga I was humbled, honored and exalted in claiming this distinct moniker as my long lost ancestral identity.

AS: Tell me about racism.

DKJJ: Being born and raised in the South, I know a little something about racism and hate mongers. I remember my Mother telling me to beware of the southern Night Riders who inhumanely attacked, abducted and in some cases castrated young African American boys.

Growing up seeing the "Whites Only" signs and "Blacks Not Allowed" signs. Witnessing the birth of the Civil Rights Movement and being an active participant in everything from sit-ins to Vietnam to the Black Panther Party, definitely gave me a pedigreed exposure to racist insensitivity on a major scale.

Racism today is much more subtle with its obvious presence and it has taken on a certain technical and institutional sophistication. Racism is still in force and as debilitating as ever, it's just that social factors and conditions have been introduced to create the illusion that America has finally let freedom reign. Society still allows an exclusive segment of our populace to cloak and conceal racist discriminatory tendencies while camouflaging them as something other than what they actually are.

Don't believe the hype! Tolerance is slowly enrobing away the old traditional beliefs that fueled racism for years, but die hard proponents, with their numbers in constant decline will unfortunately always have misguided followers who would rather hate than love.

AS: February is Black History Month. What does this mean, if anything, to you?

DKJJ: Black History month is special in the sense that it does bring a global focus to our existence in a commemorative fashion. It would be nice to see a progressive evolutionary depiction of the African American experience that did not appear to be yesterday's soup warmed over.

There are incredible people and accomplishments that go unnoticed in our communities at any given moment and more should be done to highlight these deeds and acknowledge the dedicated men, women and children responsible for these accomplishments.

Black History should not be marginalized or relegated to the shortest month of the year, it happens every day and we need to celebrate it every day.

AS: What is your vision and hope for the Richmond community? Why are you here?

DKJJ: My hope and vision for Richmond and the rest of the world is for all of us to protect, love and empower our children for greatness and fulfilling lives that understand and embrace the selfless concept of giving back.

How I wound up in Richmond is still a mystery to me especially when my first night in Richmond, out picking up pizza, I witnessed three relatively violent street fights in a 15 minute time span. Yet there was so much more going on in Richmond that was positive and I refused to allow the negative, media-driven stigma of Richmond being a dangerous, violent place to live run me away.

My volunteerism in Richmond focuses on advocating for at risk youths, veterans and community affairs. Coaching youth basketball teams, establishing the Richmond Grinders Track Club, and rendering conditioning and training regimens for high school and college athletes are some of the ways I seek to reach as many youth as possible. I am proud to work with several NPOs, including Urban Tilth and Jerrold Hatchett's National Brotherhood Alliance.

My young daughters and granddaughters are my constant companions and participate in the work I do. My hope is that what they see me and others doing inspires them at some point of their lives to give back to those less fortunate than themselves.

Having traveled extensively throughout the world to several third world counties, I have seen abject poverty, malnourished children, abandoned to the streets children and worse, here in America as well as abroad. Because these conditions are so prevalent locally, regionally, nationally and globally we have not done enough for our children because they deserve so much more.

AS: What is your guiding philosophy?

DKJJ: My personal guiding philosophy seeks to help someone or do some good deed in some way every day no matter how small or major. Whether contributing positive energy into the grand scheme of life's universe or getting that can of olives off the top shelf at the grocery store that the little old lady can't reach, it all comes together.

And I adamantly identify with karma like adages that suggest that who you are as a human being and what you do to and for others comes back to you in spades.