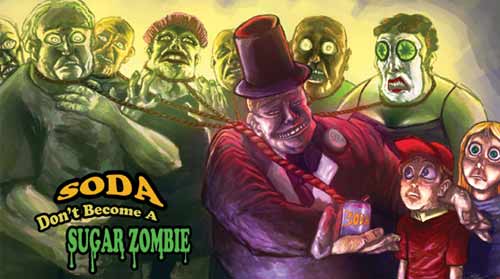 07 Feb

As Beyoncé Endorses Soda, Youth Warn of the 'Sugar Zombies'

Press Release • Anna Challet, New America Media

Ed. Note: Organized in the fall of 2012, the Soda Sucks anti-advertising campaign, sponsored by New America Media, invited youth from across California to "outsmart the soda advertisers." Soda Sucks awards were contested in two categories: poster and spoken word/video. Winners shared in a $3200 cash prize. Winning projects can be seen at the Why Soda Sucks website.

SAN FRANCISCO — This year, an image of R&B superstar Beyoncé's face will appear on limited-edition cans of Pepsi, part of a $50 million ad campaign that will include TV commercials and

life-size Beyoncé cutouts in supermarkets across the country.

In a statement, the singer, who performed the Star Spangled Banner at President Obama's inauguration, referred to Pepsi as a "lifestyle brand" that she could work with "without sacrificing [her] creativity."

But while health experts and youth advocates have blasted the artist for what they say is essentially an endorsement for childhood obesity, young adults in the Bay Area are firing back with their own campaign.

Employing a combination of art, video and song, these youth are sending a message to their peers and to the soda companies, one promoting lifestyles that don't cause obesity, type 2 diabetes, and heart disease.

The Soda Sucks campaign, in a contest sponsored by New America Media, asks young people to create "anti-ads" showing that sugary drinks are harmful. Along with other organizations like Kick the Can and Dunk the Junk, Soda Sucks has become a clearinghouse for the youth perspective on soda marketing.

"This is their opportunity to advertise back to marketers, because teenagers are so targeted by soda companies. Soda is barely even food and kids are bombarded with marketing for it," says Allen Meyer, the campaign director of Soda Sucks.

Almost one-third of young Americans between the ages of 2 and 19 are overweight. There is overwhelming evidence that this is due in large part to our sugar habit – and soda and juice account for one-third of our excess sugar consumption. Over 60 percent of young people between the ages of 12 and 17 drink at least one sweetened beverage every day.

"There's an enormous amount of marketing promoting it as a normal part of life. There's a pervasiveness to it – soda is everywhere, all the time," says Meyer.

Troy Reinhard, 19, won $1000 for his video submission, "Drinkin That Water." He learned about the contest through his involvement with Y-Projects, a youth-run recording studio at the Shih Yu-Lang Central YMCA in San Francisco's Tenderloin neighborhood. Reinhard, a native of San Francisco, currently attends Berkeley City College.

Discussing the humor in his video, he says, "I thought if I could be funny and entertaining I might be more likely to reach young people."

Reinhard, who worked with the Boys & Girls Club when he was in high school, says he knew kids at the club who had diabetes. "I don't like seeing young people getting sick like that," he says.

Excess sugar consumption has been found to trigger metabolic syndrome, the primary risk factor for type 2 diabetes and heart disease. Diabetes treatment now accounts for $1 out of every $10 spent on health care in the United States.

"I hope the video submissions end up making it into other youth programs and into schools so that they can be shown in health ed classes. YouTube only goes so far, and it would be good to show them in schools, where they might be more effective," says Reinhard.

Reinhard used to drink soda "all the time," but now he's down to having it once or twice a month.

Maurice Clark and Jonathan Hall (aka ITZ Mainey) won second place for their video submission, "Cup Full of H2O." They learned about the contest through Youth UpRising, a neighborhood center in East Oakland.

"We're just showing kids the cause of these health problems," says Clark, who now does visual design work for Youth UpRising. "Even if the soda is 'diet,' it's not good for you."

Harley Weir, 18, won first place in the poster category. Weir currently attends College of the Desert in the Coachella Valley, and hopes to become a concept artist in the video game industry.

"I have always felt at least a little unnerved by the heavy emphasis on advertising unhealthy products to very young people by these large corporations," he says.

Explaining his illustration, Weir says, "The man in the tuxedo is offering the children a soda, which is represented here by the lifelong dependency and unhealthiness that can result from this seemingly innocent habit – the 'sugar zombies,' as I have named them."

Juan Saenz-Arechiga won second place in the poster category.

The campaign comes as the national debate around soda and its ties to obesity and other health-related problems continues to grab headlines. In November, voters in Richmond, Calif. Rejected a bill that would have imposed a sales tax on sugar sweetened beverages. That came on the heels of a ban on oversized sodas in New York by Mayor Michael Bloomberg.

Meyer says he hopes the Soda Sucks campaign, like these other efforts, will help to alter young people's behavior. "Kids are drinking soda in place of water. A can of soda is cheaper than bottled water at the corner store. That's madness," he says.

Adjusted for inflation, the price of sugary drinks has dropped since the 1980s, whereas the cost of fresh fruit and vegetables has risen. Additionally, the influence of soda companies disproportionately affects lower-income communities, which have higher concentrations of convenience stores and fast-food restaurants than higher-income areas.

But while stars may not stop pushing soda for companies like Pepsi anytime soon, young people are presenting their peers with alternatives.

"Soda companies don't just use ads – they sponsor extreme sports, they get involved in the culture and permeate people's lives. Soda Sucks doesn't have a multimillion dollar budget, but it's a way of using the same tactics to get people involved," says Meyer.