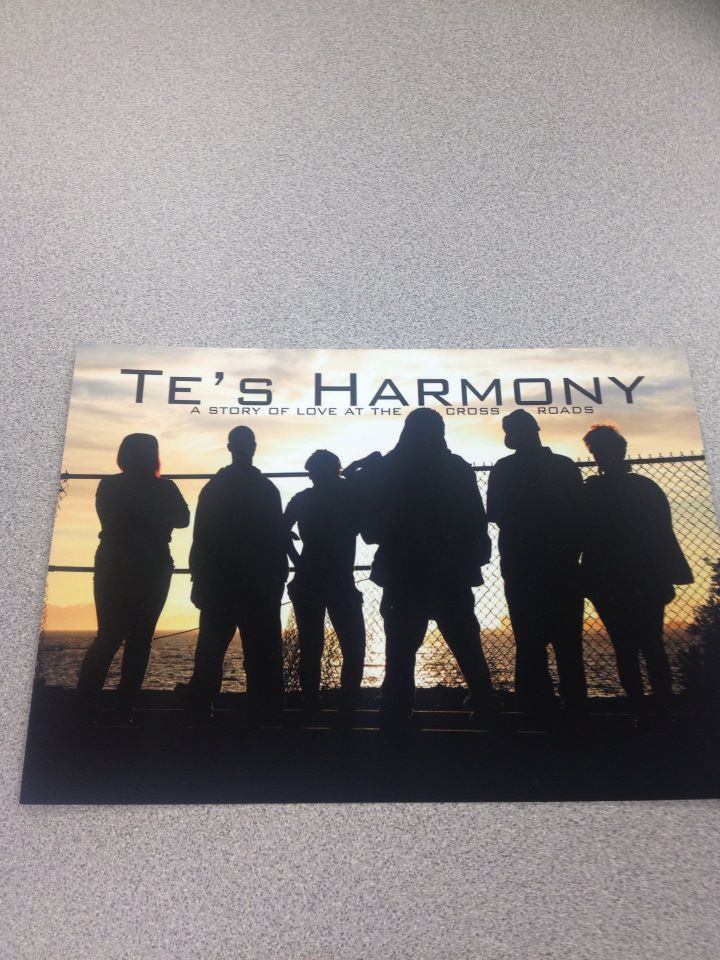 12 Feb

Love in the Time of Turf Wars

Play Review • Edgardo Cervano-Soto

Walking into the theater at El Cerrito High School for RAW Talent's new stage play, one automatically sensed there were two parallel stories taking place. One story was printed on the admission ticket – "Te's Harmony", a modern re-telling of Shakespeare's Romeo and Juliet set amid the turf wars of Richmond, CA. "Te's Harmony," written by Donte Clark and directed by Rooben Morgan, is the first full length play by the Richmond based collective, RAW Talent, to incorporate spoken word, Bay Area vernacular, Shakespearean English and hip-hop. The other story not on stage was that of the Richmond community reflecting on their city's historical injustices and episodes of violence. The sold out audience was comprised of the Richmond community (family, friends, activists, art lovers, etc), a crowd obviously invested not only in the production, but in the city's trajectory. The momentous feeling was felt even more by the presence of cameras recording the performance and reception for the upcoming documentary on the making of "Te's Harmony" called "Romeo is Bleeding." Clearly, the night was one to be documented.

Keynote speaker and writer Luis J. Rodriguez introduced "Te's Harmony" and spoke on the necessity of creative expression as a tool for social change. Rodriguez asked the audience to refocus their perceptions of youth in troubled urban cities, and move past the fear we often have of others. Of the relationship between elders and youth, Rodriguez said that respect must be generated. "Respect does not mean to be polite," said Rodriguez. "The root of the word, respect, is to see again."

The play opened with a short video telling of the friendship betweem Godfrey (DeAndre Evans) and Santiago (George Mitchell), and their rise to become two of Richmond's most powerful families. The video contained Richmond iconography including the Iron Triangle train tracks, the Point Richmond hills overlooking a glowing city beneath, and the Chevron refinery. As a short video explains Santiago's supposed betrayal of Godfrey, Richmond becomes defined as a cursed landscape. The video portrays the betrayal between the men as the start of a generational war continued by youth who believe it is their destiny. The conflict between a violent fate instigated by family expectations and the individual desire to be free and love complicates Te's (Donte Clark) and Harmony's (D'Neise Robinson) desire to be with each other. These are huge themes that are effectively balanced by the light and endearing story of Te and Harmony finding love.

The opening scene of a confrontation between North and Central cleverly exposes the awkwardness and pressure youth feel in representing their section of the cities. To see the North and Central characters fumbling over how hard they should be and what the rules are in a confrontation was disturbingly comedic, and troubling.

Clark's script posits the North and Central characters as youth who have grown up too fast, are traumatized, apathetic, and participants of violence. Yet when love is discussed, remnants of their inner-child surface. When love is spoken of, they begin to dream. Despite being pressured by their family and expectations of the turf war, the youth still embody a full spectrum of love and hate, destiny and chance, apathy and hope.

"Te's Harmony" rolls through the story of Romeo and Juliet, introducing it's own set of characters along the way, and couple of scenes worth highlighting involve the supporting cast. The dialogue and energy between Ben (Serafin Macias) and Te is especially entertaining. Their friendship and loyalty is quickly established and it feels like they have known each other for a long time. Harmony's best friend, Jazminne (Nya McDowell) provides the perfect balance of a funny, protective, deeply loving friend, who is also at conflict with Harmony's love for Te. She shifts from being the person who elevates and support's Harmony's goals but also reprimands Harmony for not respecting the turf boundaries. She's a character I often felt nervous about, unsure if she would betray Harmony.  Clark has long proven his gift for writing monologues, writing efficient and meaningful conversations that allow characters to come alive. Plus, you know the banter between Te and Harmony will be fun, when the conversation opens with, "What's your genre?"

Even though DeAndre Evans' character Godfrey was only in a few scenes, Evans' acting complimented Clark's portrayal. The scene where Te first tells Godfrey about Harmony showcases the father-son relationship that we hadn't seen in the play until then.

Marje Kilpatrick as the narrator appears throughout the play to address the history of Richmond. She provides the larger context of how segregation and racism fueled the inception of the turf wars.

After T.Y, Harmony's cousin is killed by Te in retaliation for killing Gemini, (one of Te's best friends) the play races to a showdown in a hospital room. A pregnant Harmony has been beaten by Ray, the man Santiago would like his daughter to date, however rumors convince all that Te beat Harmony. In the hospital room, the Santiago and Godfrey families confront each other, guns drawn, and it looks for sure like a multiple shootout will go down. But then Te's Harmony veers from Shakespeare's violent end to Romeo and Juliet.

The dueling fathers realize they had both been set up by the police and Ray's father, and that the ensuing 10-year turf war was all a plot by Ray's father to split the city into factions. At that instant, Harmony and Te break the fourth wall and together, as artists and Richmond residents call for non-violence and a life free of apathy. "We know you expected a tragedy and death," say Robinson and Clark, "but tonight, we choose life." This powerful statement blurred the line between Te's Harmony and Richmond. It became a statement of urgency for the community to be non-violent and work towards improving the community.

Te's Harmony and RAW Talent proved exactly what Luis Rodriguez had said, that to respect is to see again. We have to refocus our vision and see the cultural artists in our own Richmond community, regardless of age or any preconceptions we have. It was a tremendous night for the Richmond community, and another evolution of an artistic powerhouse: RAW Talent.