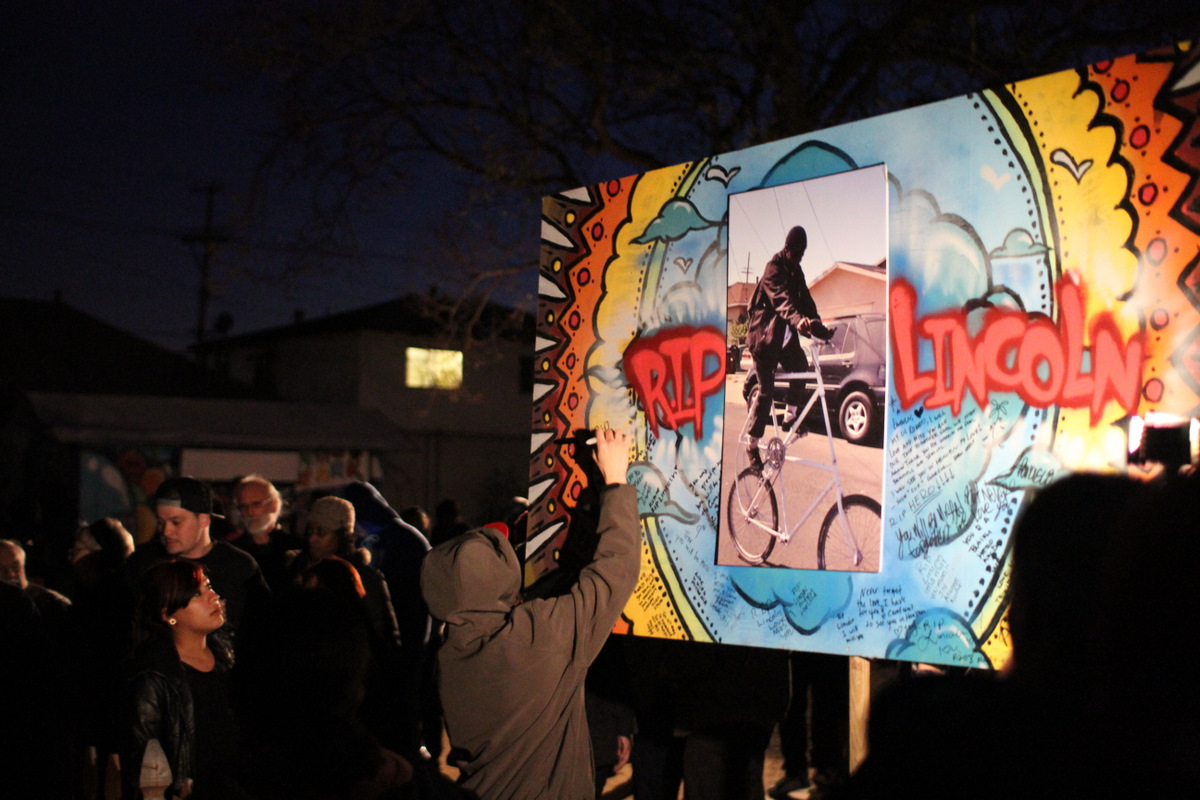 18 Mar

Community Mobilizes to Honor Shooting Victim Lincoln Plair

Karina Guadalupe • additional interviews by Paul Billingsley

The news of 20-year-old Lincoln Plair's death was a shock to all of us who knew him. By now, I'm sure everyone else has heard about what happened. On Monday, March 4, Lincoln was shot and killed in the Iron Triangle neighborhood while he was washing cars, leaving behind his 79-year-old father who he was taking care of. I heard that Lincoln, right before he was shot, was able to push two little girls into a house to make sure they weren't hurt. As of now, nobody has been arrested for the senseless killing.

I first met Lincoln when he started to volunteer for Pogo Park – a non-profit organization that built a community park in the middle of the Iron Triangle — over a year ago. He used to come to the park everyday and help us with the kids — he had a childlike personality and got along with all of them. Later, when he began working the morning clean-up shift, I didn't see him as often, but we always said hello when we saw each other.

"This was a radiant man, this was a special man," says his supervisor at Pogo Park, Toody Maher. "Everyday at 8am he would show up at our little park in Richmond and just clean the park and clean the sandbox. Folks that knew him knew that he was always on his bike. He would ride around and he knew all the neighbors. So many single mothers who were raising kids— he would stop by their house and he would wash their cars, he would play with their kids. And he did this at all these points of the neighborhood and everybody knew this wonderful and radiant spirit."

That last morning I saw him, I would have never guessed that it would be the last time any of us would be around him. I regret not being able to tell him how much I appreciated all of his help when he was alive. It's crazy how things just hit you when someone is gone. Our team took a huge hit with his loss.

Lincoln was a good person; all he wanted to do was help. He wanted to be a part of something positive. These days you don't meet too many people who put the needs of others before their own, but Lincoln was one of them.

"We had a huge tragedy this week with Lincoln being killed," says Captain Mark Gagan of the Richmond Police Department. "He was shot in broad daylight while washing a car. In his case there was no evidence that he was involved with any at-risk behavior or [had] a problem with anybody. He really is the epitome of an absolute victim. I see the grief that his killing has caused."

"What happened to Lincoln is a complete devastation to my life, to Pogo Park [and] to this community, to the children that were involved with him, that were part of his life," says Pogo Park artist Richard Muro, a co-worker and friend to Lincoln who saw him everyday. "I got to know him a lot through working here. He was an amazing person, very unique, truly unique, very warm-hearted [and] willing to help. He was one of us and I could tell that he wanted to create change."

"He just got paid and got promoted that same day," adds Muro. "We know how hard he had worked to get there."

The day after Lincoln was killed, Pogo Park staff met with representatives from Bay Area Peace Keepers (BAP), the Richmond Office of Neighborhood Safety (ONS) and Captain Gagan, to talk about how to "shine a light" on who Lincoln was. We put up an altar for him at the park and organized a candlelight vigil and night walk on Friday March 8. A short video of Lincoln was shown, we served Mexican hot chocolate and participants walked to where the shooting had happened, where a reverend from CeaseFire said a prayer. The next day we held a car wash to raise money for the Lincoln Plair Memorial Foundation. All the money raised by the effort will go to Lincoln's family.

On Thursday March 14 we also hosted a Native American talking circle at Pogo Park that gave folks a chance to talk through their pain and grief and begin to heal.

A lot of people have been killed here in Richmond throughout the years and I just can't help but wonder, what problem could be so serious to only be solved by taking someone else's life? I always come up with the same answer… nothing.

I just hope Lincoln knows that we are all making an effort to honor his life. Lincoln, we all love and miss you!