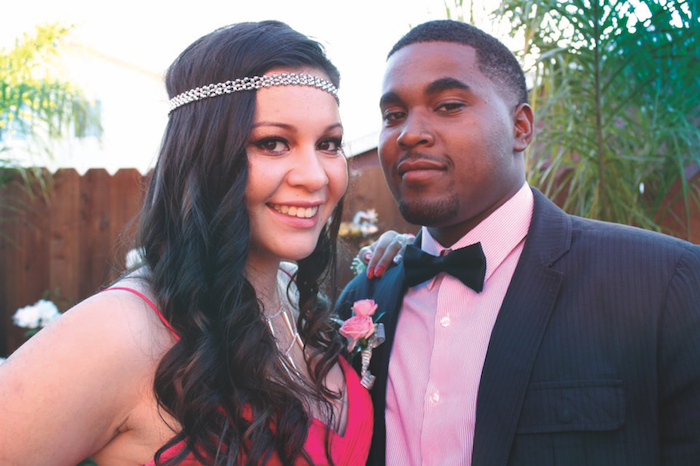 30 May

A Prom Day in the Life

First Person, Iraida Santillan • Video, Ann Bassette

Prom came ridiculously fast this year. I'd felt like I had all the time in the world to prepare, until I found myself with only two and a half weeks to go before the dance, and I had nothing: no dress, no shoes or accessories, not even a prom ticket.

I knew I'd have to set a budget for myself because the prom tickets cost $100. Of course I only had to pay for one, because my date Mike gave me money for his. Still, prom dresses and shoes can be really expensive and I did not want to ask my parents for money. Senior year has been full of expenses for them having to pay for my SAT and ACT exams, college applications, and all sorts of other school related things like grad night. I felt guilty asking them for more money.

So when I found a formal dress that was on sale at Caché in San Francisco I was relieved – only to find out the store no longer had my size. Luckily, the wonderful lady who worked there started searching to see if any nearby store had the same dress, and it just so happened a store in Sacramento had it and were able to ship it to me three days later. At least I had the dress down, making me one happy girl. I ended up getting my shoes that same day at Forever 21 right after I ordered my dress, and they're honestly something to die for — that's how much I like them!

This year, I wasn't distracted by having to worry about any finals or tests, so I was able to have a relaxing prom day — unlike two years ago, when I had to rush to get ready for prom because I had my physics lab final that same afternoon. The extra time allowed Mike and I to take care of some important last minute things, like going to Burlington so he could get a nice shirt to match me for the night. We went early in the morning, hoping we could find something nice, and it took us awhile before finally finding the perfect shirt in the perfect shade of pink.

After accomplishing that mission in the morning, I got home and started washing the car because I didn't want to go to prom in a dirty car. After that was done, I went to pick up the boutonniere at the flower shop on McDonald Ave. I never knew that two little flowers could cost so much!

I started getting ready for prom around three o'clock with my little sisters watching me do my hair and makeup the whole time. I felt like it took forever to get ready. It was close to seven o'clock when I finished, and prom started at seven. I was trying to hurry up, but you honestly can't rush perfection. Mike arrived at my house at 6:45 to get ready here, because I had his shirt and bow tie.

Before leaving for prom we took pictures in the backyard, of us putting on the boutonniere and corsage. Mike and I finally left the house about a quarter past seven, and we decided that the fastest way to get to the Cliff House in San Francisco was by crossing the Golden Gate Bridge.

As we were driving I noticed pedestrians as well as other drivers staring and pointing at us — I guess they were just admiring how good we looked. We finally made it to the Cliff House where the first thing we did was take the prom portrait, before my hair and makeup got all messed up. After the portrait one of my classmates told me that there was a photo booth, and to be honest it was my favorite thing about prom.

I must say that my prom reminded me a lot of the proms you see in "white movies." It was nothing like Mike's Richmond High prom two years ago. It was very sweet, with people sitting around tables, and a very small dance floor with people slow dancing or fist pumping and not "twerking." I'm not saying I didn't like my prom but it was very different and not what I expected after attending the RHS prom last year.

By the end of the night I was starving, so after leaving the Cliff House, Mike and I went to In-n-Out where we both got a burger and devoured it. We stayed up talking and looking at the sky for a while before it was finally time for him to bring me home — almost like Cinderella — because my mom had warned him that she wanted me back home by one.