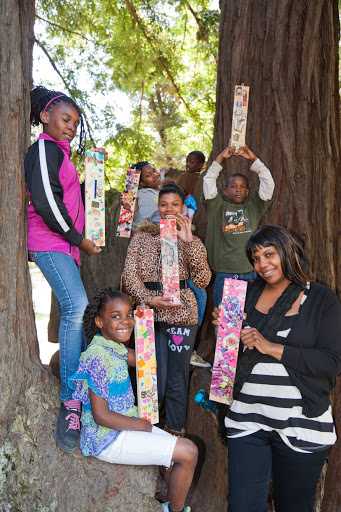 07 Jun

Camp Connects New Richmond Family to Community

By Kenyatta Loftis

My family and I moved to Richmond almost two and a half years ago from Marin County. At the time, I was concerned about some of the negative things I'd heard about the city, so I focused on getting my kids into a good school and sought out activities to keep them busy and entertained.

One day, I ran into a woman in Richmond who used to go to the same church as me, back when we were little girls in San Francisco. She told me she worked for an agency called Building Blocks for Kids (BBK). She invited me to attend a "dinner dialogue" that the organization was hosting at the Nevin Community Center.

Our involvement with BBK is how my kids and I were eventually introduced to another local organization, Youth Enrichment Strategies (YES).

In the spring of 2012, I got a call from Demetria at the YES office, inviting us to attend their family camp. I'd had the opportunity to attend Camp Mendocino when I was a young girl, and I was excited to give my kids the chance to experience what summer camp is all about. We ended up having so much fun at the camp that I asked if we could go back again this year.

My daughter Nia wrote this about her experience:

"At first I really didn't want to go to family camp — I was forced to go. I even packed last minute, thinking they (my family) would just leave me. But it turned out to be really fun. The activities were amazing — I'm just sad we didn't have enough time to do them all. In the end I'm glad I went to family camp, and I can't wait to go back next time."

We took chartered buses to Camp Loma Mar, where we spent two and a half days having the time of our lives.

The weekend started out with opening ceremonies where we played get-to-know-you games. One of the many activities we enjoyed during the camp was rock climbing, where two of my kids were successful at reaching the top, thanks to the people from Hilltop YMCA, who gave them the practice they needed. We also did archery, something I remember doing as a girl at Camp Mendocino. But the most exhilarating activity was "zip-lining" — and yes, mom did it too. Believe me when I say, that initial jump is a doozy. We also enjoyed doing the arts and crafts and drumming, which allowed us to get in touch with our musical side. The kids got to play in the stream. We had a campfire where there was more drumming, and performances put together by the kids and members of the staff.

A workshop just for parents gave the adults a chance to unwind and get to know each other on a deeper level. We bunked with another family each night and I'm happy to say we met people who we continue to keep in contact with.

My kids and I truly enjoyed this experience, and four of them are now planning to attend a weeklong summer camp through YES.

I appreciate all that they do and I'm thankful for the many opportunities that families in this city are afforded.