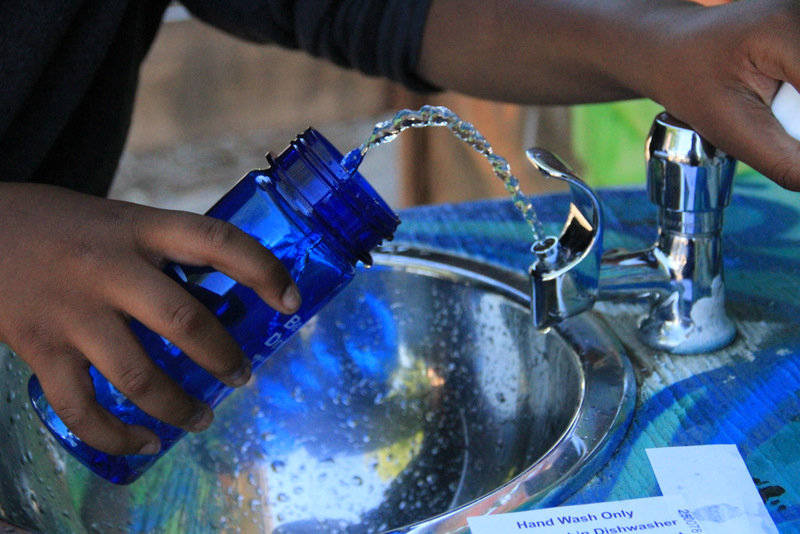 22 Jun

Fountain Brings Fresh Water to Thirsty Kids at Elm Playlot

News Report • Edgardo Cervano-Soto

It took five years of community organizing, government meetings, and filling out grant applications, but the Elm Playlot on 7th and Elm Street is on track to become one of the most innovative parks in the City of Richmond.

Pogo Park, a grassroots non-profit in Richmond, has been overseeing the project and working with residents to rebuild this small city park, located in the Iron Triangle neighborhood, that has for so long been beset by violence, poverty and neglect – and even seemingly small improvements can make a big difference.

Earlier this month, residents celebrated the installation of a filtered water fountain at Elm Playlot, an event that brought out local families, community partners and city officials. The groundbreaking ceremony for the new fountain gave community members a glimpse of the progress Pogo Park has made so far, and a better idea of what lies ahead. A large banner featured illustrations of the new park design, including features that were developed by neighborhood residents.

"Our vision at Pogo Park is to create these superlative and phenomenal parks," said Toody Maher, executive director of Pogo Park. "We want [residents], the moment they walk through the gate, to be entering an oasis of health."

It is spacious, with five trees providing shade over most of the park grounds. There are sandboxes, a tetherball area and a field for sports. The tetherball pole is actually cemented to a tire, and tree stumps serve as chairs. There are tents that can be easily collapsed, and floor mats. Large, rolling plastic balls are spread out in various places. Given it's unique features, Maher refers to Elm Playlot as a "pop-up park."

"It's a great park for the children that live near by," says Carmen Avalos, 60, in Spanish. This day, Carmen is watching over her grandson as he runs around the playground. She wears glasses and a flowery patterned top with large pockets on the lower end of her shirt, where she stores a children's "sippy cup" of water. "A water fountain is great because they say tap water is healthier than bottled water," says Carmen. "It's a marvel for the children." Carmen has lived in Richmond for 15 years and has been actively attending the community meetings at Pogo Park.

On a bench next to the small central field sits Doris Mason, 65, watching a pair of young people play hit and catch with a softball. Ms. Mason, or Mother Mason, as she is known in the neighborhood, is a community outreach liaison for Pogo Park. She has lived in Richmond for 25 years, and believes the water fountain can have a profound impact on the health of the community's youth. "This water fountain will encourage the children to drink more water. They need their bodies to be hydrated. This water fountain, this park, is significant for them."

Arriving park goers stop by to say hello to Mother Mason. Clearly, she is a fixture in the Iron Triangle. Her relationship to the community and her role as a surrogate grandmother to many people in the neighborhood, she said, is her strength. "Our young people don't have grandparents, so as a seasoned resident, me and others, we serve as surrogates. We make sure everything is safe out here as they play, and not only play, but we interact with them," she added.

Children gather around the tetherball area to watch a match between two players. It is apparent from the adults I speak to and the murals in the park, that the wellbeing of the neighborhood's children is the focus of the park redesign. I try interviewing some of the children, but they are shy. One youth, Jeremiah Daly, 11, requests to be interviewed. I ask him about the water fountain. "I drink water like maybe five times a day," and so do his friends, he confirmed.

A Pogo Park staff member began to call everyone over for the water fountain installation ceremony. Maher introduced representatives from the Native American Health Center, who performed a ritual. After the blessing, the children were invited to drink water from the fountain. As a line formed beside a colorful mural depicting the origin of Richmond's tap water in the Sierra Mountains, water canteens were passed out to the children, who filled them up with the filtered water. "Everyone is trying to figure out how to make kids drink water and not sugar beverages. We decided to make drinking water like theater," explained Maher.

With steps leading to the tap one side, and no steps on the other side, Maher said the fountain was designed and built by Pogo Park with both adults and children in mind. As if part of the mural itself, the blue colors of a river decorate the fountain.

Groundbreaking on the rest of the park redesign will begin later this year.

"Our only agenda for Pogo Park is that children must play to be healthy," said Maher.