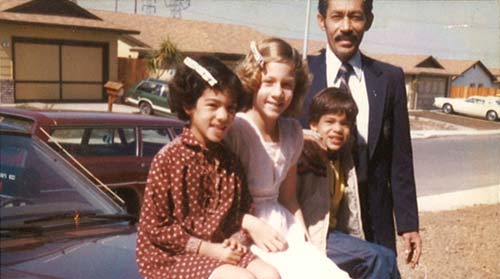 03 Jul

Memories of My Father, BART and a Bygone Era

First Person, Rosa Solorzano, New America Media Posted: Jul 03, 2013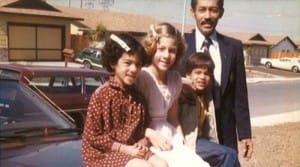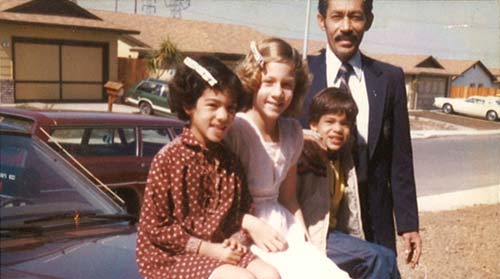 Photo: Alvaro Mauricio Solorzano in his BART uniform, with his children outside their home in Pittsburg, Calif. circa 1980.
OAKLAND – I was raised riding BART. My father, Alvaro Mauricio Solorzano, landed a job with Bay Area Rapid Transit when I was a small child in the late 1970s, and worked there until his death in 1997. He took pride in his job and enjoyed the responsibilities of his various positions, at first as a train operator and later as a station agent and trainer for new hires.
My father left his home in Managua, Nicaragua as a teen, arriving in San Francisco in the early '60s with his mother, stepfather and younger sister. To have heard my grandmother tell it, my father would spend the bulk of his days at San Francisco City College, immersing himself in English language classes, determined to absorb all he could of American culture. He worked at a local record shop, among other jobs, to help support the family, which contributed to my grandmother eventually being able to purchase a home in the Sunset District. He would later marry and have his first child in the city.
Despite not being a U.S. citizen, my father came to feel strongly that he had a responsibility to give back to the country. He volunteered for the Army in 1967 and was trained as a Green Beret. After serving in Vietnam, he returned to California a new U.S. citizen, but deeply disillusioned and facing a failed marriage. He returned to Managua to regroup. There he met my mother, and they were soon married.
It was the early 1970s, and Nicaragua was beginning to feel the social and political tremors that would culminate with the Sandinista revolution at the end of that decade. During those uncertain years, my parents would travel back and forth between Nicaragua and San Francisco, until finally settling permanently in the Bay Area in 1977. I was three years old.
In those early years the family bounced around. There were stops in the Mission District, Daly City and Pacifica. It was during our time in the latter that my father got his job with BART, and it was the stability of that job that provided us with the means to purchase a family home in the East Bay suburb of Pittsburg. Back then, the only thing connecting Pittsburg to the rest of the Bay Area was a two-lane highway, surrounded by cow pastures. But for my father, and to us, it was the American dream.
My family's realization of a middle-class life in America, and my earliest memories of it, coincide with my introduction to labor unions. It was shortly after my parents purchased their home that tensions between BART management and employees resulted in a strike that persisted for three months. I remember my father at the dinner table, expressing his support for the union and telling us, his small children, that we should never cross a picket line.
Papi was a social person who found a great deal of satisfaction in the daily interactions with his BART colleagues and the public he served. As a child, I remember visiting him at work with my older sister and little brother. He would introduce us to his friends and let us ride in the front of the train. We would honk the horn as the train drove through the Transbay tube. To us, Papi was not a train operator — he was the owner of BART.
Later, as a teenager, my friends and I would seek out new adventures in Berkeley or San Francisco by BART. These trips would usually include a visit to my father's glass station agent booth and, if we were lucky, he would treat us to lunch during his break. He was always happy to see us.
While the vast majority of my memories as the daughter of a BART employee are positive, I can recall several incidents that left me shaken and scared for my father's safety. He worked the night shift, usually not returning until after midnight. One morning I awoke to find my mother and father in the kitchen. His face was badly bruised. He explained that a man on the last train had become irate after missing his stop. Other encounters, while not physical, were still hurtful to my father. Those that most angered him tended to include racial slurs. I'll never forget my father coming home from his shift after one such incident, upset that a rider called had called him a "Mexican" and told him to "go home."
My mother also worked throughout my childhood, as a court clerk in Pittsburg, but it was my father's wages and benefits that allowed our family to have a comfortable life. He would often work holidays and take extra shifts — my mother would tease him because he was always in uniform, "just in case" BART called. BART paid for my braces, Catholic school, and family road trips. Later, it allowed my parents to help me and my siblings afford a university education — giving us more opportunities than he'd ever experienced in his own life.
Upon my father's untimely death in 1997, his pension and retirement benefits are what helped keep my mother in the family home. The financial security allowed her to grieve the loss of her husband, without the added stress of economic uncertainty.
I'm left to wonder what my family's life in the Bay Area would have been like had my father brought us here today, and not in the early '70s. Since those days, the Bay Area has grown to become one of the wealthiest and most educated regions of the country. Yet with each economic boom, with each upward tick in the cost of living, it's working families like my own that seem to be getting left behind.
It's been 16 years since my father's passing, and I now have a family of my own. Like so many others in the Bay Area, we have been inconvenienced by the latest BART strike. My husband and I have stressed about arriving late to work, and about leaving early so we can pick up our 3-year-old daughter from her preschool before it closes.
I don't know how long this BART strike will last. I don't know if the strikers will get what they want. What I do know is that if you are an immigrant, if you are someone who never got a college degree, if you are a war veteran – if you are someone like my father – the Bay Area is no longer a place where one can expect to put down roots and grow a life for a family.
And that is why I do what it takes to get ready every morning to leave earlier for my commute from East Oakland to my job as a social worker in San Francisco – grueling, even without a BART strike. And I do it gladly.