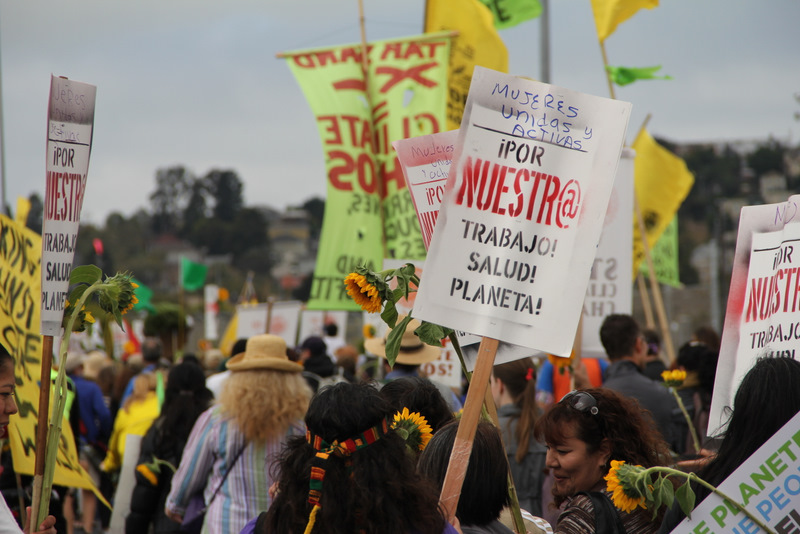 07 Aug

Protesters March On Anniversary of Chevron Disaster

Photo Essay, Luis Cubas
[flagallery gid=7]
For most, the word "anniversary" evokes memories of happy times. But on August 6th, the word took on an entirely different meaning in Richmond. It was on that date last year that a huge black cloud was seen pluming out of the Chevron Refinery, which was the byproduct of a massive explosion and fire that, it was discovered later, could have been prevented.

Three days before the anniversary, over 2,000 people gathered outside the Richmond BART station for a march to the Chevron refinery for what protesters claimed are environmentally unfriendly practices by the big oil company. Speakers included Bill McKibben of environmental group 350.org and Richmond Mayor Gayle McLaughlin.

While most protesters showed up to demand stricter environmental and safety standards at the refinery, others were protesting the proposed Keystone XL tar sands pipeline and demand Chevron transition from fossil fuels to renewable energy. They were all there to hold Chevron accountable. One of the pamphlets being circulated at the protest read: "Oil corporations are among the richest and most profitable in the world, so they are also the most politically powerful. Chevron is the 8th largest in the world and #1 in California."

At the protest, one could feel the power and will of the demonstrators, every single one of them determined to make their point — that Chevron has been a huge disappointment to many in the community.

The protesters were escorted by Richmond police officers throughout the march and while it was largely peaceful, over 200 demonstrators were arrested afterward and later released.