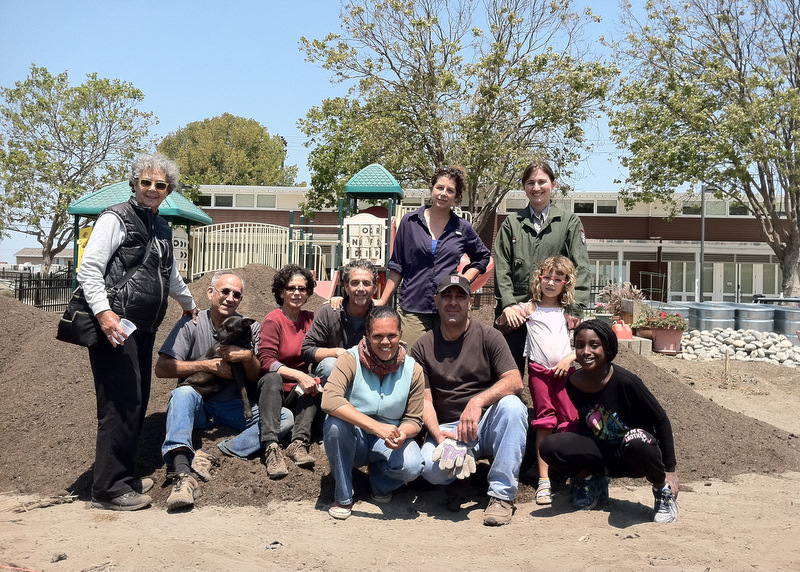 20 Aug

Because You Loved Me: "Grandpa Allen Learning Garden" Honors Social Justice Organizer

By April Suwalsky

A teacher affects eternity; he can never tell where his influence stops. –Henry Adams

A new green schoolyard is growing in Richmond. Located at the Richmond College Prep Schools (RCPS) at 1014 Florida Avenue, the Grandpa Allen Learning Garden honors the memory of Allen Trachtenberg (1927-2012), a devoted volunteer at the school and lifelong champion of social justice. The learning garden will serve as an outdoor classroom and green space– offering students, families, visitors and local residents meaningful opportunities to explore, learn, breathe and grow.

Allen Trachtenberg was a lifelong advocate for social justice. He took action in the Civil Rights Movement; marched against the Vietnam, Afghanistan and Iraq Wars; visited Mexico City to assist with election protection; and went to Chiapas to understand the Zapatista movement. Most notably, perhaps, he worked closely with Albert Rojas, Cesar Chavez and the United Farm Workers to organize the grape boycotts. Much of this activity centered in Pittsburgh, PA, where he and wife Mitzi also welcomed Pete Seeger and other prominent voices.

At 79, Allen and Mitzi began as literacy volunteers at RCPS. Mitzi recalled, "The kids were so excited to see him; they would scramble to sit with him." And when people asked him what his role was at the school, Allen would answer modestly, "I give them hugs." His grandson, Nathan Miller (known to students as "Mr. Wildlife" and "Dr. Science"), also volunteered at the school with the organization Tree Frog Treks before moving to New York to work with the Service Employees International Union (SEIU).

A labor of love, the family raised $7,000 in seed money for the garden project at Allen's memorial service, where the RCPS Gospel Choir also performed rousing renditions of Celine Dion's "Because You Loved Me" and Leonard Cohen's "Hallelujah." From these heartfelt and magical beginnings, the learning garden has emerged as a unique partnership between the Trachtenberg family, RCPS, the National Park Service, and several nonprofit and community-based organizations.

The Trachtenberg family itself is rich in artists and architects (Mitzi herself is an artist), and for many of them, design and expression are avenues for taking action and advancing social justice.

The family joined together to create the garden as a meaningful tribute to Allen's life. The garden's design and plans were co-developed by several family members including son-in-law Jeff Miller (Miller Company Landscape Architects), son Robert Trachtenberg (Garden Architecture Landscape Design and Construction), daughter Amy Trachtenberg Miller (visual artist), and daughter Julie Trachtenberg (landscape and exhibit designer).

Jeff Miller stated the garden is a way to "combat toxics, racism, and poverty." Jeff is known widely in the Bay Area for his visionary designs for green schoolyards and parks—such as the recently renovated Lafayette Park and Playground in San Francisco.

Julie Trachtenberg remarked: "The exciting part for our family—beyond honoring our father, and the interest generated through his memorial—is the amazing people we are working with at the school. David Rosenthal, Peppina Chang, Tana Monteiro, Sarah Gierson, parent volunteers. It's powerful to see how much the school has contributed, and they are the heart of all of this."

RCPS Parent Organizer and Community Liaison Tana Monteiro has been instrumental, along with school leadership, in recruiting volunteers and building community in the surrounding neighborhood. Tana has co-founded and co-organized the Cesar Chavez Community Garden Day in Richmond, as well as the annual Richmond Tales Literacy Festival, for the last several years.

"The gardens and the Richmond Tales Fest are my ultimate loves. I'll do whatever I can to help the school," she stated.

Tana and environmental educator Sarah Gierson were both able to participate in trainings through The Edible Schoolyard Project/Chez Panisse. It is hoped that funds can be raised to hire Sarah, who has volunteered at the school since October of last year, as RCPS' Garden Educator. The garden will become an outdoor classroom, and curricula will be aligned to green schoolyards best practices, Common Core, and Next Generation Science Standards. The vision is to serve students at RCPS and Nystrom Elementary schools, as well as the broader community.

The garden will be ADA-accessible, and include a learning circle, native plants, a greenhouse, wide paths, beautiful boulders, unique architectural features, an innovative rainwater capture and hand pump system, and fruit trees. It will also feature a vegetable garden and chicken coops—a tribute to WWII-era Victory Gardens, and the garden's location adjacent to the historic Maritime Child Development Center.

Constructed in 1943, the Maritime Child Development Center provided childcare and pre-school to children of shipyard workers during the war effort. It was recently restored as part of the Nystrom United ReVitalization Effort (NURVE), and now houses RCPS classrooms and offices, the Richmond Community Foundation, and an interpretive National Park Service (NPS) museum space that is part of the Rosie the Riveter/WWII National Historical Park.

The National Park Service has provided key support under the leadership of Ranger and Outreach Specialist Lucien Sonder. NPS staff and volunteers assisted with outreach and have incorporated the garden as a service-learning opportunity for two of NPS' youth groups—Hometown Richmond and Rosie's Girls. Rosie's Girls is a program for middle school girls to learn about trades and non-traditional career paths. Hometown Richmond youth build and maintain community gardens across the city.

Erika, 11, in her first year of Rosie's Girls, helped with the garden construction. "I want to help make it beautiful. Lots of flowers, enough room for kids to sit and look at stuff, rocks so we can sit on them, gardens, trees," she said. "Gardens and trees give animals places to live," she added.

Additional partners include Urban Adamah, an educational farm and community center in Berkeley, Common Vision, an organization that plants orchards and teaches permaculture, and natural foods company Nutiva. Urban Adamah will help install an irrigation system. Common Vision will plant an orchard of fruit trees, thanks to a generous grant from Nutiva. Nutiva's support will bring trees to all Richmond schools, as well as provide maintenance for eight years.

The City of Richmond, Urban Tilth, local elementary schools, and Kennedy and Richmond High Schools also support the larger greening and green schoolyards efforts at the school and throughout the community.

Richmond is at the forefront of progressive and proactive sustainability and urban agriculture work; it is home to many dedicated groups including: Friends of the Richmond Greenway (FORG), the Richmond Food Policy Council, Richmond Trees, and Communities United Restoring Mother Earth (CURME), among others.

Tana Monteiro affirmed how the garden fits within a richer contextual fabric: "This is for all of us; for the whole community."

Allen Trachtenberg, by his life example and in his enduring legacy, teaches that we are stronger when working together, but that each person can make a difference and has social responsibility to exercise his or her own core power. As the seasons change, lives start, progress, and end. The Grandpa Allen Learning Garden will touch the lives of multiple generations, and invites everyone to plant seeds for Richmond's bright future.